Today, I wanted to share with you a quick and easy DIY. How you can quickly decorate any cake to make it 'Easter-appropriate'. You can use any cake you might have on hand. It does not have to be carrot cake. I just thought that this was appropriate because you know Easter – bunny – bunnies eat carrots :D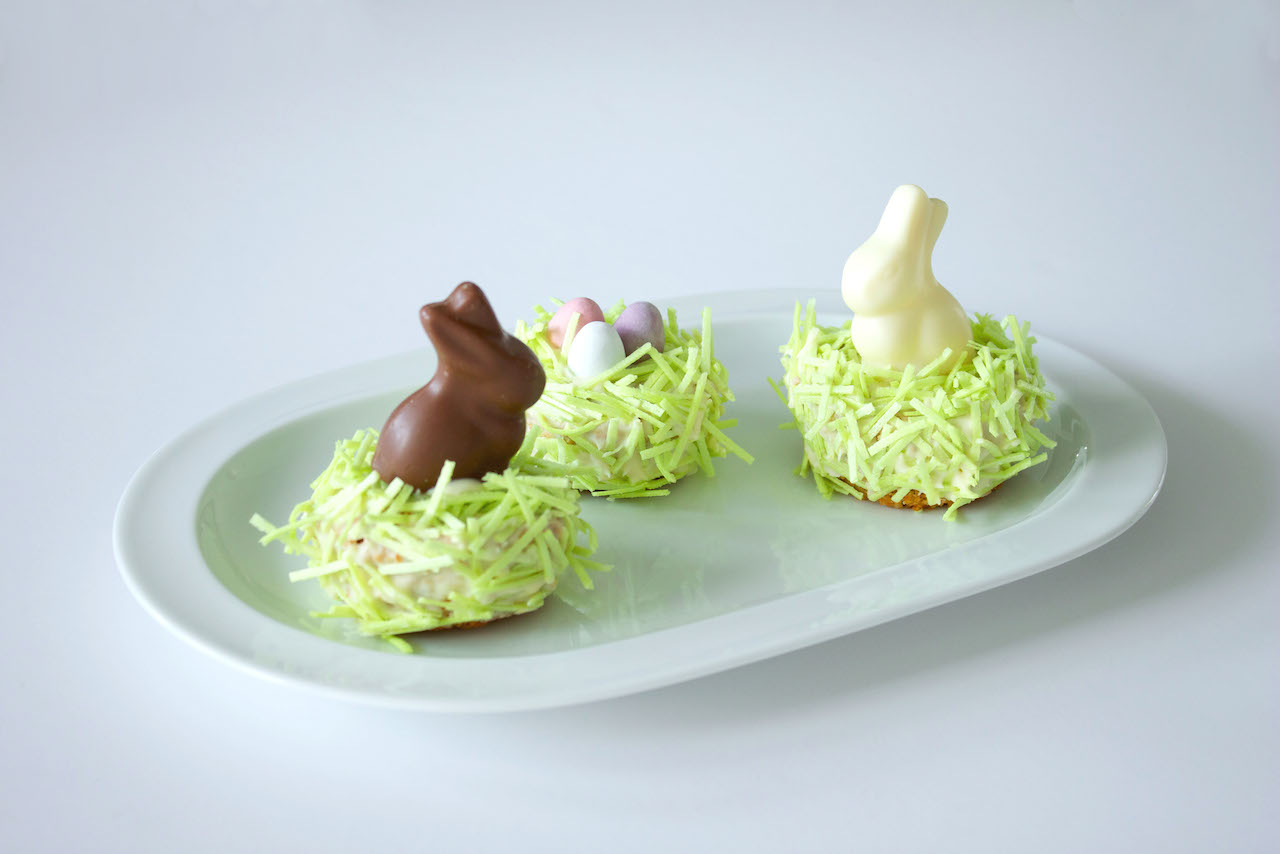 It is really easy to decorate them! All you have to do is get/bake any kind of cake, muffins, etc. (although I recommend homemade!), take some frosting, I simply melted white chocolate, spread it over the cakes, then press the edible grass on the cakes. Let everything set in the fridge for an hour and you have got yourself cute and delicious Easter carrot cupcakes.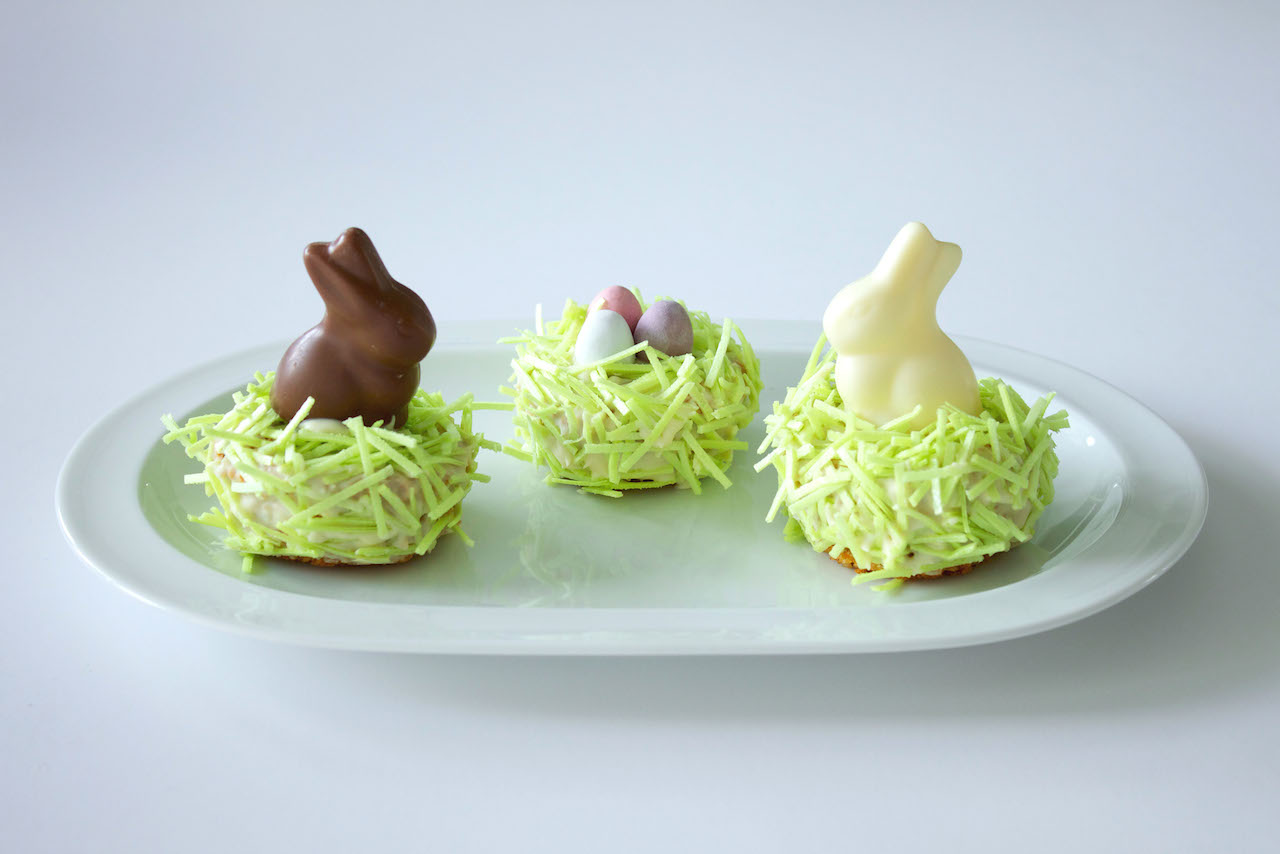 I've made three different carrot cupcakes over the weekend and they never tasted right. They were moist, but mostly too dense. I wanted to create a very light, almost airy carrot cake recipe. I had a specific cake in mind when making them. All of you lovelies from Vienna might know the coffee place 'Blaustern' where they serve the most delicious carrot cake. This is the kind of cake I wanted to recreate. Now all of you who know what I'm talking about don't get too excited, because these cupcakes do not taste like the delicious carrot cake that they serve. But I must say that I think these carrot cupcakes taste even better because my recipe has a nutty component to it that, in my opinion, is missing to Blaustern's carrot cake. AND you can make them gluten-free!
Gluten-free Carrot Cupcakes
2014-04-18 23:08:29
Light and fluffy carrot cupcakes
Ingredients
60g carrots (organic)
1 egg white
pinch of salt
40g icing sugar, divided
1 egg yolk
10g vanilla sugar
50g ground hazelnuts
20g fine breadcrumbs (gluten-free)
1/2 tsp baking powder
1 tsp ground cinnamon
1 tbsp dark rum (optional)
1 tbsp lemon zest
For the frosting
150g white chocolate, melted
edible grass
mini chocolate bunnies
Cadbury eggs
Instructions
1. Preheat oven to 160°C. Line a muffin pan with paper liners.
2. Peel and finely grate the carrots and set it aside.
3. In a small bowl combine the ground hazelnuts, breadcrumbs, baking powder, cinnamon and lemon zest.
4. In another bowl, beat the egg white until foamy. Add a pinch of salt and half of the sugar and mix it until stiff peaks form.
5. In a large bowl, whisk the egg yolk and the other half of sugar for about 2 minutes until the mixture is pale yellow and foamy. Carefully fold in the beaten egg white using a rubber spatula. Gently add the dry ingredients and whisk everything using a spatula. Add the dark rum. Pour the batter into the prepared muffin cases and bake for 15-20 minutes, until a tooth pick inserted comes out clean. Let the cupcakes cool completely before frosting them.
6. While you are waiting for your cupcakes to cool, cut your edible grass into little pieces using clean scissors.
7. Melt the white chocolate in a double boiler. Once it is melted, spread it over your cupcakes and press the edible grass to it. Decorate the cupcakes with your favorite Easter candy. I used mini Lindt bunnies and Cadbury eggs. Let them set in the fridge for an hour.
Bowsessed™ https://bowsessed.com/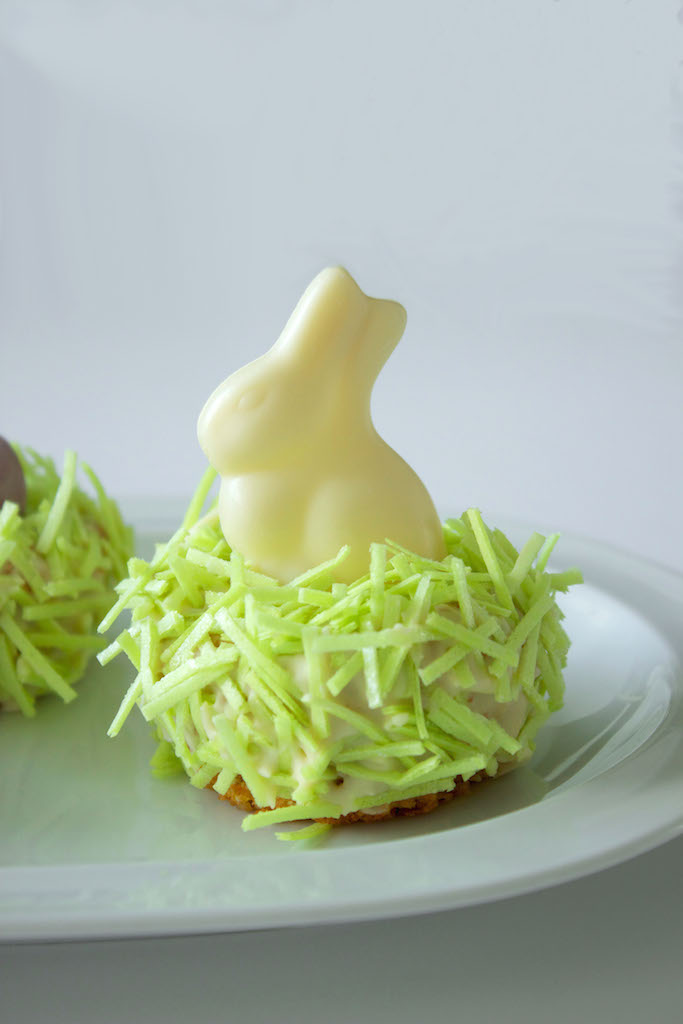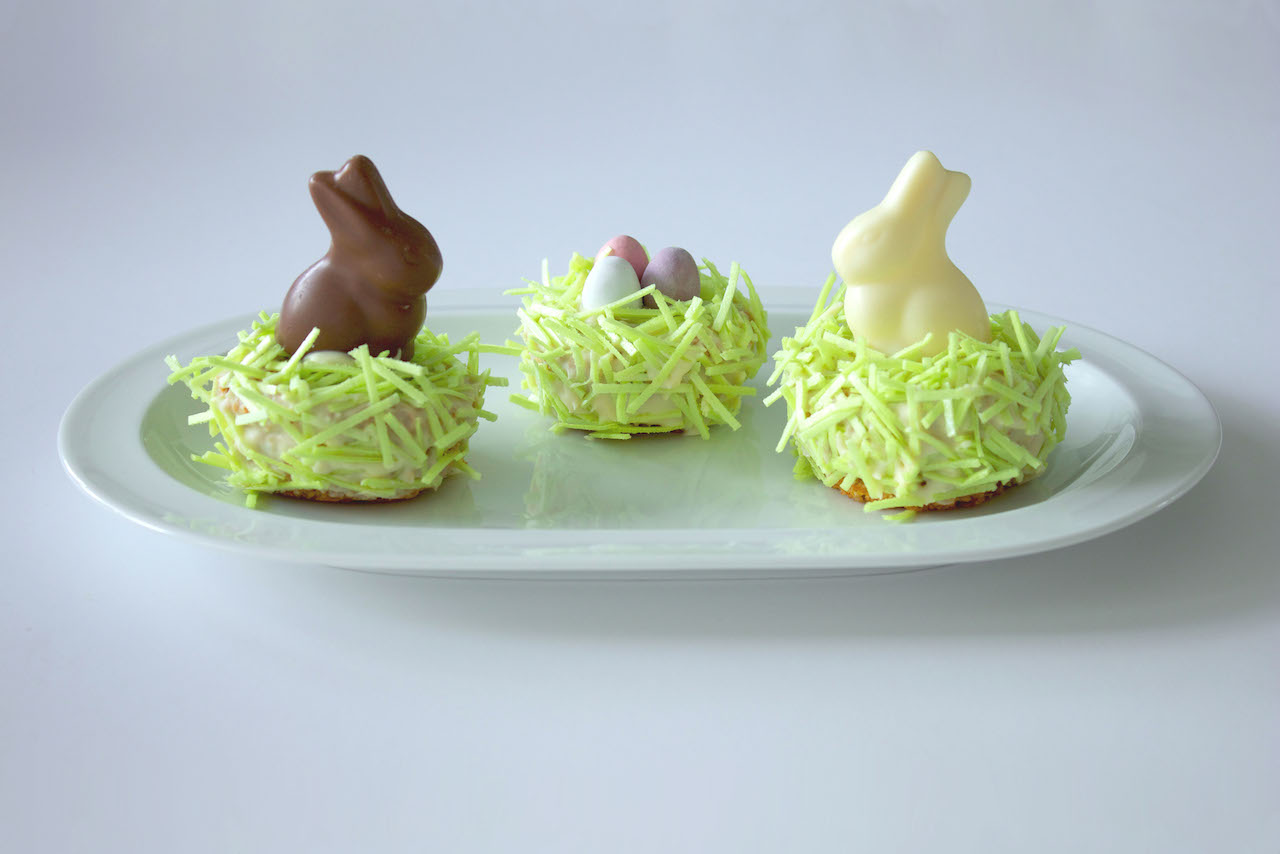 Happy Easter and I hope you got lots of chocolate bunnies! ;)