I received these very cute cupcake liners and toppers about a year ago as a gift and haven't used them because I thought they were too cute for baking and then having to throw them away… Yes I'm weird like that! But one of my new years resolution is to actually use the things I have and not saving them anymore. So here there are, finally being used, in all their glory with a delicious caramelized apple batter inside. However, I must admit that I've only used four of the cupcake liners, I couldn't quite get myself to using them all up… well, baby steps! ;)
What makes these muffins special is that the apples are covered with a caramel glaze before being added to the batter. This keeps the muffins very moist and add a nice caramel taste to it. The marzipan flavor is very subtle (for all of you who are not a big fan of marzipan!). You could of course also make a different topping and leave out the marzipan completely.
On another note, I finally got a Christmas tree today! YAY! I had to get the biggest one because all of the others were already sold out :) Now I only need to get some nice white ribbons (which were sold out as well!) to put up the Christmas ornaments.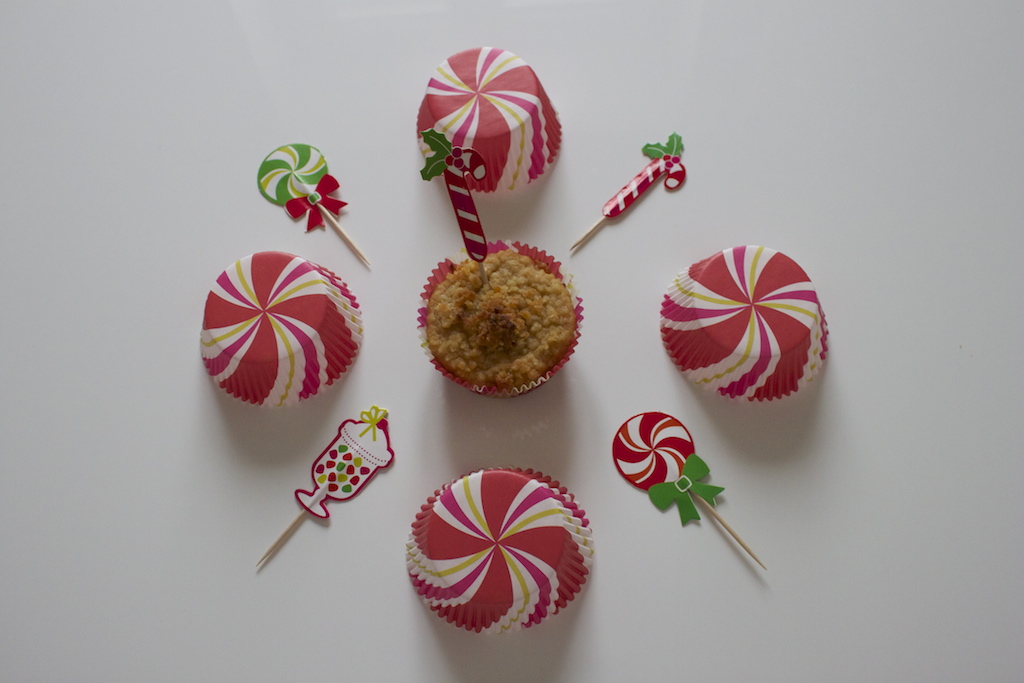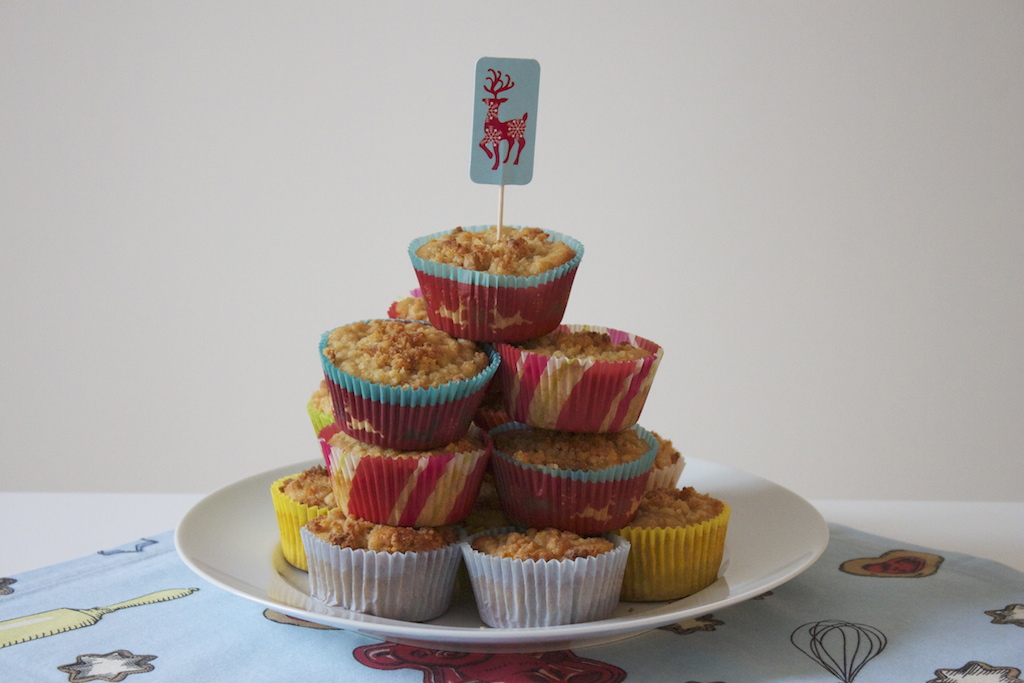 Caramelized Apple Muffins with a Marzipan Crumble
2013-12-19 11:48:44
Moist, delicious caramelized apples muffins with a crumbly marzipan topping
For the caramelized apples
420g shredded apples (about 5 medium-sized apples)
25g unsalted butter
50g brown sugar
2 tbsp milk
For the crumble
50g marzipan
20g icing sugar
60g all-purpose flour
20g unsalted butter, chilled, diced into small cubes
1 tsp Amaretto or almond extract
For the muffins
250g all-purpose flour
1 1/2 tsp baking powder
pinch of salt
2 tsp ground cinnamon
100g butter
100g brown sugar
100g granulated sugar
2 eggs
2 tsp vanilla extract
120ml milk
Instructions
1. Preheat oven to 175°C. Line two muffin trays with paper liners.
2. To caramelize the apples, melt the butter and brown sugar in a saucepan over medium heat. Bring the mixture to a boil and let it boil for about 2 minutes, stirring the mixture occasionally (be careful not to let it burn!). Add the milk and let the mixture boil again for a few seconds. Turn the heat to low and add the shredded apples, covering them with the caramel glaze. Set the pan aside and let it cool down a bit.
3. To prepare the crumble topping, combine all ingredients in a small bowl and incorporate and crumble the mixture with your fingers, until large crumbs form. Set the bowl aside.
4. To make the muffins, sift flour, baking powder, salt and cinnamon in a small bowl. Set it aside. In a separate bowl, beat the together the butter and sugars until light and fluffy (for about 2 minutes). Add the eggs one by one, making sure each one is well combined before adding the next one. Add the vanilla extract. Mix in the flour mixture in three batches, alternating with the milk. Be careful not to over mix the dough. Fold in the caramelized apples and scoop the dough in the prepared muffin trays, filling the paper liners about 2/3 full. Bake the muffins for about 20 minutes until a toothpick inserted comes out clean.
Adapted from Add a pinch
Bowsessed™ https://bowsessed.com/
Xo Vicki