I love Easter time. Spring has officially sprung and it is a great excuse to decorate the home in pastel colors. Every year I like to create homemade Easter treats as presents for friends and family. While a Lindt bunny is always a nice little treat, gifting a homemade Easter surprise makes it even more special. And delicious and fun desserts are an egg-cellent way to celebrate Easter with loved ones.
This year one of the things I've created are Coconut Easter Nests. They are made of coconut macaroon cookies, that are shaped into little bird nests, filled with melted chocolate and topped with candy coated chocolate eggs. They do not only look cute but are really easy to make and taste delicious!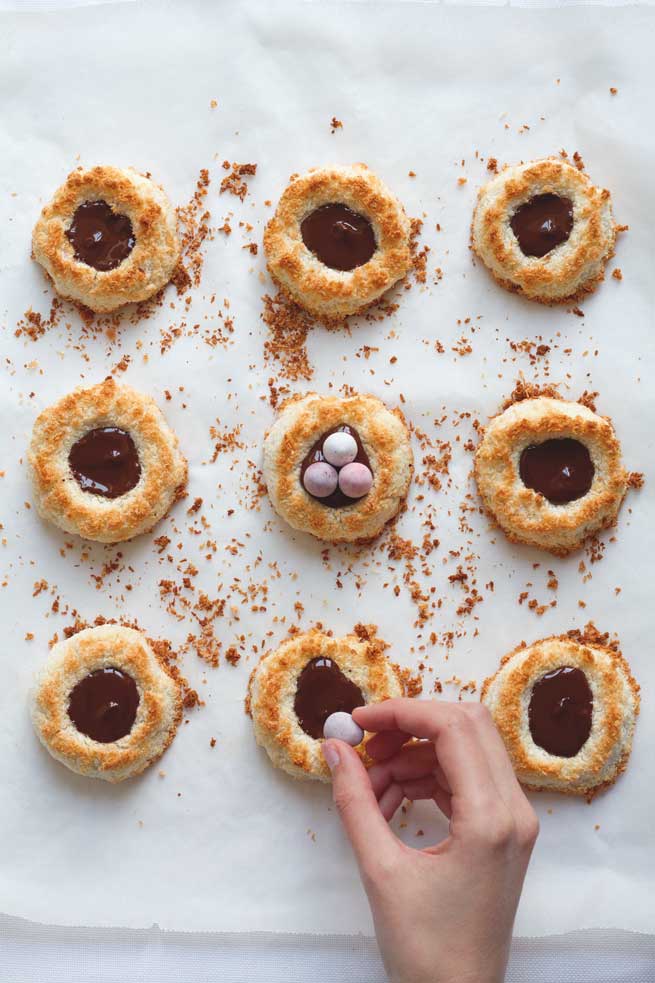 If you are planning to do make a cake for Easter, these little nests would also look very cute as a cake topper or on top of cupcakes (here is my favorite recipe for gluten-free carrot cupcakes).
The possibilities to decorate the coconut macaroon nests are also endless! From chocolate bunnies (make sure the melted chocolate is not too hot, otherwise the bunnies will melt away!), to marshmallow peeps or any kind of candy eggs.

Coconut Easter Nests
Coconut macaroons nests, filled with melted chocolate and garnished with mini coated chocolate eggs
Ingredients
250g unsweetened, shredded coconut
40g granulated sugar
30g all-purpose flour (organic)
1 tsp vanilla extract
½ tsp almond extract (optional)
2 large egg whites (organic)
100g semi-sweet chocolate, chopped
mini chocolate candy eggs
Instructions
Preheat the oven to 175°C. Line a baking tray with parchment paper.
Combine shredded coconut, sugar, flour and vanilla and almond extract in a large bowl.
In a another bowl, beat the egg whites until soft peaks have formed. Using a spatula, fold in the coconut mixture until combined. If the mixture is too dry, add a few splashes of milk. Use a cookie scoop to form balls and place them on your prepared baking tray. Once you have all your cookie balls arranged, press the back of a spoon to create a well in the cookies. This can be a little tricky, therefore make sure that you hold the cookie in place while pressing down. Your cookies should now look like little nests. Bake the cookies for 10-15 minutes. Let them cool on a wire rack.
Melt the chocolate in a double boiler. Fill each coconut nest with 1-2 teaspoons of melted chocolate and chocolate candy eggs.
Notes
Keep the coconut nests in airtight containers, for up to a week.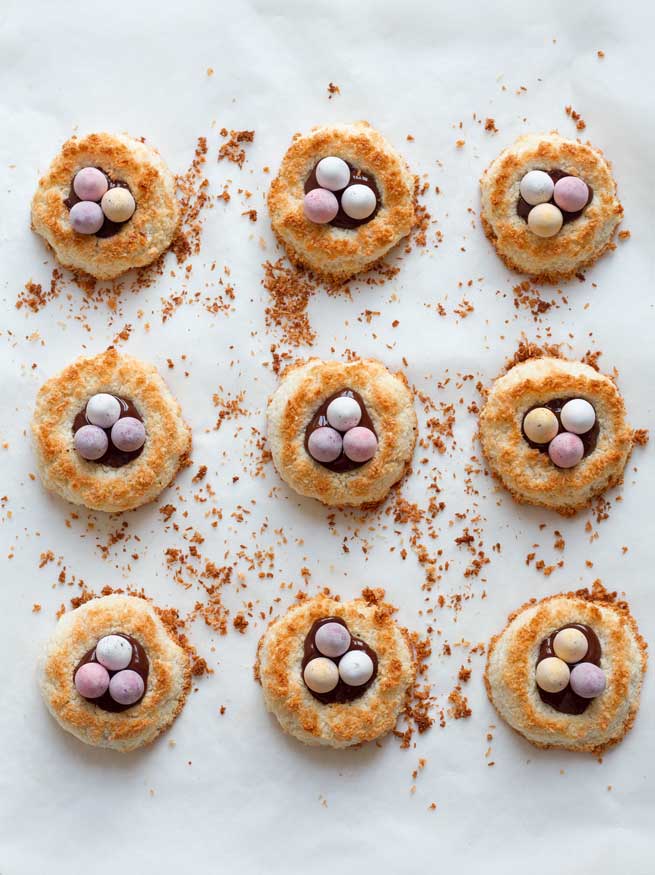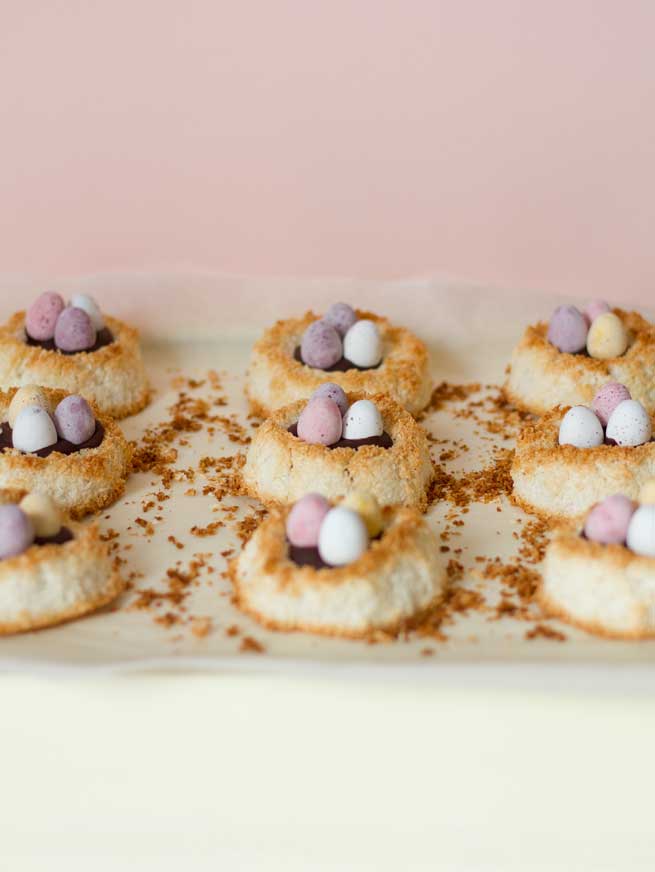 Stay tuned for more Easter recipes coming your way this week, including a vegan and raw recipe for those of you who are already getting bikini-ready for summer ;)