Sorry for being so late with this post! The Christmas madness has caught up on me..
Are you ready for silky, smooth chocolate mousse with chestnut purée, topped with a homemade marrons glacés brittle? This recipe is super easy and quick to make. It is great if you need a last minute dessert for your Christmas party. I would recommend filling the mousse in small cups, as it is quite rich and filling. My mom had these beautiful vintage cups that I've used.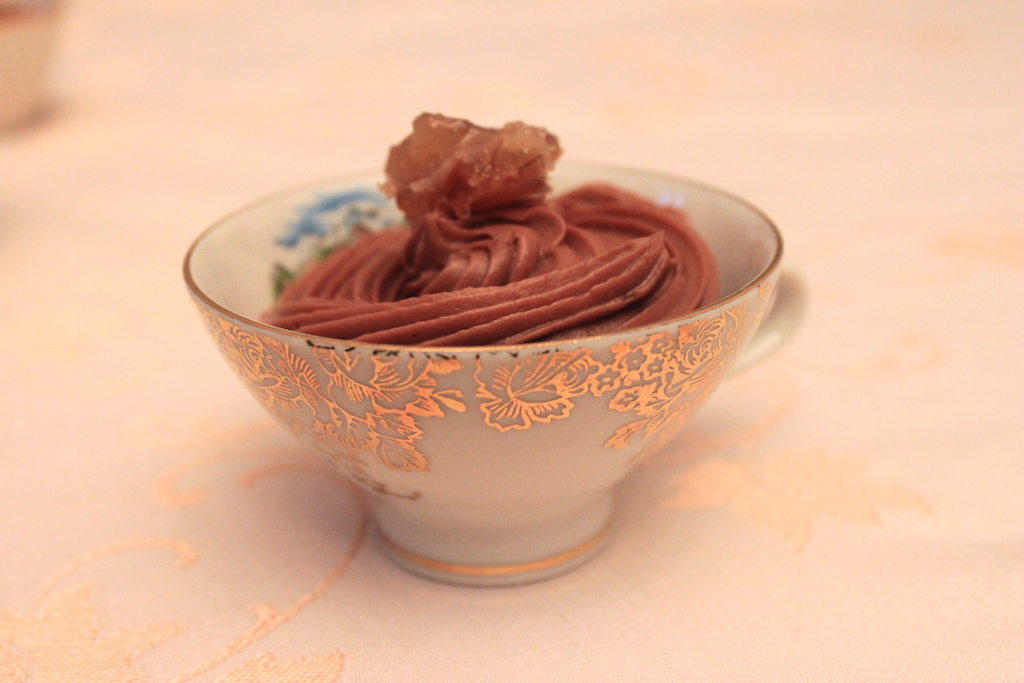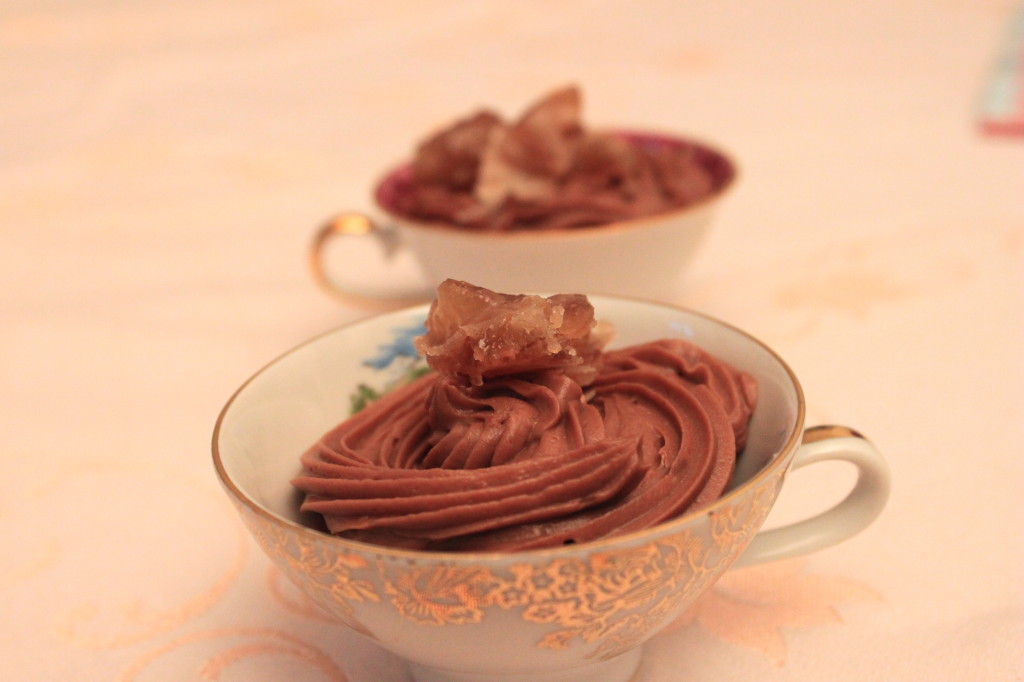 Chestnut Chocolate Mousse
2013-12-24 12:23:34
Serves 12
A silky, smooth chocolate mousse with a hint of chestnuts
For the marrons glacés brittle
500ml water
300g granulated sugar
1 tsp vanilla extract
300g cooked chestnuts
For the mousse
100g semi-sweet chocolate
500g mascarpone (I used a light version)
3 tbsp icing sugar
200g sweetened chestnut purée
2 tbsp dark rum
Instructions
1. Line a baking tray with parchment paper.
2. In a pan, bring water, sugar and vanilla extract to a boil. Stir constantly until the sugar is melted. Add the chestnuts to the mixture and turn the stove down to medium heat. Continue cooking the chestnuts for another 20 minutes, stirring the mixture frequently, until the sugar syrup has thickened. Pour the chestnuts on the prepared baking tray and let it chill for an hour. Once it is cooled you can break into pieces.
In a small pot over simmering water, melt the chocolate with rum. Once melted let it cool.
3. In a bowl beat the mascarpone and icing sugar with an electric mixer for about 2 minutes. Add the chestnut purée and cooled chocolate and mix until everything is combined. Fill espresso cups with the mousse. You can also fill a pastry bag and pipe the mousse into cups. Chill it for two hours. Garnish each chestnut chocolate mousse with a piece of marrons glacés brittle.
Notes
Store the mousse in the fridge.
Bowsessed™ https://bowsessed.com/
Xo Vicki