The pink rum glaze of these gingerbread cake bars can usually be found on a typical Austrian dessert, 'Punschkrapfen'. Inspired by this dessert, but wanting to make it more Christmas appropriate, I made a Gingerbread spiced cake, brushed with apricot jam and glazed with homemade rum glaze. Stressing homemade because I would normally just buy the ready-made glaze from Manner. Determined to recreate the store-bought glaze, I think I came pretty close in imitating the color and taste. Plus, it is more helpful if you want to try the recipe and can't get your hands on the store-bought glaze.
The bars are crumbly and sweet with a hint of Christmas spices. They taste best served with some homemade Christmas punch.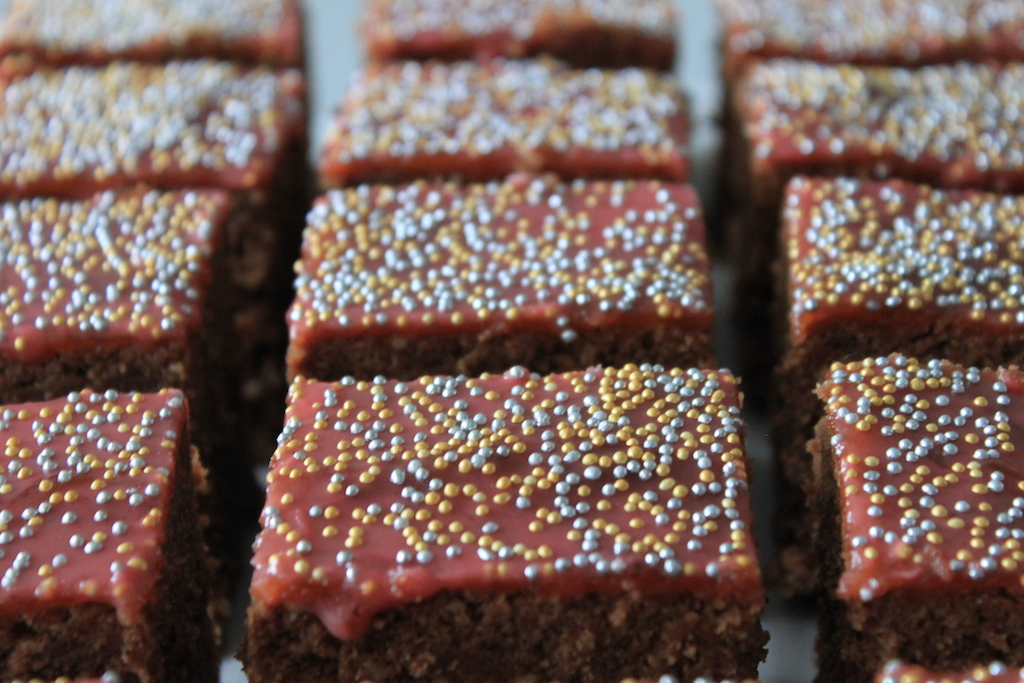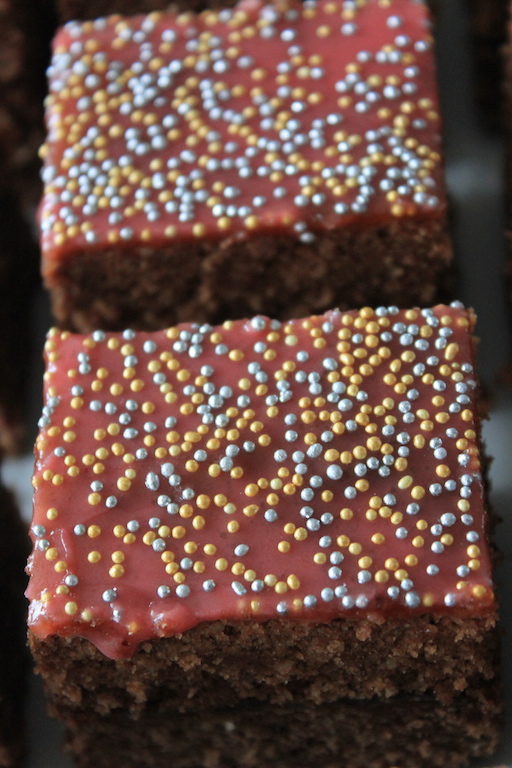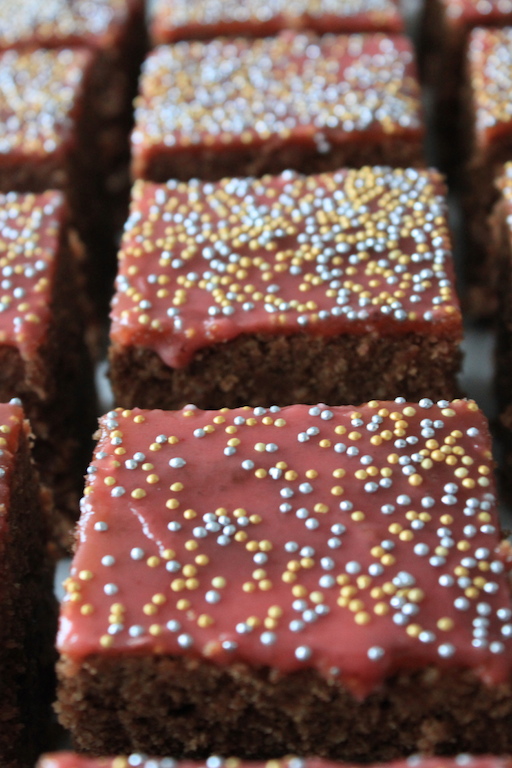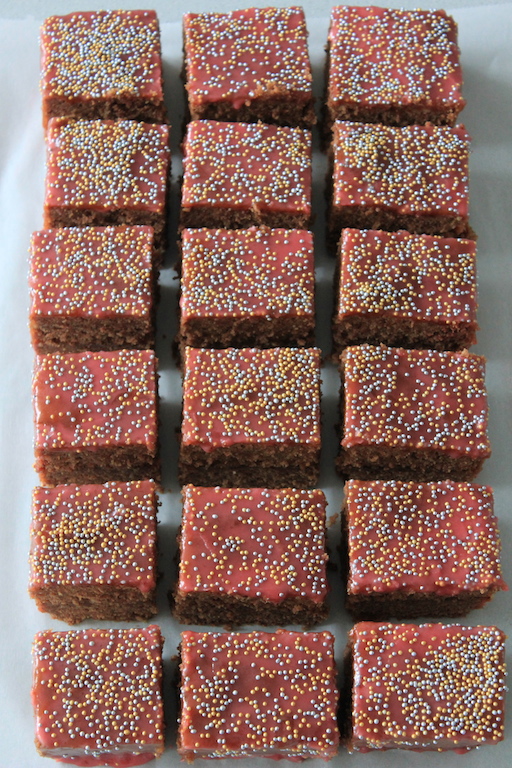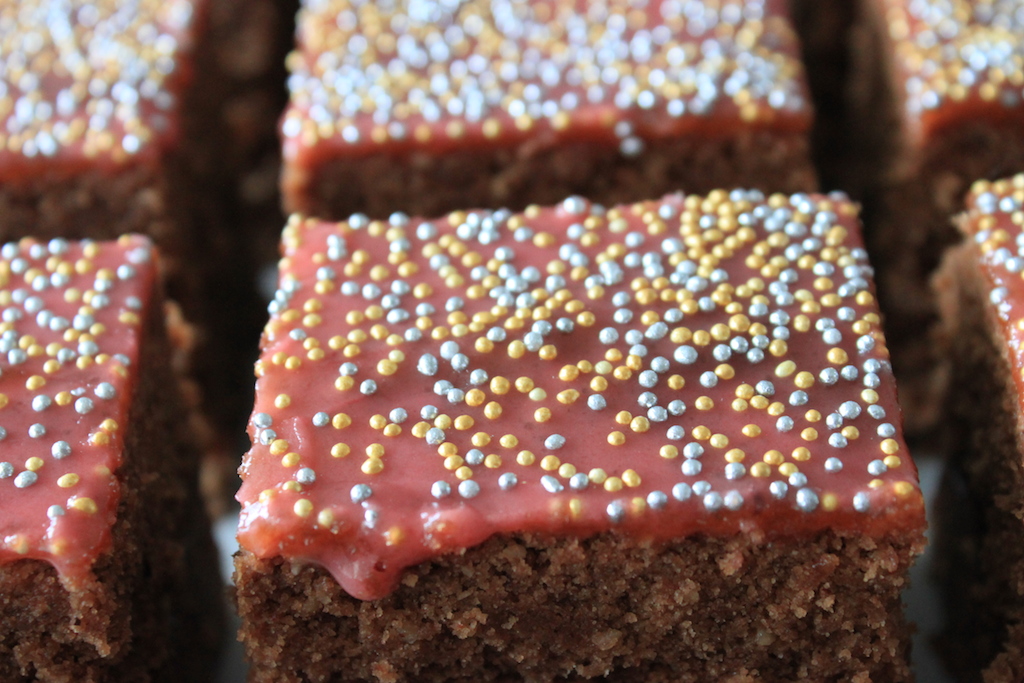 Gingerbread Cake Bars
2013-12-17 21:16:07
Serves 18
Spicy, crumbly Christmas bars, topped with a delicious rum glaze
For the cake
500g all-purpose flour
2 tsp baking powder
150g ground hazelnuts
pinch of salt
1 tsp ground cinnamon
3 tsp gingerbread spice
150g semi-sweet chocolate, chopped
350g unsalted butter, at room temperature
250g brown sugar
90g honey
4 eggs
4 tbsp dark rum
For the glaze
apricot jam
200g icing sugar
4 1/2 tbsp dark rum
1/2 tbsp raspberry syrup
3 tbsp hot water
red food coloring
sprinkles
Instructions
1. Preheat oven to 180°C. Line a baking tray with parchment paper.
2. In a small bowl, combine the flour, baking powder, hazelnuts, salt, cinnamon and gingerbread spice.
3. In a heatproof bowl, melt the chocolate over a pan of simmering water. Set the bowl aside and let the chocolate cool.
3. In a very large bowl, beat the butter with sugar and honey with an electric mixer for about 4 minutes. Add the eggs, melted chocolate and rum, and mix well. On low speed, add the flour mixture in two batches until the mixture is well incorporated. Spread the dough on the parchment paper and smooth over it using a spatula. Bake for 20 minuted, until a toothpick inserted comes out clean. Let the cake cool completely.
4. Cut the cake into two equal parts. Heat the apricot jam in the microwave for a few seconds. Brush one half of the cake with a generous amount of jam and place the other half of the cake on top. Brush the top of the cake with apricot jam as well.
5. For the glaze, sift the sugar and add the rum, raspberry syrup, water and red food coloring. Stir the until the mixture is smooth. The glaze should not be too runny.
6. Cover the cake with the glaze and decorate it with sprinkles. Chill the cake for an hour until the glaze has set.
Adapted from Frisch gekocht
Bowsessed™ https://bowsessed.com/
Xo Vicki