I had my first pumpin pie last year in New York at my very first Thanksgiving dinner. Since then I wanted to recreate my own. With pumpkin season finally upon us, it seemed perfect to create my own pumpkin pie recipe and giving a beloved classic a little twist: Pumpkin Pie with Marzipan!
In my opinion the dark rum makes all the difference in my recipe. It complements the vanilla notes and enhances the flavor of the spices. The marzipan is figuratively the icing on the cake ;) I also mixed marzipan in the pâte brisée, which made it even flakier. 
If you are unsure about making your own pumpkin puree or can't get your hands on canned pumpkin, Annie from Annie's Eats made a great tutorial.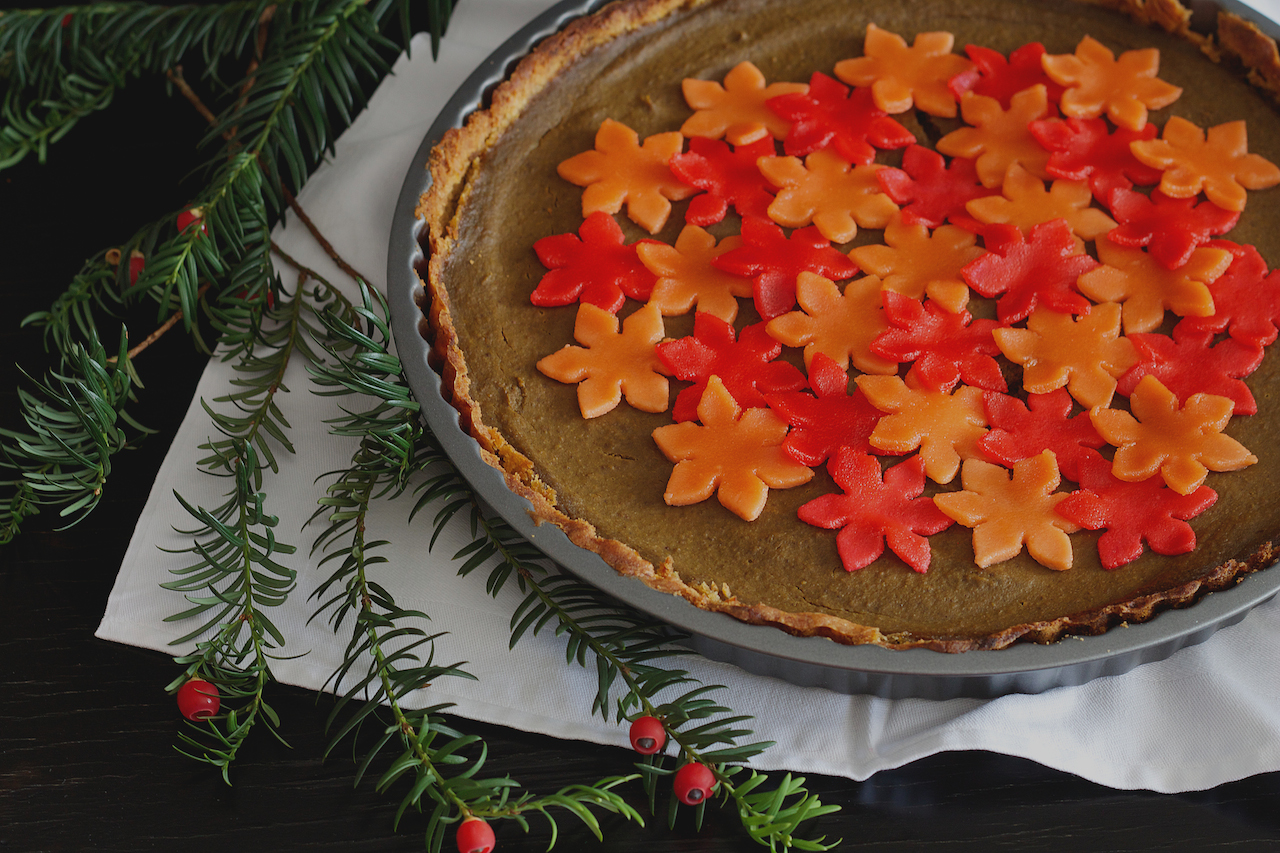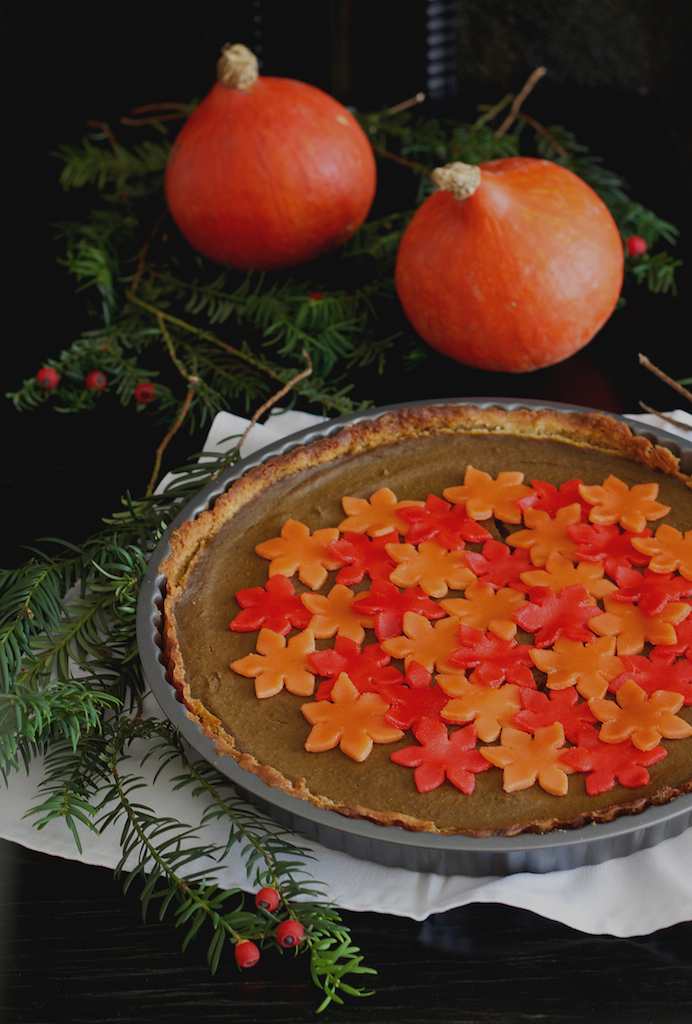 Pumpkin Pie with Marzipan
Ingredients
For the pie crust
160 all-purpose flour
½ tsp salt
20g caster sugar
120g cold butter, cut into small pieces
100g marzipan, cut into small pieces
50 ml cold water
For the pumpkin filling
400g pumpkin puree
2 large eggs
100g brown sugar
1 tsp vanilla
1-2 tbsp dark rum
½ tsp ground ginger
1 tsp ground cloves
a pinch of ground nutmeg
2 tsp ground cinnamon
2 tbsp honey
2 tbsp cornstarch
100 ml heavy cream
Decoration
red & orange food coloring
marzipan
Instructions
To make the pie crust: In a food processor, pulse flour, salt and sugar. Add the butter and marzipan and pulse for about 10 seconds. Add the cold water and process just until everything is combined. Shape the dough into a ball, wrap it in plastic and refrigerate it for at least 1 hour.
Once the dough is ready, roll it out about 1 cm thin and press it into a 26 cm tarte form. Cover the pie crust with aluminum foil and fill it with dried beans. Bake the pie crust for 15 minutes at 175°C, until it is firm and the edges are golden. Carefully remove the foil and beans. Let the crust cool completely before pouring in the filling.
While the pie crust is in the oven you can make the pumpkin filling. In a bowl whisk together the pumpkin puree, eggs, brown sugar, spices, vanilla, dark rum, honey and cornstarch. Pour in the heavy cream and whisk until well combined. Pour the pumpkin filling into the prepared pie crust and bake it at 175°C for 45 minutes to an hour, until the filling is set. If you feel the edges of the pie are getting too dark, put some aluminum oil over the pie. Once the pie is done, let it cool on a rack, then refrigerate it.
To decorate my pumpkin pie, I colored marzipan in red and orange, rolled it out about 0,5 cm thin and then used a flower-shaped cookie cutter to cut it out.
Notes
Store your pumpkin pie in the fridge for up to a week.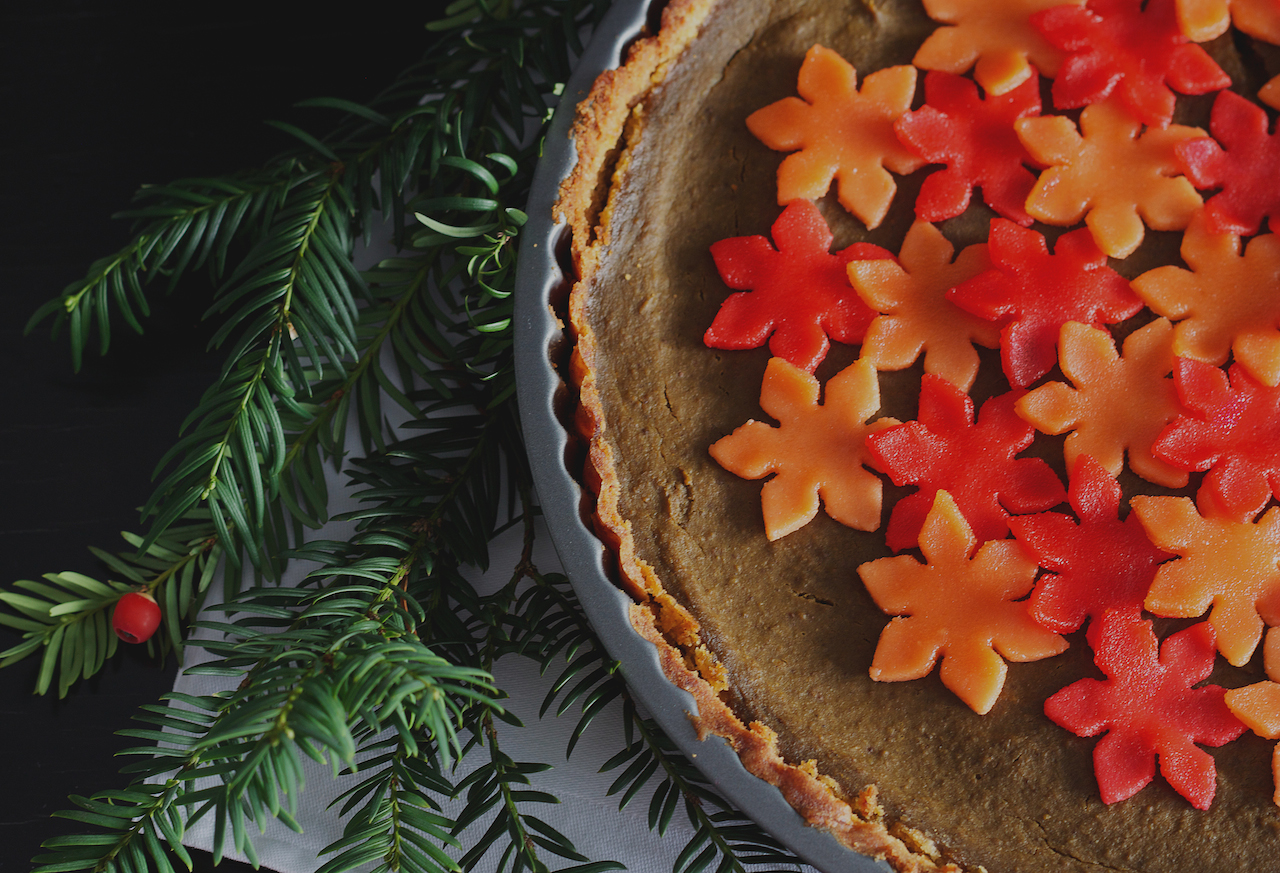 I hope that this colorful recipe will brighten up your day! I am in desperate need of sun here in Vienna!
Have a great weekend!