Today I have a savory recipe for a change. Flammkuchen is a thin pizza-like crust, usually spread with crème fraîche and topped with bacon and onions. It is delicious and great to get creative and use any leftovers, that are sitting in the fridge. For me that meant potatoes, prosciutto, and a lighter but equally creamy sauce made with greek yogurt, sour cream and low fat curd cheese.
Two weeks ago, I was invited to an event, organized by Tante Fanny, a company producing fresh ready-made dough. The theme of the evening revolved around creating delicious dishes with leftover food. Eliminating food waste is a matter of particular importance to me. I always try to be resourceful with food and reduce food waste at home. It is also fun to be creative with what you already have and saves you money!
Under the guidance of chef Michael Schwarzmann, we created quick and tasty dishes, using a few simple ingredients. One of the first things we made and tasted that evening was a thin, crispy Flammkuchen. Using one of their doughs, we spread a mix of sour cream and curd cheese on it, topped it with cooked potato slices and sprinkled swiss cheese and leek rings on top. It was wonderfully simple and tasty and my favorite dish of the evening!
I recreated my own Potato Flammkuchen at home, using food from my fridge. To make the dairy mixture a bit lighter, I mixed in some greek yogurt and cream cheese and then topped the whole thing off with some thin slices of mouthwatering prosciutto. And there you have it: An easy and delicious dinner served in 30 minutes. You can use your cooked, leftover potatoes from the day before and make your own spread with things you already have sitting in your fridge. It is also a great entrée or main to serve guests, that leaves you stress-free because you can make it in advance.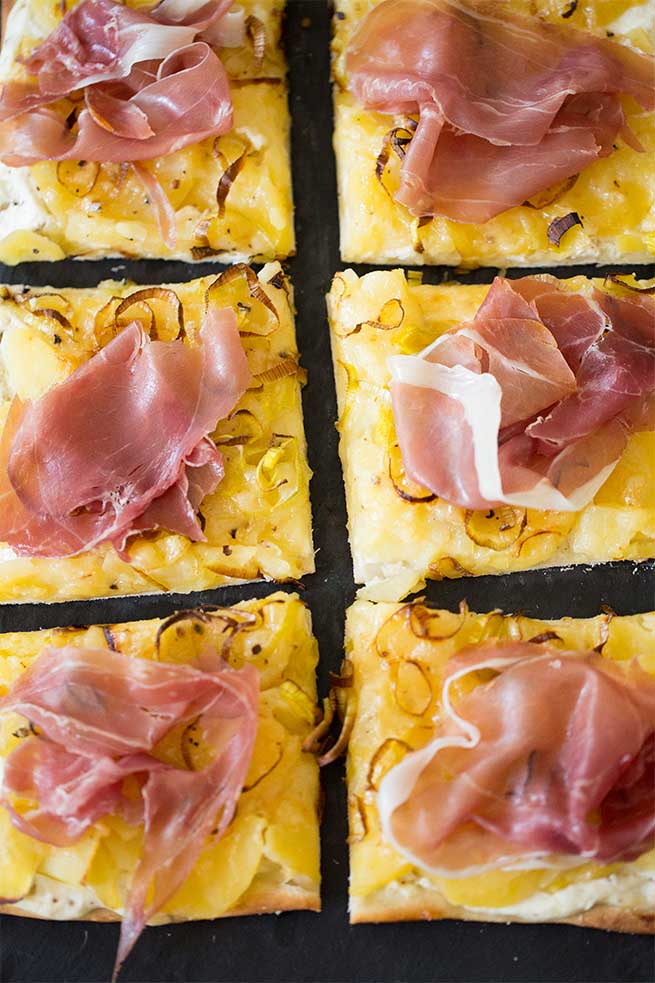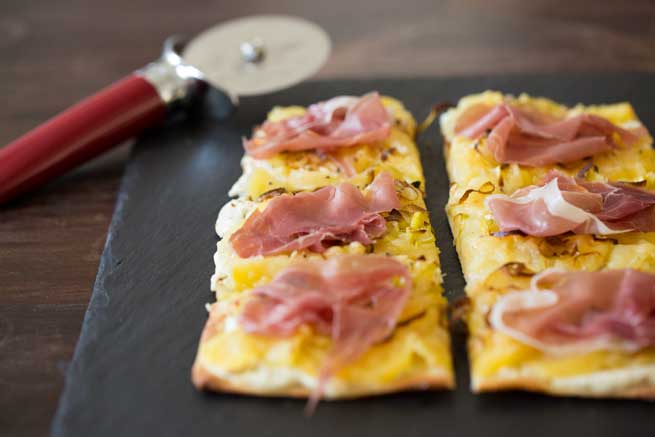 Potato Flammkuchen
Ingredients
1 store-bought Flammkuchen dough, 40x24 cm (I used Tante Fanny)
4 potatoes (about 500g), cooked and peeled
100g sour cream
100g low-fat curd cheese (quark)
1 tbsp cream cheese
1 tbsp greek yogurt
lemon juice
salt & pepper to taste
100g swiss cheese, shredded
½ leek stick, cut into rings
6 slices prosciutto
Instructions
Preheat the oven to 220°C. Line a baking tray with parchment paper.
In a bowl, mix together sour cream, curd cheese, cream cheese, greek yogurt, lemon juice and salt and pepper.
Cut the peeled potatoes in thin slices. If you can, use potatoes from the day before.
Lay the dough on the prepared baking tray. Spread the sour cream mixture on the dough and cover it with potato slices. Sprinkle the cheese on top and garnish with the leek rings. Season with some more pepper and bake it for 15 minutes. Garnish with slices of prosciutto before serving.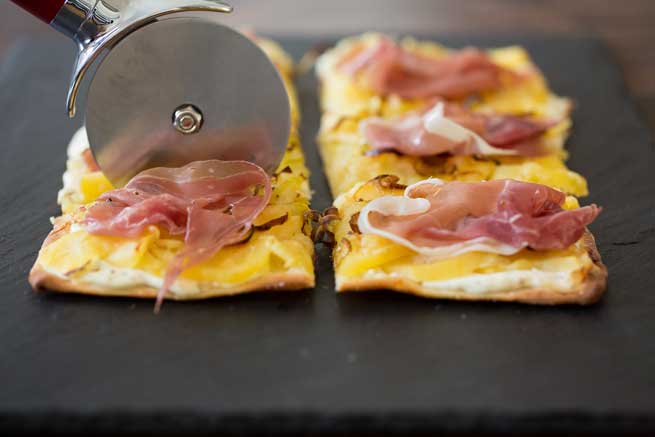 What is your favorite dish to cook with leftover food? And please comment and rate the recipe below if you give it a try!
Have a wonderful weekend!
Xo Vicki