You know those nights when you want a home cooked dinner but are too tired/lazy to stand in the kitchen for hours and just want an easy, quick, no-fuss meal? That is exactly what this recipe is! I created it on exactly one of those nights. I wanted comfort food but was tired of the usually tomato pasta that we have way too often. So I chopped up all the vegetables we had in our fridge, whipped up a creamy, spicy peanut sauce, cooked the noodles (they only take 5 minutes), tossed in the veggies and voilà dinner was ready. 
This recipe screams comfort food but is actually healthy. I also love how versatile my recipe for Peanut Soba Noodles is. You can use vegetables you already have in the fridge. Don't have any zucchini? Throw in some broccoli or mushrooms. If you don't have any soba noodles on hand, take any kind of Asian noodles. Use what you have and just wing it!  ;)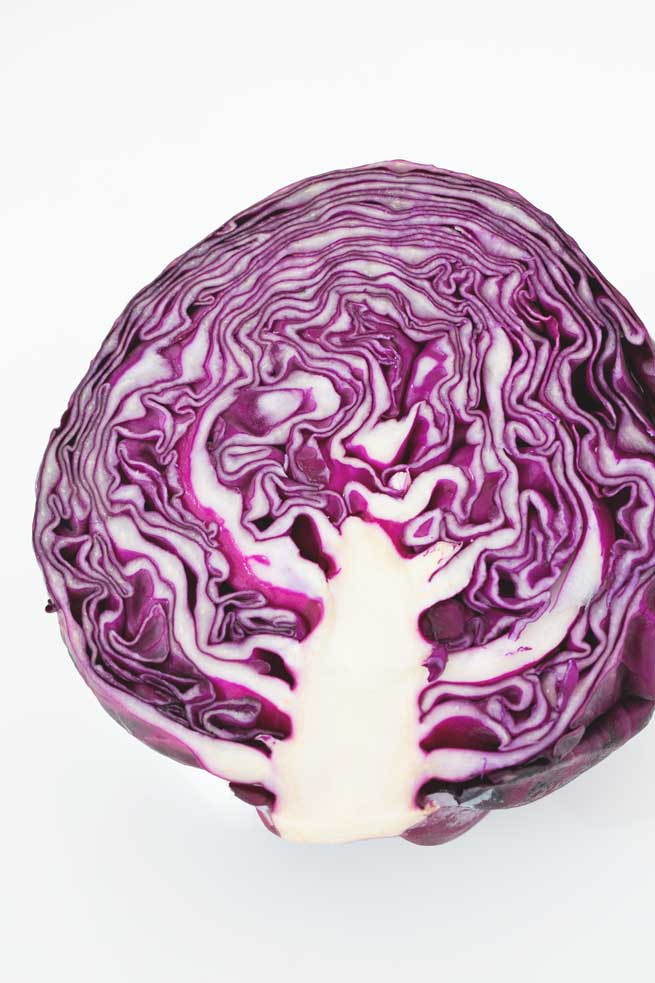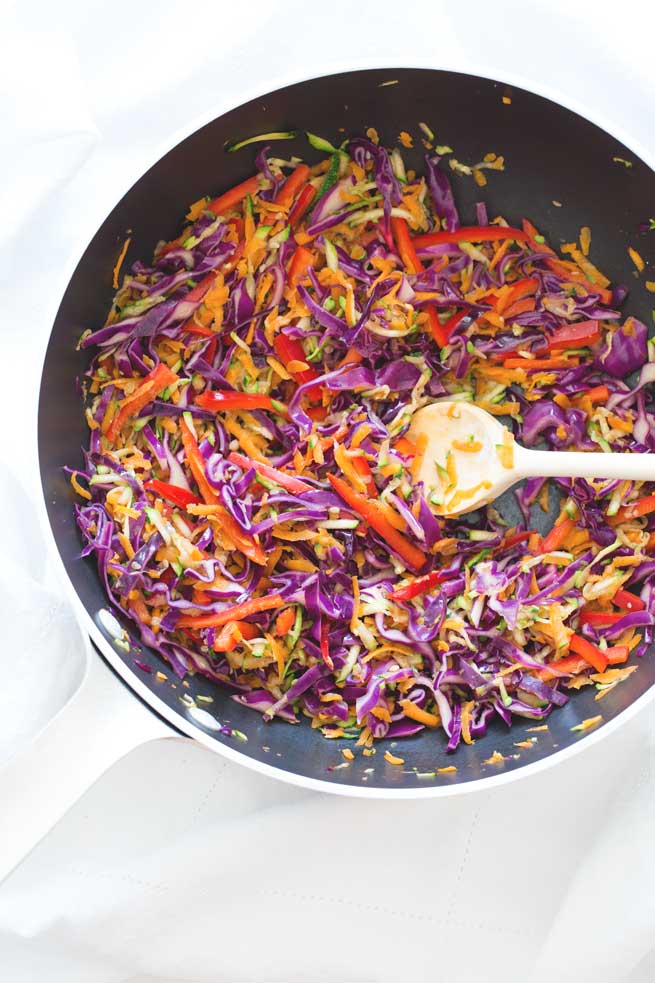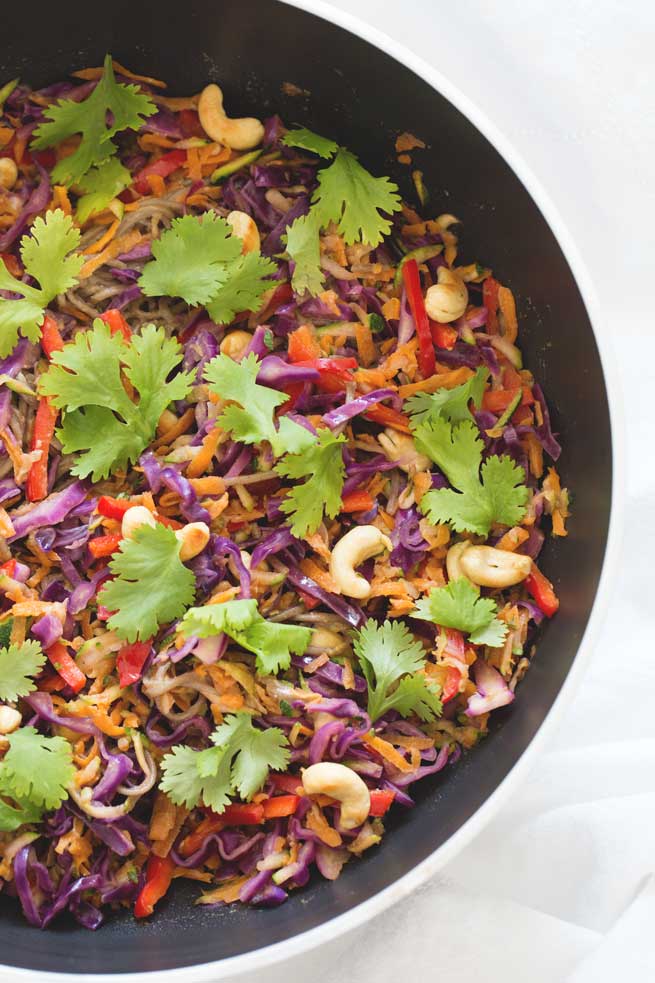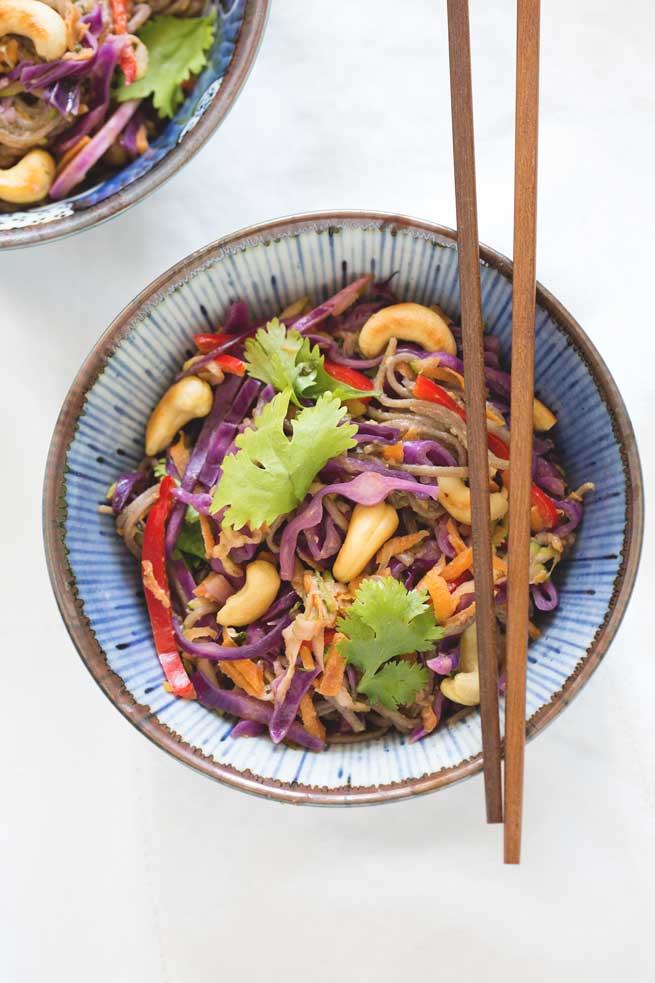 Peanut Soba Noodles
Cuisine:
Vegan, Gluten-free
Ingredients
100g raw cashews (organic)
1 tsp dark sesame oil
2 tsp peanut oil
½ red cabbage, thinly sliced
2 carrots, about 170g (organic), grated
half a zucchini, about 140g (organic), grated
1 red pepper (organic), thinly sliced
juice of half a lime
150g soba noodles
fresh cilantro for garnish
For the peanut sauce:
1,5 tbsp all-natural peanut butter (organic)
2 tbsp soy sauce (organic)
juice of half a lime
½ tsp freshly grated ginger
1 tsp Sriracha
1 tsp agave syrup (organic)
150ml coconut milk (organic)
Instructions
In a small pan, roast the cashews in dark sesame oil until they are lightly browned. Once they are done, set them aside.
In a wok or large pan, heat two teaspoons of peanut oil. Add the chopped vegetables and fry briefly. The veggies should still be crispy. Squeeze half a lime over the vegetables and toss them. Transfer them to another bowl and set aside.
In the same wok, add all of the ingredients for the sauce. Whisk the sauce and let it simmer for 2-3 minutes on medium heat.
Cook the soba noodles according to the directions on the package. Drain and rinse the noodles under cold running water and shake out the excess water. Transfer the noodles to the wok where the sauce is. Add the chopped vegetables and toss well to coat thoroughly. Garnish the noodles with the roasted cashews and fresh cilantro. Serve and enjoy!
Notes
This recipe is delicious served warm or chilled.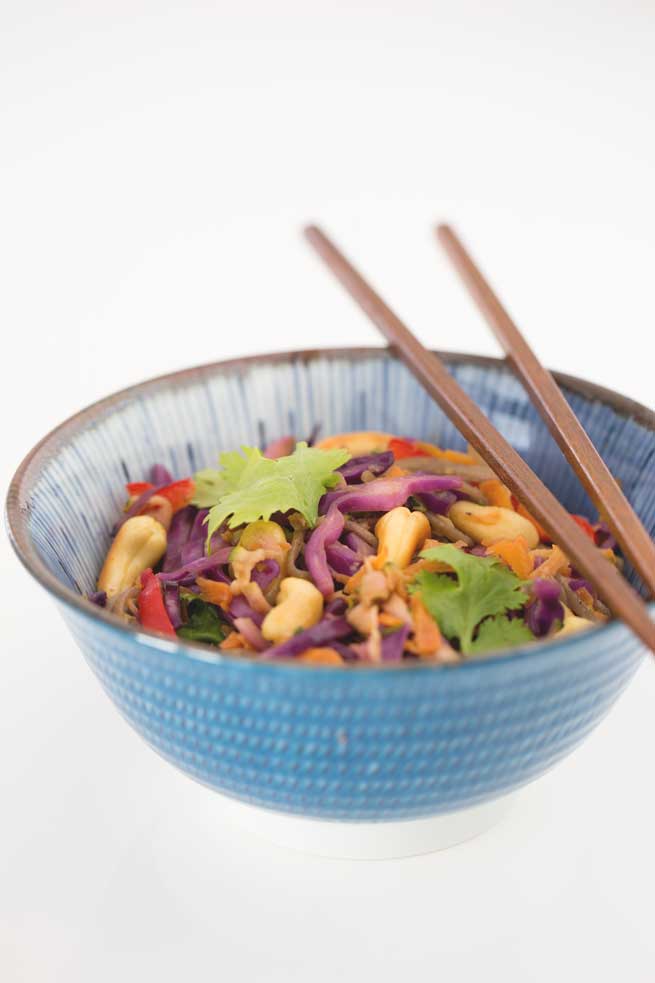 Don't worry about having leftovers, the noodles can easily be reheated and are also wonderful served cold! 
What is your favorite no-fuss weeknight meal? Let me know in the comments below!
P.S. If you make this recipe, let me know how it turned out for you! Please leave a comment and rate it below.