Remember those not so healthy chocolate cereals that would magically turn your milk into a delicious, chocolaty pool of goodness. Delicious but probably not the healthiest breakfast option and not very lasting. To jump start my day, I created a healthy chocolate granola that reminds me of those sinful childhood days, but that is actually packed with healthy superfoods from Alnatura and keeps me full longer.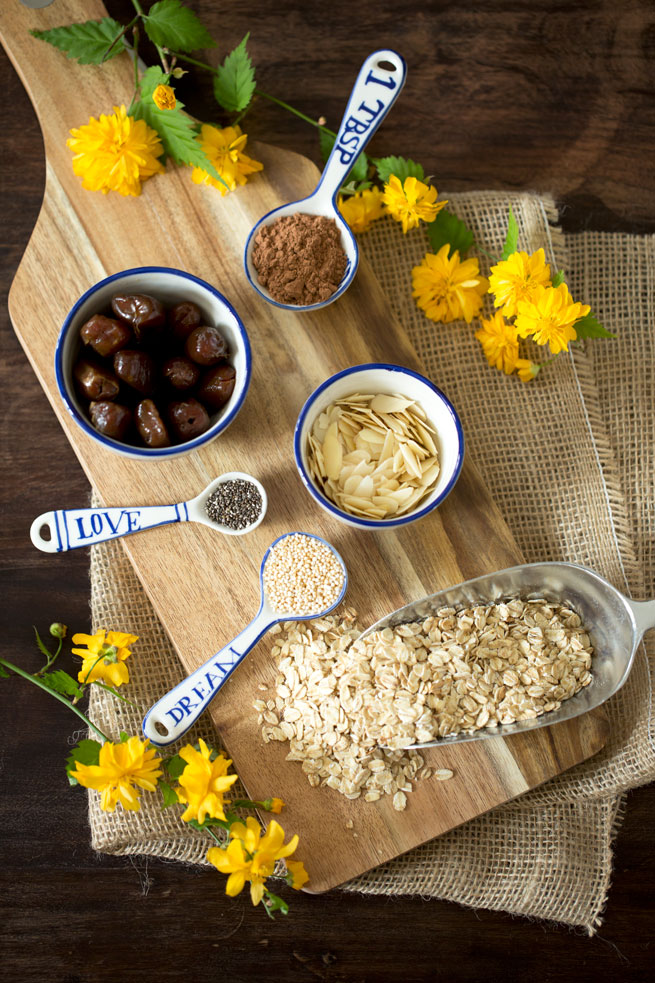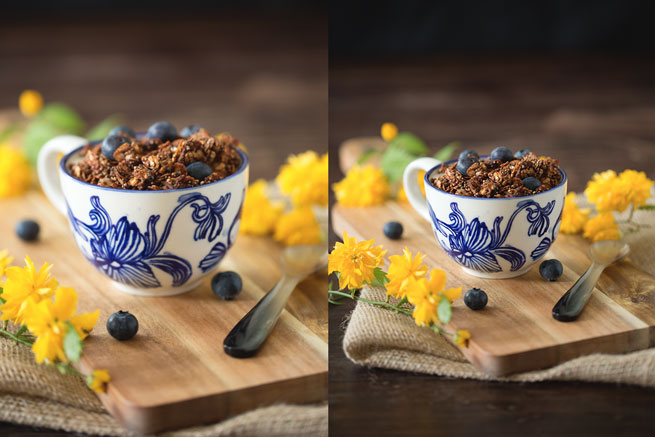 A great breakfast bowl starts with yoghurt, granola and fresh fruit, don't you agree? And the best thing about it, is that it is quick. If you aren't a morning person, like myself, and the thought of being able to sleep a few minutes longer sounds like heaven, you will love this breakfast option. You can make the granola on the weekend and it will last you for the week to come. You'll be able to hit that snooze button, without regretting it later ;)

Healthy Chocolate Granola
Healthy Chocolate Granola made with healthy superfood ingredients like raw cacao, chia seeds and coconut oil from Alnatura, all naturally sweetened. It is easily prepared in advance and customizable.
Ingredients
50g pitted dates (organic)
100ml water
1 tsp ground cinnamon
pinch of salt
2 tbsp unsweetened cacao (organic)
2 tbsp coconut sugar (organic), optional
20g coconut oil (organic), melted
150g old fashioned oats (organic)
20g sliced almonds
2 tbsp chia seeds (organic)
2 tbsp popped amaranth (organic)
Instructions
Preheat oven to 150°C. Line a baking tray with parchment paper.
In a small sauce pan, combine pitted dates and water. Cook until the dates are soft and can be broken up into pieces. Add the cinnamon, salt and cacao and puree until the paste is smooth. If you want your granola to be sweeter, add 2 tbsp of coconut sugar. This step is optional. Stir in the melted coconut oil.
In a large bowl, combine the oats, sliced almonds, chia seeds and popped amaranth. Pour the date paste over the oats and stir until evenly coated.
Place the granola on the prepared baking tray and bake for 40 minutes, stirring and breaking up large pieces in between.
Notes
Store in an airtight container at room temperature.
You can add dark chocolate chips for extra chocolate flavor.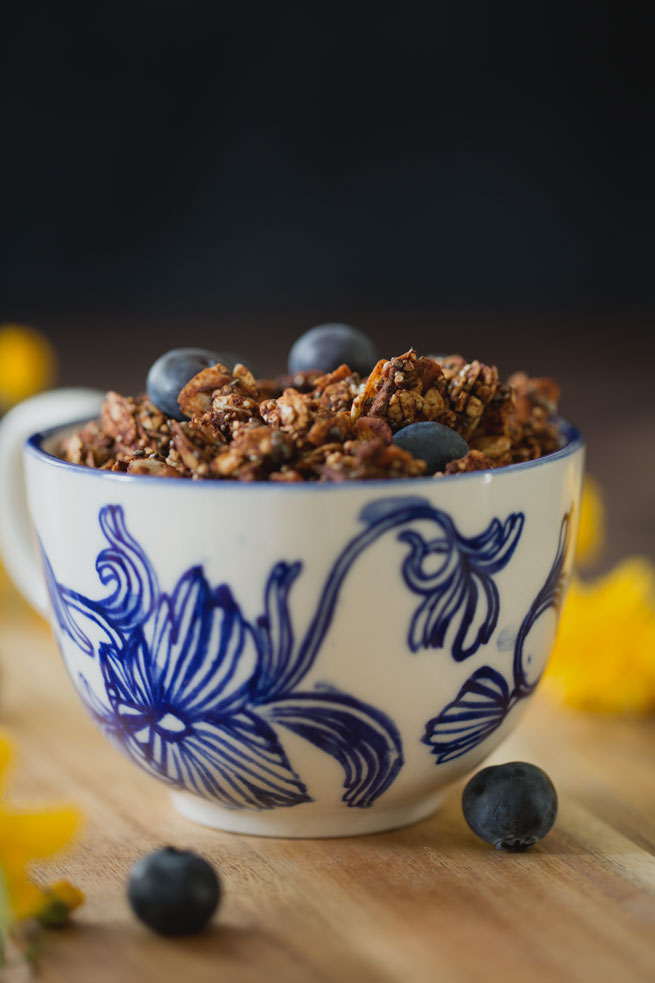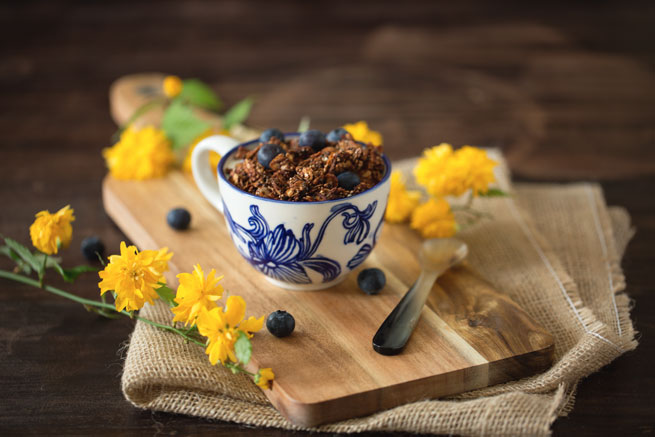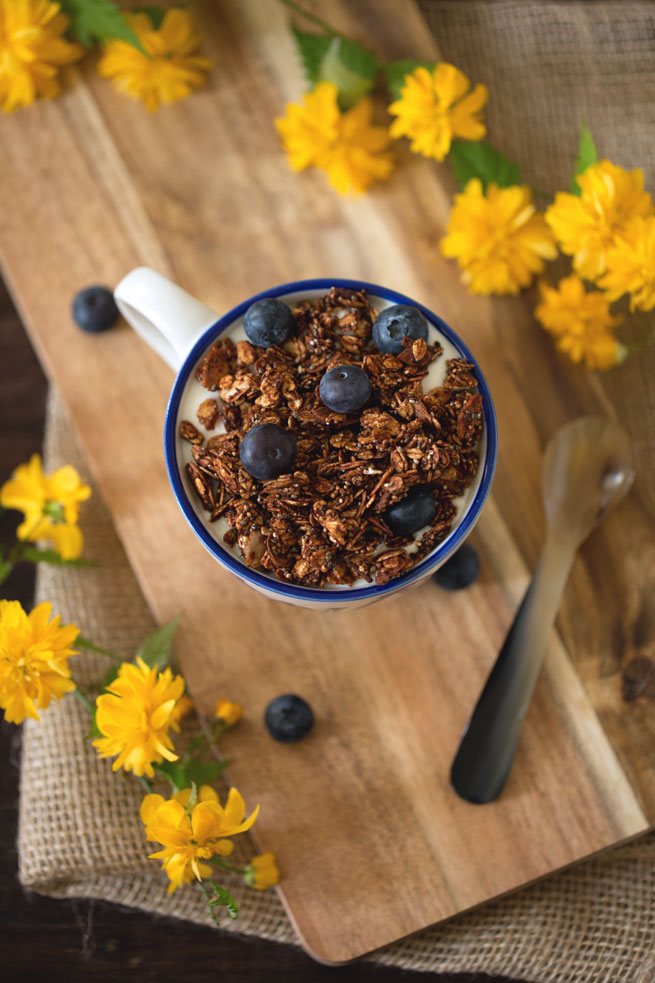 Not only is my
Healthy Chocolate Granola
packed with superfoods, it is also all-naturally sweetened with dates and coconut sugar. It is also easily customized to your taste. Want it fruitier? Try adding
goji berries
after baking. Craving a more intense chocolate flavor? Add
dark chocolate chips
to your baked granola. The possibilities are endless! 
What is your favorite granola flavor? Let me know in the comments below!
* in friendly cooperation with MERKUR