Have you ever tried quinoa for breakfast? It is a great alternative to oatmeal and just as easy to make.  Quinoa is really versatile and is not only a healthy dinner option but can also be enjoyed sweet. It is also packed with lots of fiber and protein to jump start your day with super foods. It is a real breakfast of champions!
I've infused the milk with vanilla and cinnamon and sweetened it naturally using organic coconut sugar. To make the quinoa breakfast bowl you can use any milk you like, regular, almond or even coconut milk. Top it off with your favorite seasonal fruit and you are ready to conquer the day ;)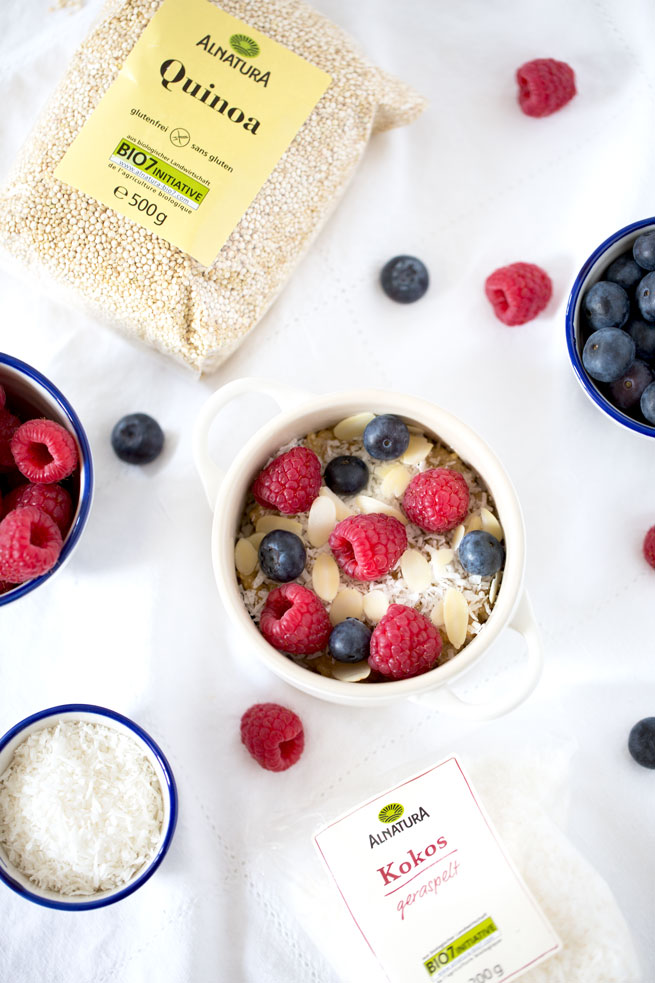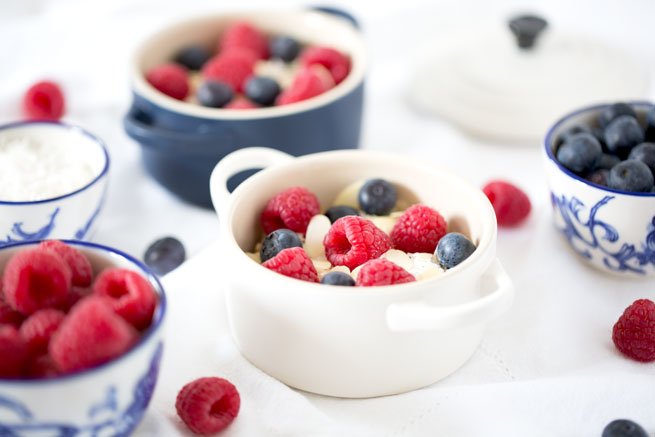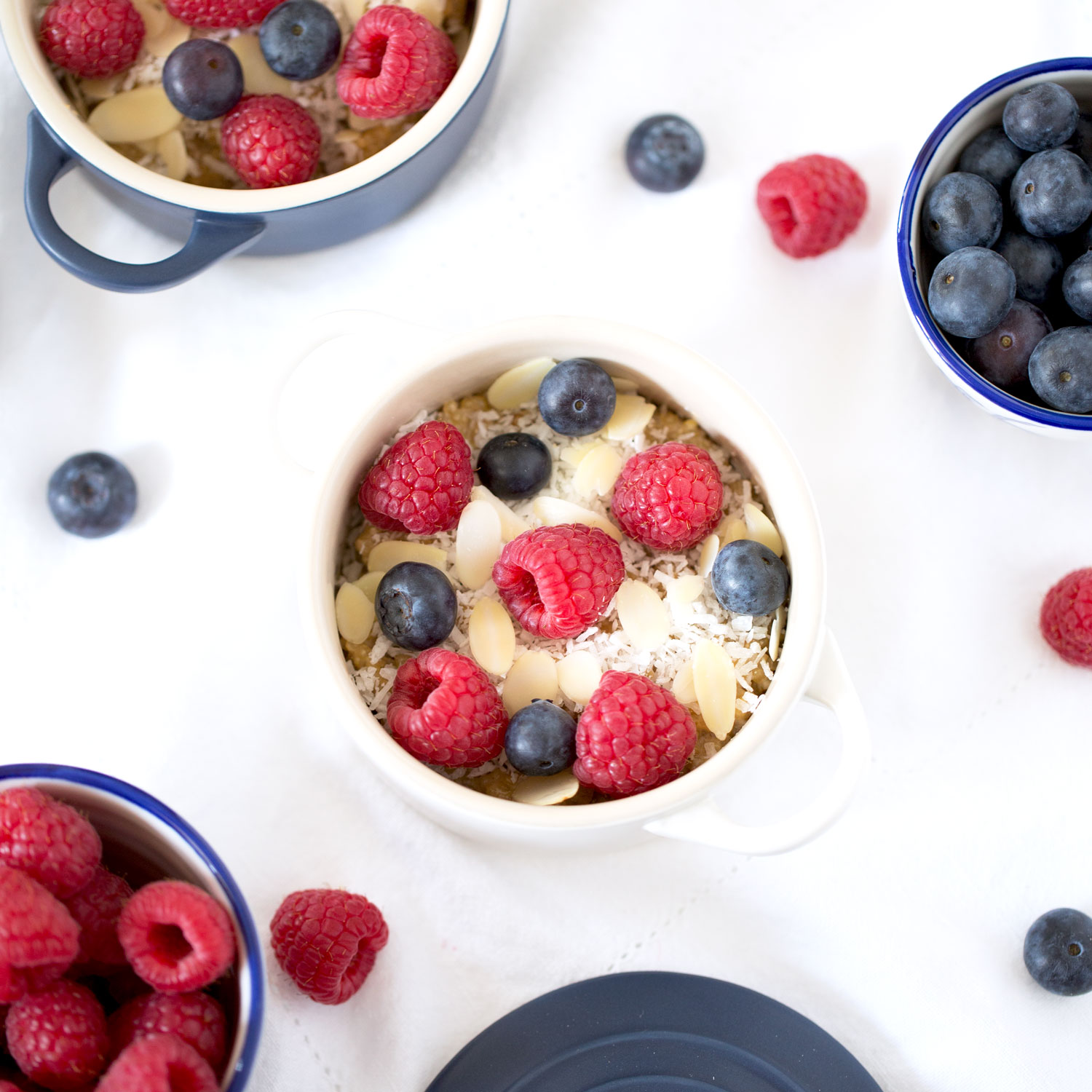 Quinoa Breakfast Bowl
To jump start your day, this Quinoa Breakfast bowl is packed with superfoods and naturally sweetened with coconut sugar. It is gluten-free and vegan.
Ingredients
250ml organic milk of your choice (regular, almond, coconut)
80g quinoa (organic)
1 cinnamon stick
1 vanilla bean, split
pinch of salt
2 tbsp coconut sugar (organic)
2 tsp cashew butter (organic)
Toppings:
raspberries
blueberries
sliced almonds
shredded coconut
Instructions
Rinse and drain the quinoa. Put it in a small pot and add the milk, cinnamon stick, vanilla bean, salt and coconut sugar. Bring it to a simmer and stir it, then reduce the heat and cover it. Watch it carefully to make sure it doesn't boil over! Let it cook for 15 minutes until the quinoa has absorbed most of the milk. Discard the cinnamon stick and vanilla bean. Stir in the cashew butter.
Scoop the quinoa into two bowls and serve with the toppings of your choice. You can also add more coconut sugar on top. Drizzle a little bit more of milk on top if you find it too dry.
Notes
The cooked quinoa can be stored in the fridge for 2-3 days.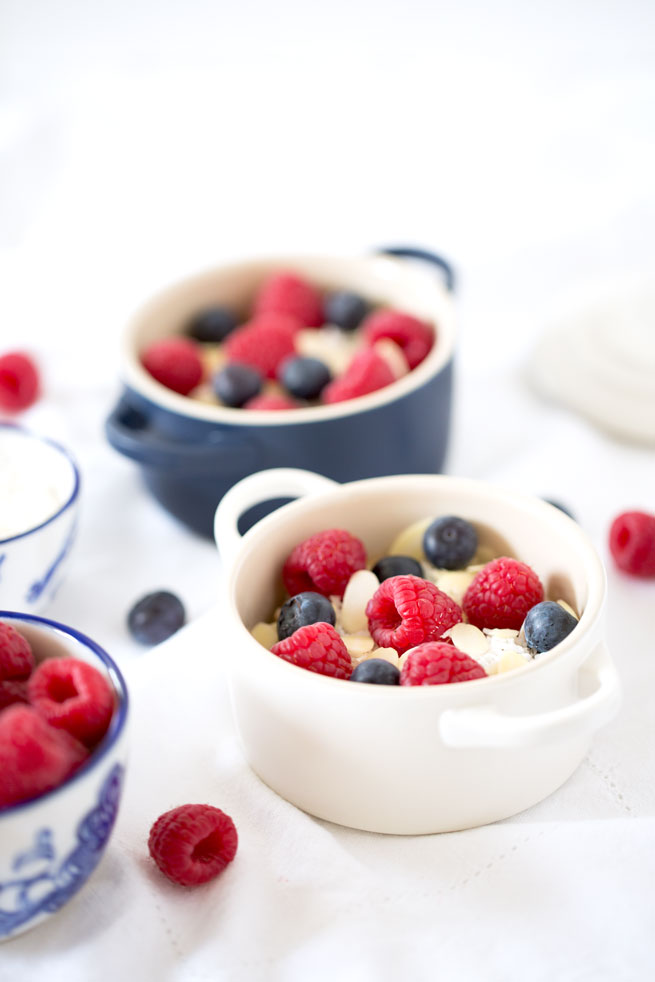 This creamy, hot bowl of goodness makes a wonderful breakfast option and can be enjoyed warm or cold. I've added cashew butter to the recipe to make it extra creamy. I have been loving adding all-natural, organic cashew butter to curries, on top of sweet potatoes or spooning it straight out of the jar! It is so versatile and delicious!
Will you give my quinoa breakfast bowl a try?