One afternoon, I was seriously craving something sweet and chocolatey, not like a fudgy brownie, but lighter and fluffier. Just a light and fluffy chocolate cake that was rich enough to satisfy my cravings. Oh and I didn't have any eggs in the fridge. Well then a vegan cake it is! :)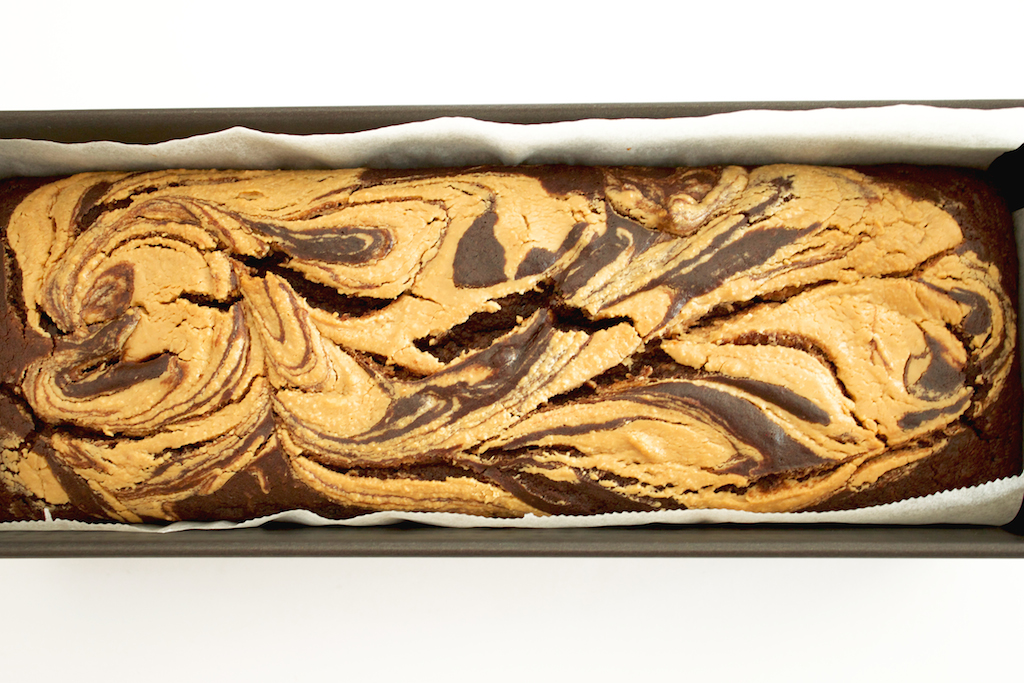 When I served it to my mom and mentioned that it was vegan, she immediately turned up her nose and protested why I wouldn't make a 'real' cake. Same thing happened with my bf. His first reaction was 'Mmmh' when he saw the cake, followed by 'Ugh' as I said really proud that it was vegan. Never would I have thought that the substitution of butter and eggs would be such a big deal in my family!
When it came to the taste test, no one was missing any of the 'real' ingredients they had so strongly insisted on before. It was a hit and it was all gone the next day. What were you saying about 'real' cakes, Mom?!
After this long introduction about vegan skepticism, I hope that you will be brave enough to try this recipe (even if you are not vegan) ;)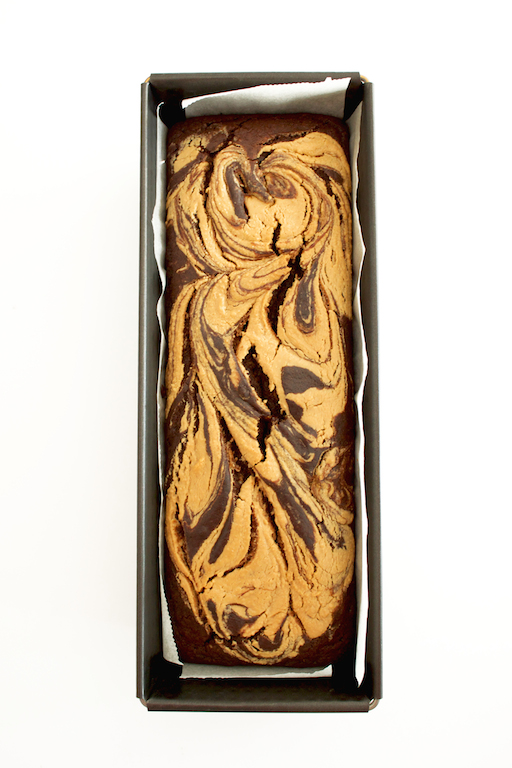 The recipe is a really easy one-bowl recipe. The vegan chocolate loaf is very moist and light and the peanut butter swirl topping adds a nice saltiness to it. One slice of the cake is enough to satisfy your sweet cravings as it is very rich from the cocoa powder.
Vegan Chocolate Loaf with a Peanut Butter Swirl
2014-05-12 22:15:50
An easy one-bowl recipe for a light, vegan chocolate cake, topped with peanut butter swirl
Ingredients
200g all-purpose flour
180g brown sugar
60g cocoa powder
50g shredded, unsweetened coconut (optional)
1 tsp baking soda
pinch of salt
80g coconut oil
1 tsp white vinegar or lemon juice
180ml water
90ml almond milk
50g all-natural peanut butter
Instructions
1. Preheat oven to 175°C. Line a loaf pan with parchment paper.
2. Add the dry ingredients to a large bowl and whisk them together. Beat in the coconut oil, white vinegar, water, almond milk using an electric mixer on medium speed. Once everything is well incorporated, transfer the mixture to the loaf pan. Drop the peanut butter over the chocolate mixture in dollops. To create a marble effect, gently swirl the peanut butter together with the chocolate mixture with a knife. Bake the loaf for about 40 mins, until a tooth pick inserted comes out clean. Let it cool completely before removing the cake from the pan.
Notes
Lightly heat the peanut butter in the microwave for a few seconds, so that it is easier to work with.
If you want a 'deeper' marble effect, increase the amount of peanut butter used and swirl the peanut butter deeper with the chocolate mixture.
Adapted from The Pretty Bee
Bowsessed™ https://bowsessed.com/