Two weeks ago, I was invited to a "Kitchen Party" at the Courtyard by Marriott Vienna Messe. Under the motto "teambuilding in the kitchen", I was promised a fun-filled evening of cooking in an intimate group.
The evening began with a delicious aperitif made of pineapple and passionfruit juice, perfect to get know everyone in a casual ambience. As cooking is supposed to bring people together, we were divided into teams, each in charge of a different course.
Under the guidance of chef Dennis Schütt and his team, we started preparing our 3 course menu consisting of Norway lobster with vegetables and homemade chips, two preparations of deer on a carrot mousse and, as the crowning conclusion, molten chocolate cakes with flambéed fruits. Lina from Glittery Peonies and I were in charge of the dessert, my favorite part of every meal! ;)
We were mixing and whisking away, occasionally sipping on wine, and our dessert was done in no time! Those who are not as experienced at swinging the cooking spoon also have plenty of opportunities to "sip and stir".
I enjoyed getting useful hints and tips from the pros. The artful food presentation, showed by chef Dennis, was the trickiest part to imitate.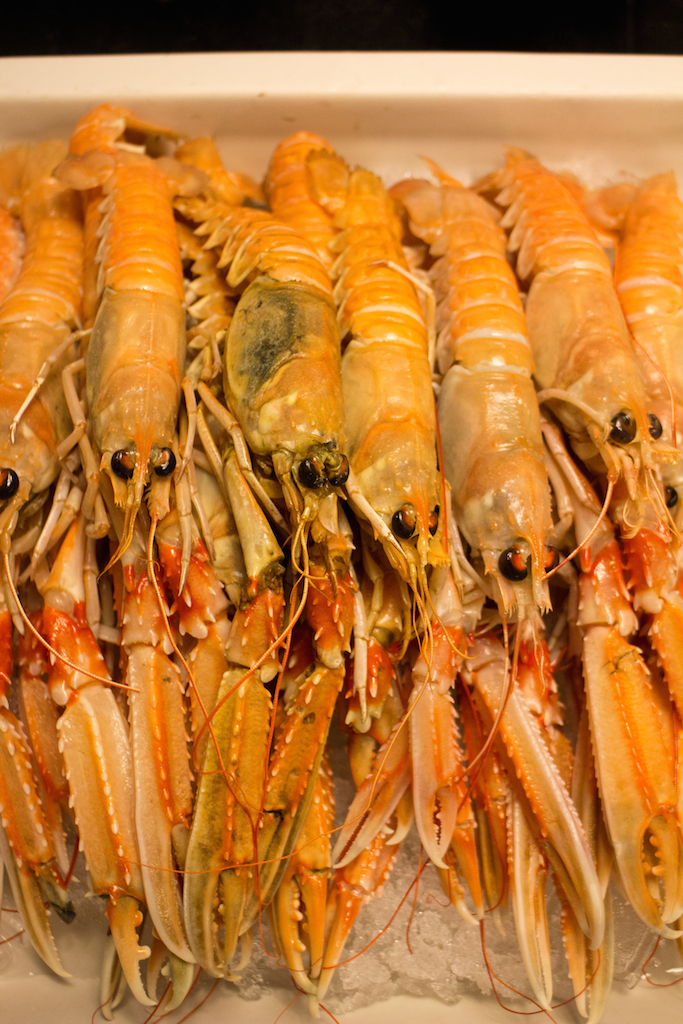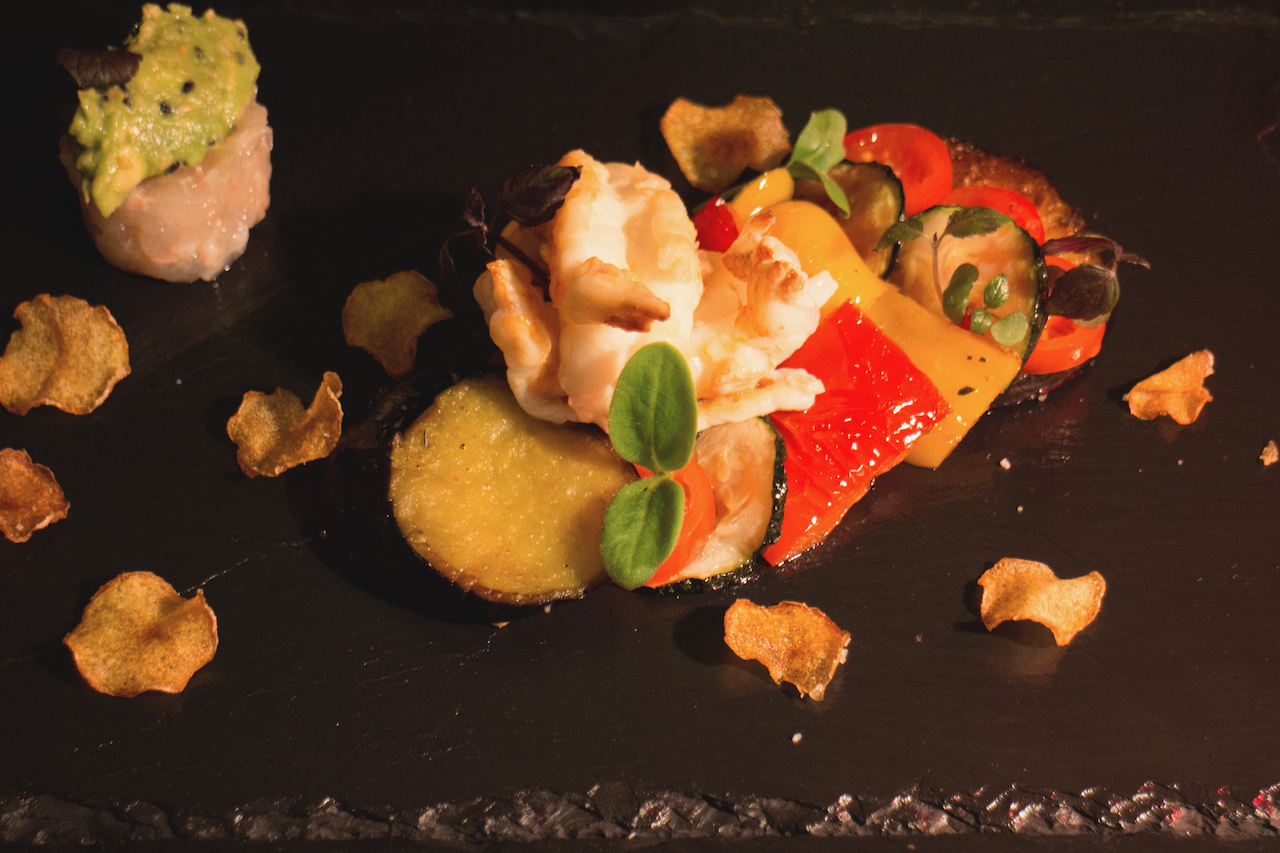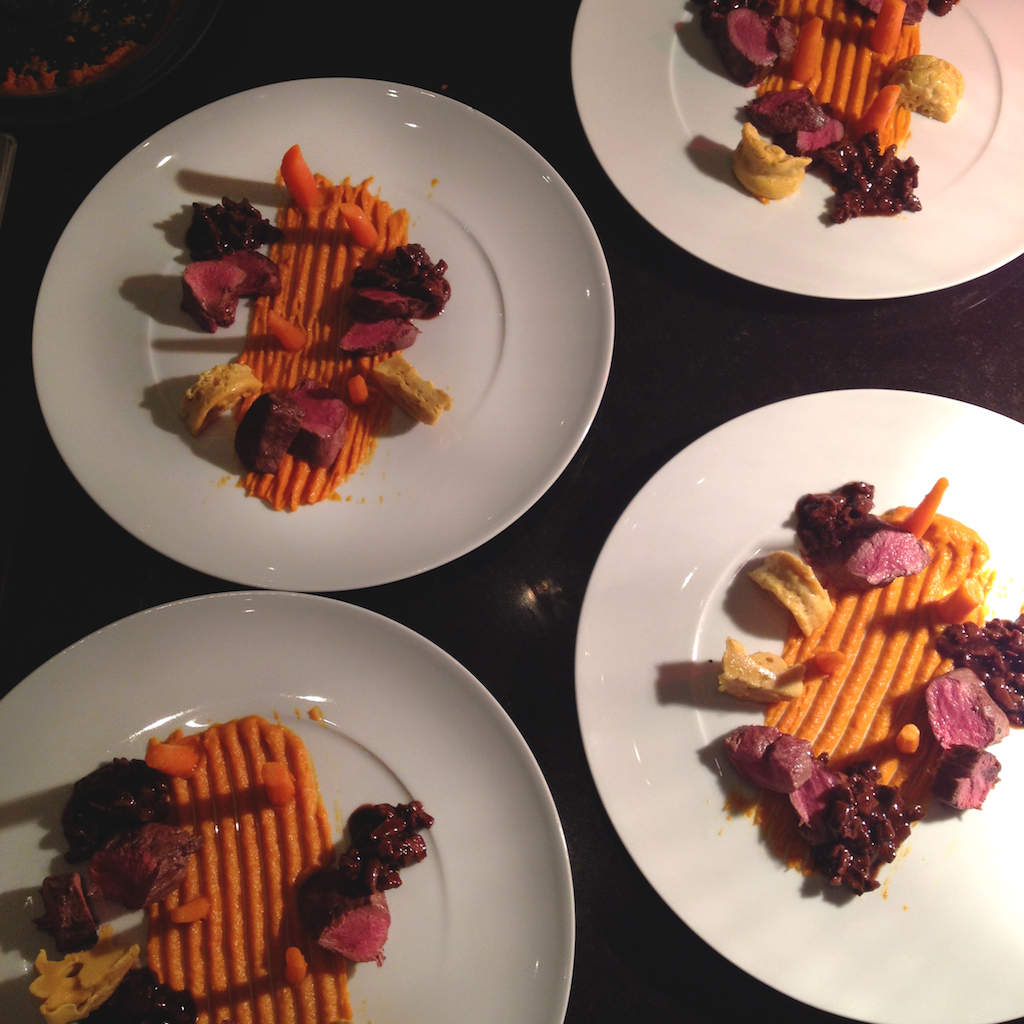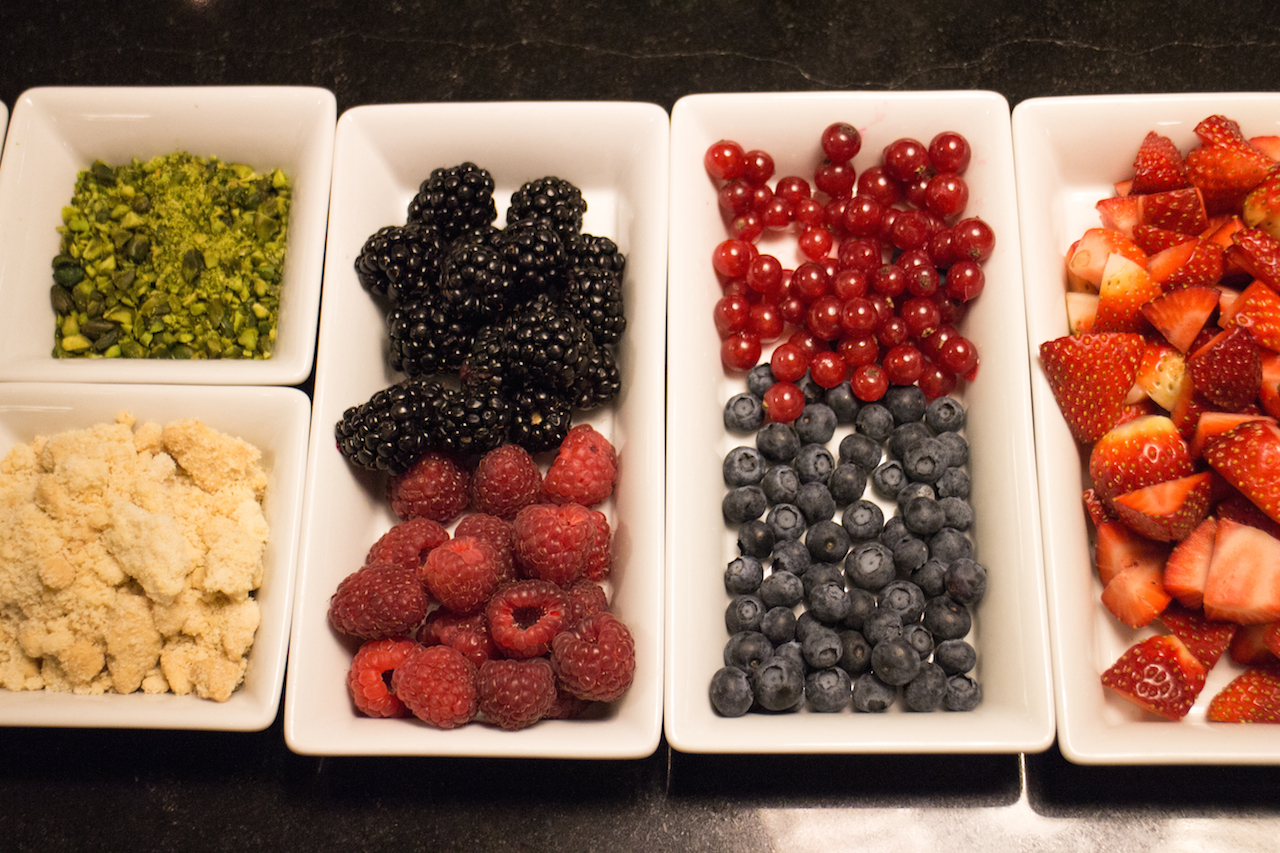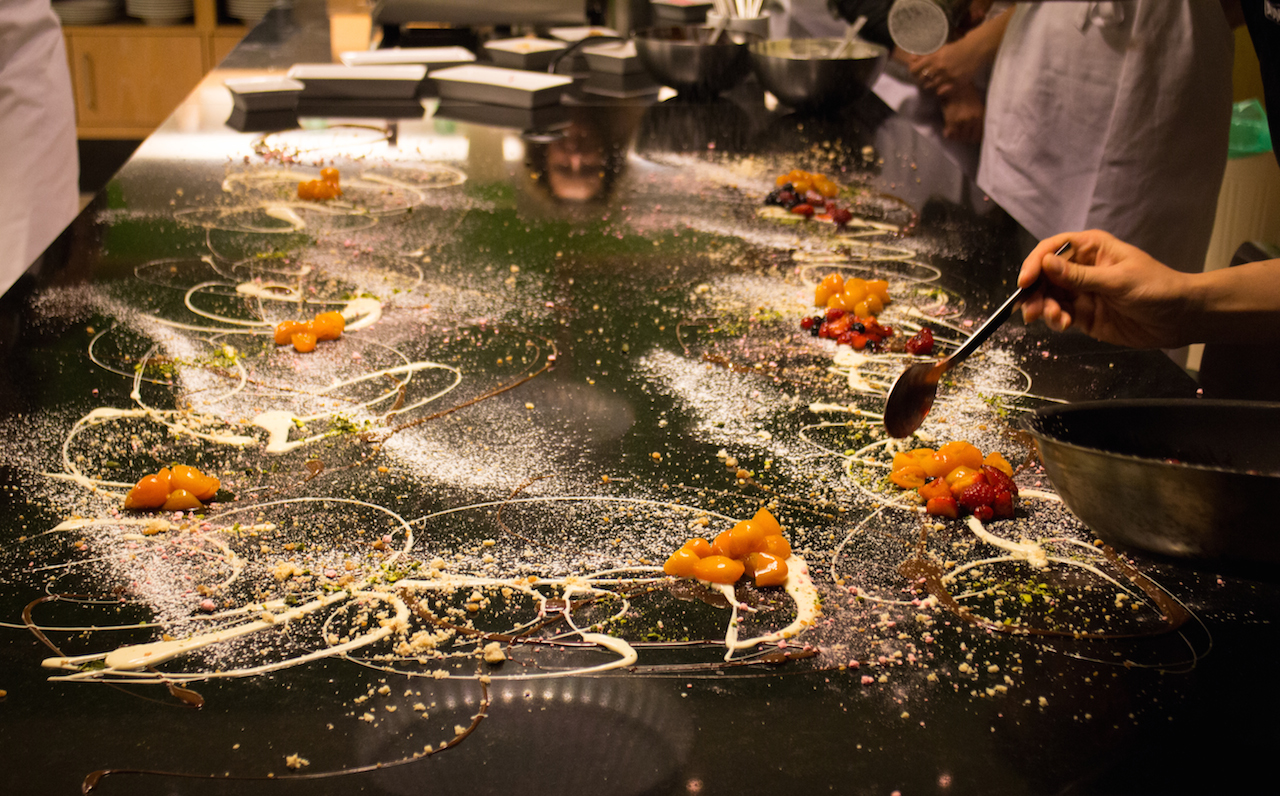 The presentation for our chocolate molten cakes was definitely an eye-catcher, as the dessert was served directly on the tabletop! Thankfully, we didn't have to worry about the mess or dirty dishes since all the washing afterwards was taken care of! ;)
Molten Chocolate Cakes Recipe
The team at Marriott was so nice to let me share with you the finger-licking, delicious recipe for the Chocolate Molten Cakes! With Valentine's Day coming up soon, it would be the perfect dessert. I also have a few more recipes up my sleeve, that will be coming to the blog very soon!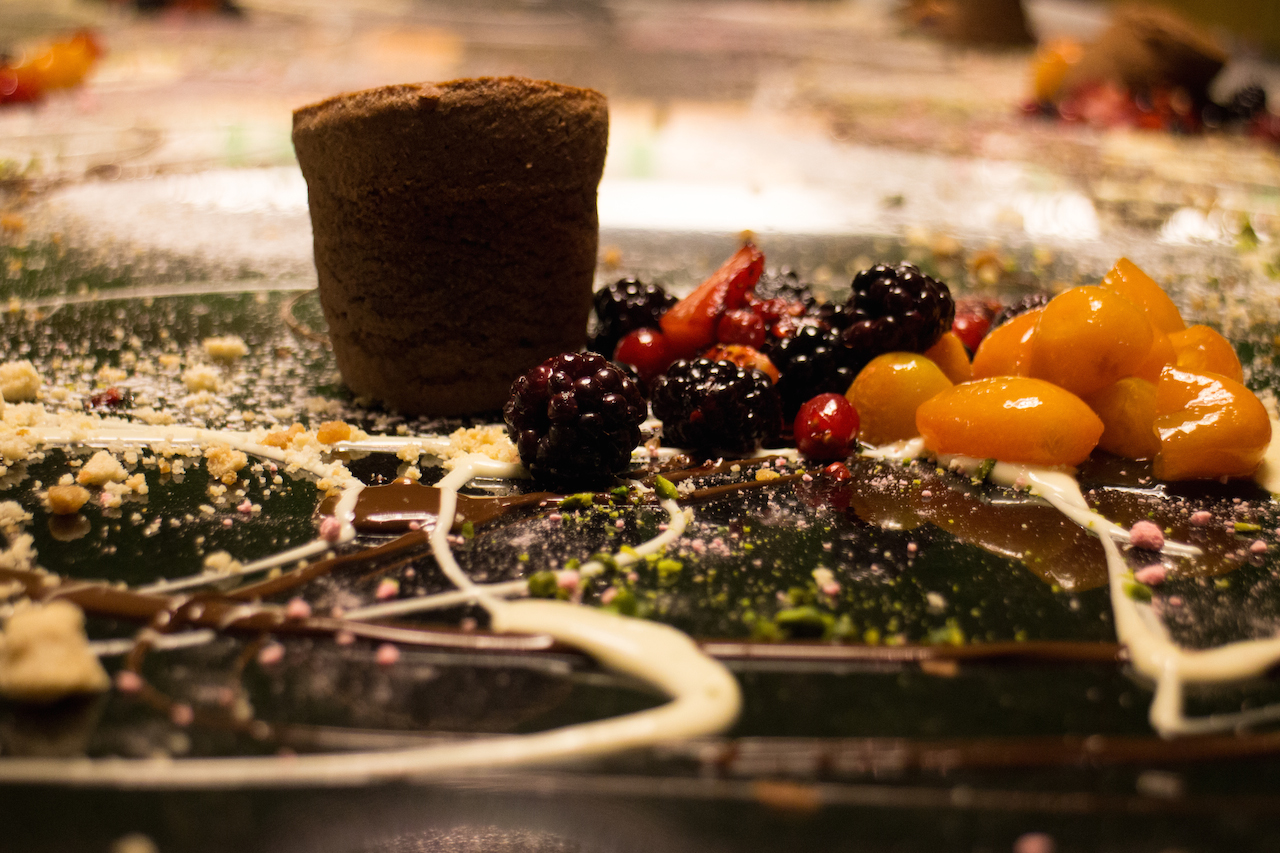 Molten Chocolate Cakes
Warm chocolate cakes with a gooey center
Ingredients
100g dark chocolate, chopped
120g unsalted butter
4 eggs
160g caster sugar
50g all-purpose flour
Instructions
Preheat oven to 200°C. Butter and lightly flour 10 small ramekins or a muffin tin.
In a double boiler, over simmering water, melt the dark chocolate with the butter.
With an electric mixer, cream together eggs and caster sugar until fluffy. Beat in the chocolate mixture. With the mixer on low speed, mix in the flour and beat until just combined.
Divide the batter evenly among the prepared ramekins and bake for 8-10 minutes at 200°C. Do not overbake the cakes, they should be done when the top of the cakes has set and no longer "jiggles". Let the cakes cool for a few minutes before inverting on dessert plates. Serve immediately and enjoy!
Notes
Serve warm with fresh fruit and/or vanilla ice cream.
It was great sharing an enjoyable experience at the table and savoring our successful banquet together. Take a pinch of patience, a dash of team spirit and a spoonful of laughter for a successful evening in the kitchen!
P.S. The exclusive cooking event can be booked for corporate events, family celebrations or groups. The menu can be customised to individual preferences and to include vegetarian and special dietary options.