Cookies and milk are an unbeatable combination when it comes to an afternoon (or even a midnight) snack. Dominique Ansel, who also invented the Cronut™, came up with this genius creation that incorporates both into one golden, crispy dessert. The Chocolate Chip Cookie Shot is a chocolate chip cookie shaped like a shot glass. The scrumptious exterior consists of chocolate chip cookie dough, baked to perfection. The insides are brushed with melted chocolate, making the cookie shot sturdy enough to hold delicious organic milk.
Today I want to share with you my take on this classic. To be honest I thought these Chocolate Chip Cookie Shots would be a lot easier to make! It took me three times until I got them right. My first batch was a complete fail, the dough was too soft and was spreading and dripping everywhere as the cookie shots were baking. The third time, they came out perfect, crunchy enough on the outside to hold the milk, while still having that classic chocolate chip texture, being buttery soft, on the inside. 
I wanted to stay classic and filled the cookie shots up with cold milk, just like Dominique's creation. I've added my personal touch by adding a whisp of milk foam to it.
You could also fill them up with iced coffee for a more grown-up version, like a 'Chocolate Chip Cookie Cappuccino' or 'Cookieccino'. For the ultimate chocolate experience fill them with cold, creamy chocolate milk!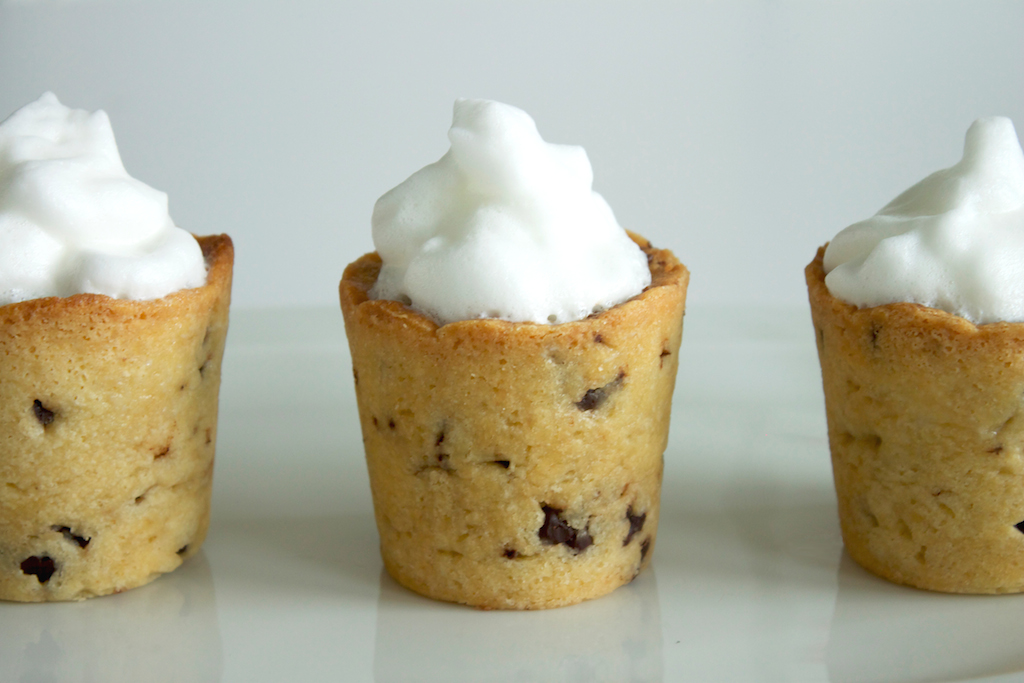 Chocolate Chip Cookie Shots
Ingredients
120g butter (organic), at room temperature + a little extra for greasing 100g caster sugar
100g brown sugar
1 egg (organic)
1 tsp vanilla extract
280g all-purpose flour (organic)
pinch of salt
100g semi-sweet chocolate chips 50g semi-sweet chocolate, melted
cold milk (organic)
Instructions
Using a brush grease six cup moulds (diameter 7.5cm, height 6.5cm) with butter and line the bottom and the sides with parchment paper (cut to the appropriate size).
Cream together the butter, caster and brown sugar. Add the egg and continue mixing until it is well incorporated. Mix in the vanilla extract.
Combine the flour and salt in a small bowl. Mix in the flour mixture in three batches until everything is incorporated. Mix in the chocolate chips, using a spatula. Place the dough in the fridge for about 30 minutes, to make it easier to work with.
Preheat the oven to 180°C.
Flour your hands and start building your cookie shot. Taking a small piece of dough at a time, press it into the prepared forms, starting at the base. The cookie shot should be between 0.5 and 1 cm thick. Once you have formed all your cookie shots, smooth out the edges using a knife. Bake them for 10-15 minutes, until the dough is golden brown and crispy. Once they are done, take them out and let them cool for 30
minutes.
If the dough has slightly risen in the middle of your shots, while they are still warm, use a sharp knife to carefully cut out a hole. Then use a teaspoon to scoop out the excess dough. If you feel that the bottom of your cookie shots is not crispy enough, pop them in the oven for
another 5 minutes.
Remove the cookie shots from the moulds and peel off the parchment paper. Generously brush the insides of the shots with the melted chocolate, doing about 2 coats. The chocolate coating will prevent the milk from making the cookie base soggy. Transfer the cookie shots to
the fridge for at least 30 minutes, until the chocolate has set.
Once the chocolate has hardened, fill your cookie shots with cold milk. You can enjoy your chocolate cookie shots like that or froth some extra milk (I've used an induction milk frother). Let your milk foam cool for a bit before putting it on top of your cookie shots, otherwise the
chocolate will melt and the cookie base will get soggy. Enjoy!
Notes
Store your cookie shots in an airtight container, preferably in the refrigerator.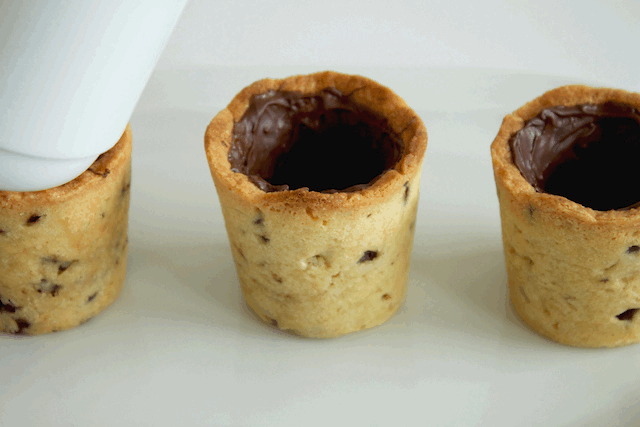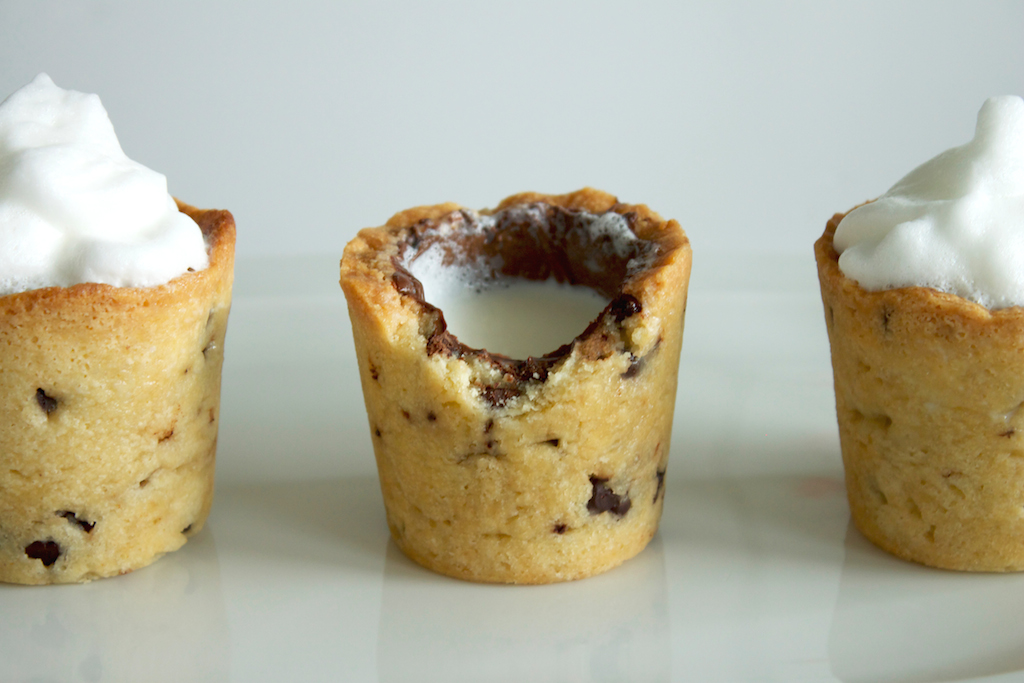 Spoon (or slurp) the foam, take a sip of milk, then a bite, and repeat! Continue until they have all vanished :)