I have a confession to make: I don't like eggnog… on its own at least. I would never drink a cup of eggnog. I do however love the taste of eggnog in cakes, cupcakes, muffins and donuts of course. And there is something about mini donuts, that make them taste even better than regular donuts. Maybe it is the fact that you won't feel as guilty when you eat more than you should.
I topped those mini eggnog donuts off with a spiced up white chocolate glaze. The dark rum in the glaze is optional but I would highly recommend it ;)
To make these eggnog cake donuts, I used a Wilton mini donut pan, which has become my beloved baking utensil ever since I got it in the States at my all-time favorite store, Bed, Bath & Beyond (in the 'Beyond' section). If you don't own a donut pan you can also make mini muffins with this recipe.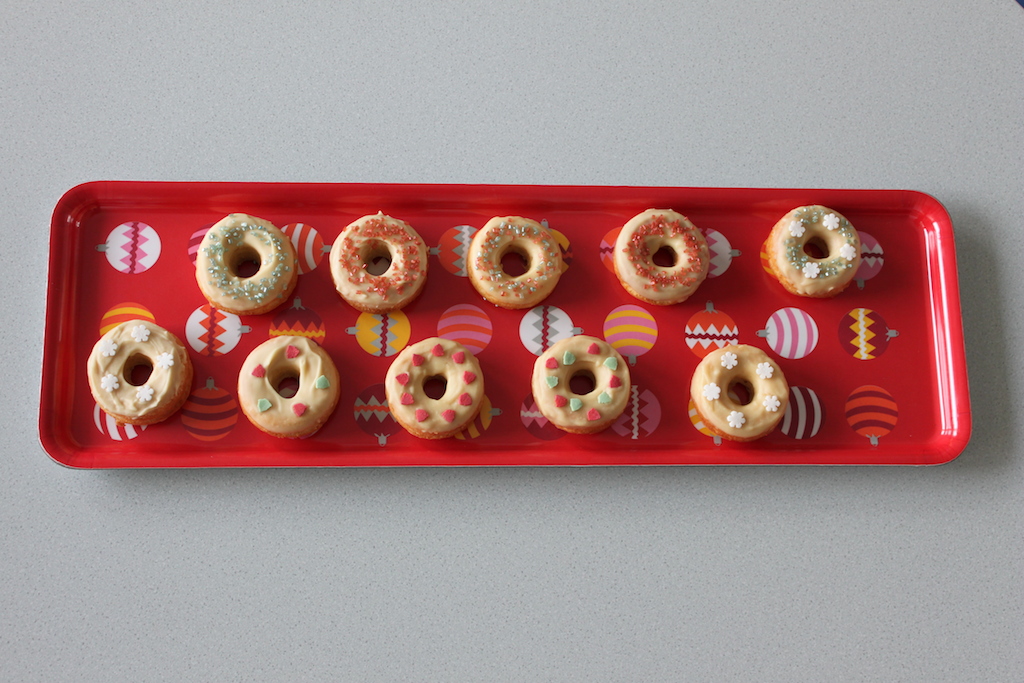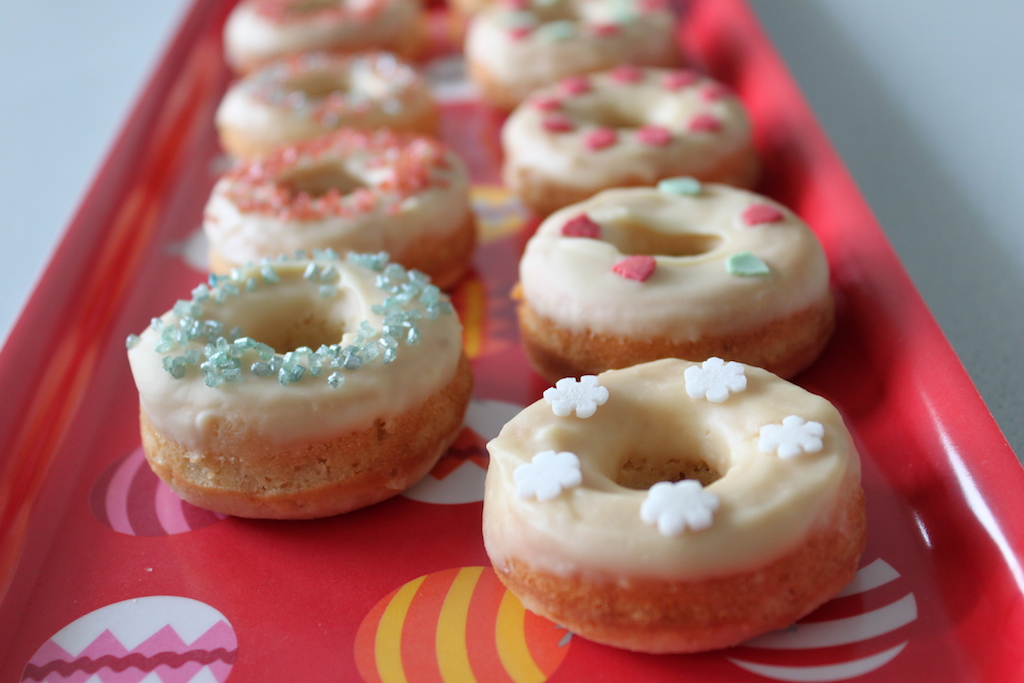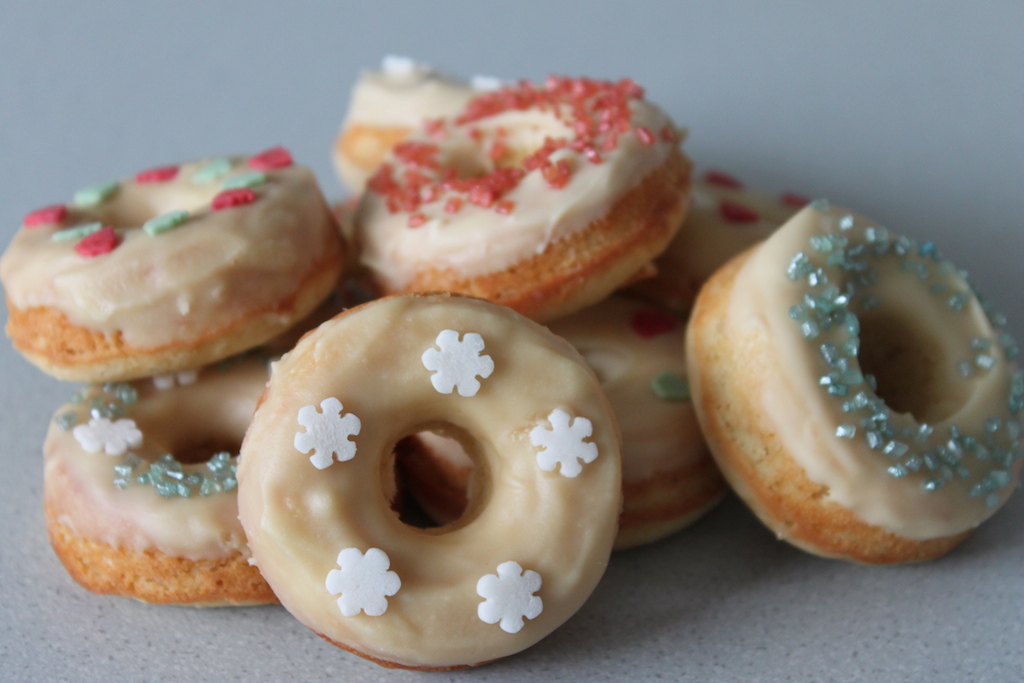 Eggnog cake donuts
2013-12-11 10:12:54
For the donuts
120g all-purpose flour
1/2 tsp cinnamon
1 tsp baking powder
15g butter, at room temperature
50g brown sugar
50g caster sugar
1 egg
1/2 cup eggnog
1/2 tsp vanilla extract
For the glaze
120g white chocolate
3 tbsp butter
1 tsp dark rum (optional)
Instructions
1.Preheat oven to 160°C. Lightly grease a mini donut pan with vegetable oil.
2. In a small bowl, combine the flour, cinnamon and baking powder and set aside. In a larger bowl, beat the butter and the sugars with an electric mixer on medium speed. To the bowl, add the egg, eggnog and vanilla extract and mix it well. Gradually add the dry ingredients until just incorporated. Do not over-mix the batter.
3. Transfer the dough into a pastry bag, fitted with a large round tip. Pipe the dough in the donut pan about halfway full. Bake the mini donuts for 8-10 minutes. Once they are done and slightly cooled, transfer them to a wire rack to let them cool completely.
4. To make the glaze, melt the white chocolate and butter in a small saucepan. Take it from the heat and stir in the rum. If the glaze is too thin, let it sit for a few minutes. Dip one side of the mini donuts into the chocolate glaze and let them set on a wire rack.
Notes
The batter should be quite thick, slightly thicker than pancake batter. The eggnog I used was quite thick, but you may need to add more flour if your eggnog is thinner.
Adapted from Averie cooks
Bowsessed™ https://bowsessed.com/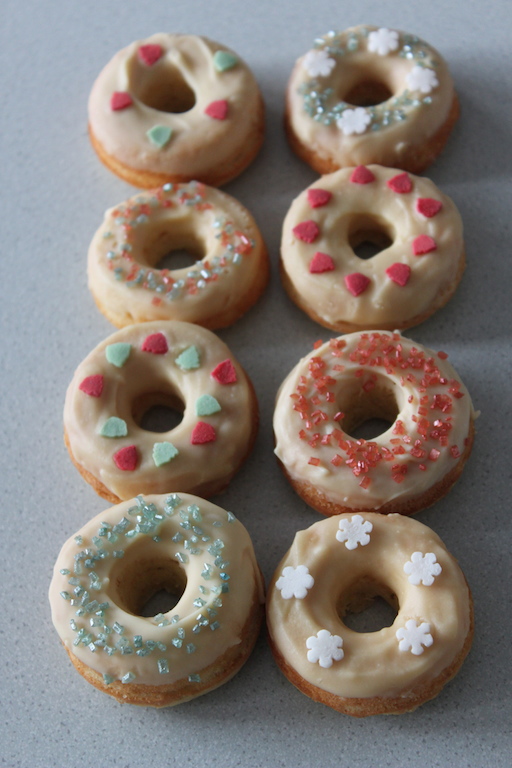 What is on your baking list for this Christmas?