Marzipan is one of those ingredients that you either love or hate. At least I've never met anyone saying that they tolerated the taste of marzipan in sweets, but were not very fond of it. I love the taste of marzipan! I like to eat it all year around (out of the package I may add!), but somehow the more complex the marzipan figure or sweet is done, the better it tastes! At least this is what I tell myself ;)
Now cookies that taste like marzipan are a whole new level. And there is something about Christmas, that makes me stock up on almond paste. Almond macaroons, for me at least, are the perfect cookie recipe in the pre-Christmas period. They have a crispy exterior, but the center is chewy and full of delicious almond flavor. They are just scrumptious and very addictive.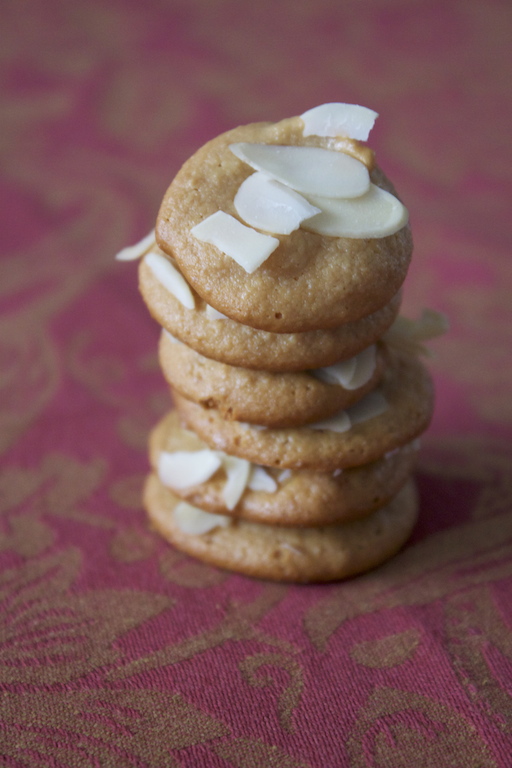 Almond Macaroons
2013-12-03 05:35:19
A delicious drop cookie that tastes like marzipan.
Ingredients
110g almond paste
60g icing sugar
pinch of salt
1 egg white
1/2 tsp vanilla extract
1 tsp Amaretto (or almond extract)
40g sliced almonds
icing sugar for dusting
Instructions
1. Preheat oven to 150°C. Line two baking trays with parchment paper.
2. Put almond paste in a food processor and pulse until it is crumbly. Add sugar and salt and combine. Add the egg white, vanilla extract and Amaretto and heath the dough for 2 minutes, until it is smooth.
3. Using a teaspoon, drop the batter on the parchment paper, approximately 2cm apart. Place the sliced almonds on top of each cookie. Bake cookies for 18-20 minutes until they are golden brown. Transfer the cookies to a wire rack and let them cool completely. Dust macaroons with icing sugar before serving.
Notes
You can also make these cookies with an electric mixer.
Cookies should be stored in airtight containers, with parchment paper between each layer.
Adapted from Martha Stewart
Bowsessed™ https://bowsessed.com/