I love oatmeal! I became a fan of it in London where they call it 'porridge' and cook the oats with milk to get a creamier texture. But sometimes (actually often) I like to eat cake for breakfast. I'm not a huge breakfast person, I don't like to eat straight after I've woken up. I need my time to wake up in the morning before I'm in the mood to eat. I love brunch, though! I could easily eat pancakes, waffles and cinnamon rolls every day without getting tired of it!
This cake is perfect if you are bored of your standard oatmeal in the morning and are in the mood for a little sweet treat. It isn't as healthy as your standard oatmeal, although I like to tell myself that adding oats to a cake makes it healthy ;)
You can easily make it a day in advance and even freeze the finished oatmeal cake in individual pieces to have a freshly microwaved breakfast/snack option whenever you want.
I like to enjoy my oatmeal cake with a glass of steamed vanilla milk to get me going in the morning.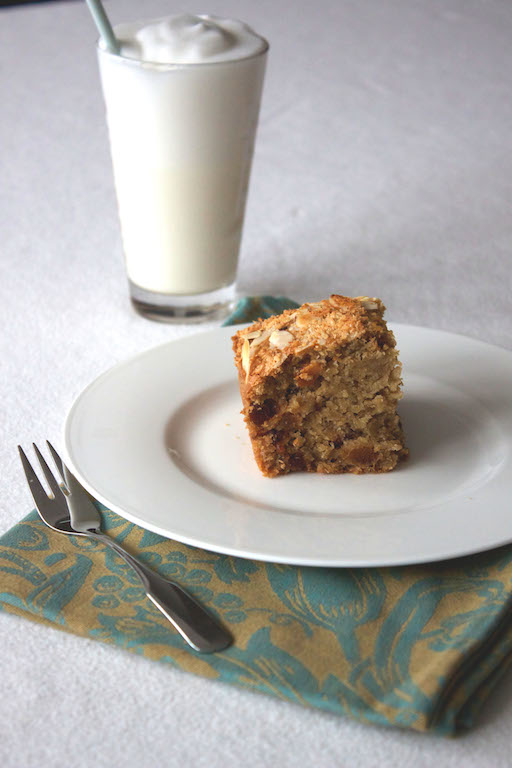 Oatmeal Cake
2014-01-20 02:16:54
A delicious, crumbly cake that is perfect for breakfast or dessert
Ingredients
100g old-fashioned oats
200ml hot water
3 tbsp milk
90g all-purpose flour
1/2 tsp baking soda
1/2 tsp baking powder
1/2 tsp ground cinnamon
1/4 tsp salt
60g coconut oil, melted
100g brown sugar
1 egg
1 tsp vanilla extract
50g dried cranberries, chopped
60g dried apricots, chopped
3 tbsp almonds flakes
2 tbsp coconut flakes
Instructions
1. Preheat oven to 175°C. Line a 15 x 15 cm baking dish with foil.
2. In a small bowl, combine the oats, water and milk and let it sit for 5 minutes, until absorbed. In another small bowl, combine the flour, baking soda, baking powder, cinnamon and salt and set it aside.
3. In a larger bowl, beat the melted coconut oil and brown sugar with an electric mixer for about 2 minutes. Add the egg and vanilla extract and mix until well incorporated. Gradually mix in the flour mixture until just incorporated. Add in the soaked oats. With a wooden spoon blend in the dried cranberries and apricots.
4. Spread the mixture in the prepared baking dish and sprinkle the almond and coconut flakes on top. Bake for 35-40 minutes until a toothpick inserted comes out clean. Let the cake cool completely in the dish before transferring it on a serving plate.
Notes
Enjoy it with a glass of steamed vanilla milk.
Adapted from Annie's Eats
Bowsessed™ https://bowsessed.com/