If you thought you've just read wrong and can't believe that the words chocolate and healthy can be used in the same sentence then my friends you are in for a treat. Trust me you will be keeping your healthy new years resolution if you try this recipe. You might feel guilty nevertheless because it just tastes so delicious! ;)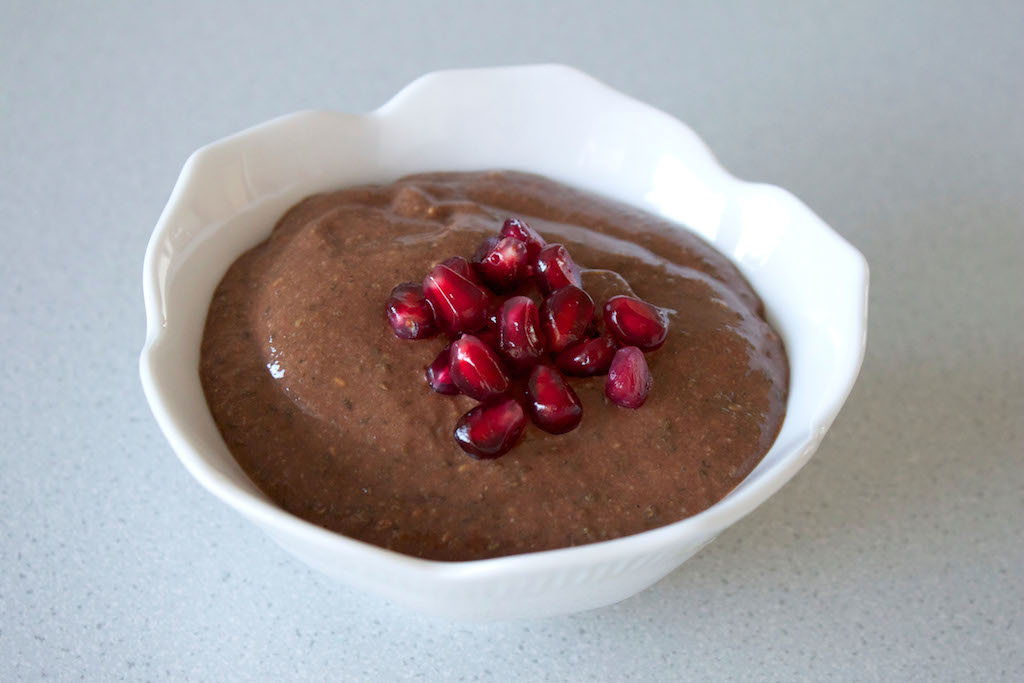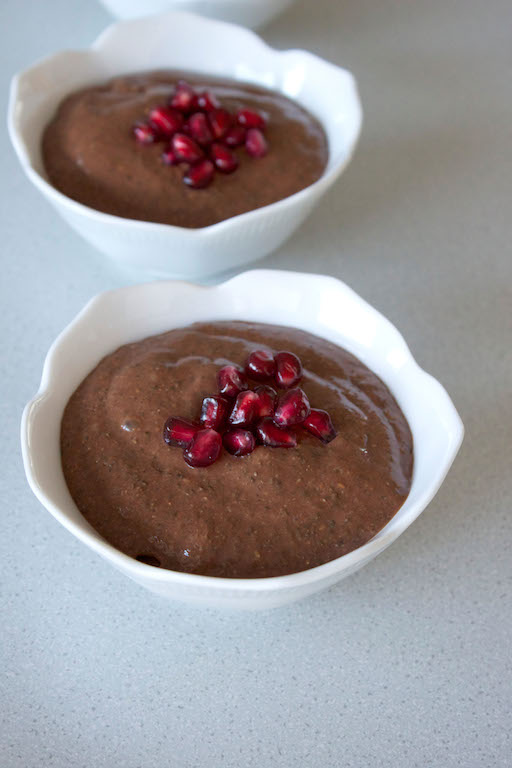 The secret ingredient of this healthy pudding are chia seeds. Chia seeds are super nutritious and belong to the category of so-called 'super food'. If you soak chia seeds in milk they will double in size and become a jelly-like consistency. I like to make a pudding out of them and eating it for breakfast or as a healthy snack in-between.
I used almond milk for this recipe. You can find my recipe for homemade almond milk here. Alternatively you can use any other type of milk.
If you aren't convinced yet, here are some of the great health benefits of chia seeds:
They are rich in omega-3 fatty acids
Chia seeds are an excellent source of fiber
They are rich in antioxidants
They make you feel fuller quicker and will therefore lower your food cravings between meals
Chia seeds are a great source of protein
They help regulate your insulin levels
Healthy Chocolate Pudding
2014-01-13 01:08:13
Serves 4
A mousse-like chocolate pudding made from chia seeds.
Ingredients
60g chia seeds
240ml almond milk
2 tbsp unsweetened cocoa powder
3-4 tbsp agave syrup or maple syrup
1 tsp vanilla extract
1/2 tsp ground cinnamon
Instructions
In a bowl, combine all ingredients and mix them well with a spoon. Cover the bowl and refrigerate it overnight (or for at least 8 hours). Place the mixture in a food processor or blender and pulse until smooth (I wanted my pudding to still have a bit of the 'crunchiness' of the chia seeds and not to be super smooth). Fill the pudding into small bowls and either eat it straight away or refrigerate it again (if it is warm from blending).
Combine all ingredients in a medium bowl. Cover and refrigerate overnight or at least 8 hours. Transfer mixture to a high-powered blender and blend until completely smooth. If pudding is warm from blending, return to refrigerator until chilled. (Alternately, you can just stir the pudding and eat it without blending.) Top it off with your favorite fruit and enjoy!
Notes
It is not necessary to pulse or blend the pudding at all, only if you would like to have a smooth, mousse-like texture. Alternatively you can just eat the pudding after having it refrigerated overnight.
Bowsessed™ https://bowsessed.com/
Have a great start into the week!