Easter is just around the corner!
Today I have a cute DIY food project for you: Completely edible Easter eggs.
These filled chocolate Easter eggs were so much fun to make and taste delicious! I used semi-sweet chocolate for the shells and filled them with a homemade vanilla pudding, topped with a teaspoon of homemade orange curd. I might never make store-bought vanilla pudding again (sorry Dr. Oetker) because this one tastes so delicious and is (almost) as easy to make!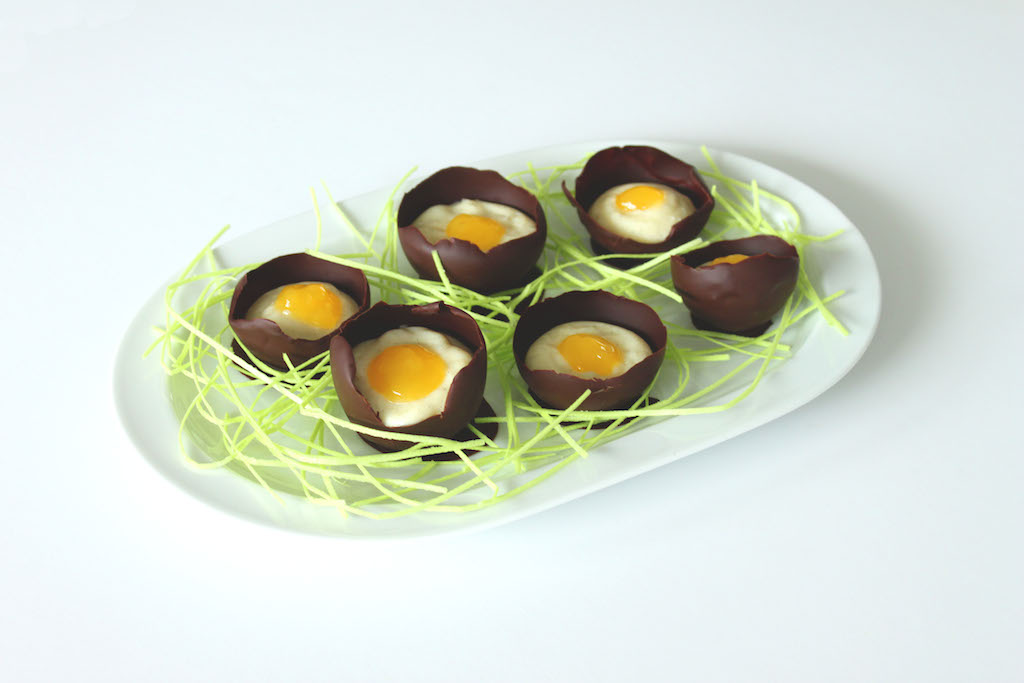 I used 75g of chopped, semisweet chocolate for this recipe. This will make about 6-8 eggshells. You can use any kind of chocolate you would like.
1. To prepare your chocolate eggshells, cover some plastic wrap very tightly over a large plate. This will ensure that your hardened chocolate eggs can be easily removed later on.
2. First thing you'll need to do is blow your balloons, until they are 'egg-shaped'. I've used water balloons, but I've read online that they can pop more easily, which wouldn't have been fun at all (*imagining chocolate splattered everywhere in the kitchen*). So to make sure that none of them would pop, I tempered my chocolate. I divided the chopped chocolate, melted 50g of it, removed it from the heat and then added the remaining of 25g chopped chocolate. Stir the chocolate until it is completely melted and smooth and then you are ready to go. The fun part, at least for me, was dipping the balloons into the chocolate. You don't have to be precise with this step, after all you want your finished product to look like broken eggshells. Place your chocolate covered balloons on your prepared plate, covered with plastic wrap.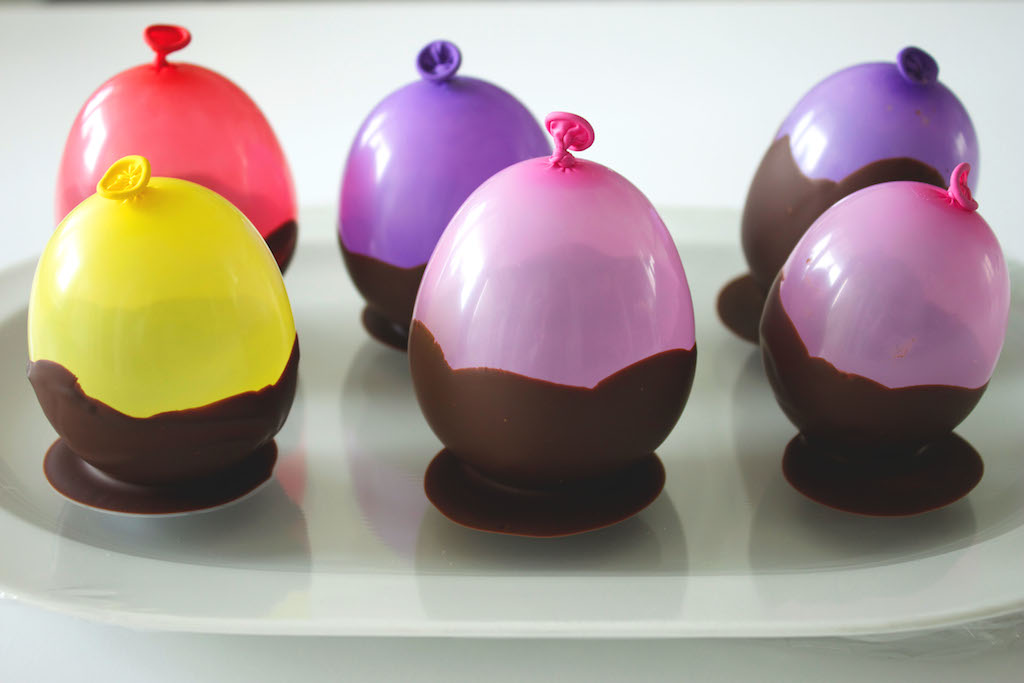 3. Let the chocolate covered balloons harden completely in the fridge for about an hour. Once the shells are hardened it is time to pop the balloons. Carefully remove the remains of the balloons.
4. At this point you could leave your chocolate easter eggs just like this and fill them with some candy and wrap them in cellophane for a cute and delicious gift. But I wanted mine to look like 'real' eggs, so I filled them with vanilla pudding and used orange curd for the 'yolk'. So if you want to get all fancy for Easter and impress your friends and family, read on for the recipes below. Trust me it will be a crowd pleaser ;)
Vanilla Bean Pudding
2014-04-15 16:02:02
Ingredients
1 large egg (organic)
350 ml whole milk (organic), divided
50g granulated sugar
seeds from one vanilla bean
pinch of salt
25g cornstarch
water
Instructions
1. Whisk the egg together with about a tablespoon of milk and set it aside.
2. Mix together the cornstarch with a tablespoon of water and also set it aside.
3. Mix together the remaining milk, sugar, vanilla bean seeds and salt in a medium heatproof pan (you can also add the vanilla bean pods to the mixture for an extra vanilla flavor). Bring the milk to a boil, stirring constantly. Remove the pan from the heat and stir in the whisked egg and cornstarch, whisking the whole time. Return the pan on the stove and let the mixture simmer for a minute, until it has thickened. Set the pudding aside to cool completely (carefully remove the vanilla bean pods, if used).
Notes
Press a piece of plastic wrap to the top of the pudding, to avoid 'pudding skin'.
Bowsessed™ https://bowsessed.com/
Orange Curd
2014-04-15 16:09:46
Ingredients
1/2 tbsp cornstarch
water
fresh juice from half an orange
1 tbsp icing sugar
Instructions
1. Mix the cornstarch with a tablespoon of water.
2. In a small heatproof pan, whisk together the orange juice and sugar. Add the cornstarch and bring the mixture to a boil, stirring constantly. Once the orange juice has thickened, set it aside to cool completely.
Notes
This recipe makes more orange curd than you will need for the chocolate eggs. Orange curd also tastes delicious mixed in yogurt or on top of ice cream.
Bowsessed™ https://bowsessed.com/
5. To assemble the chocolate eggs, fill a pastry bag with the cooled vanilla bean pudding and pipe the pudding in the chocolate eggs until half full. Top it off with a teaspoon of orange curd and voilà you've got yourself cute and delicious edible Easter eggs!
6. Keep your filled chocolate eggs in the fridge until ready to be served.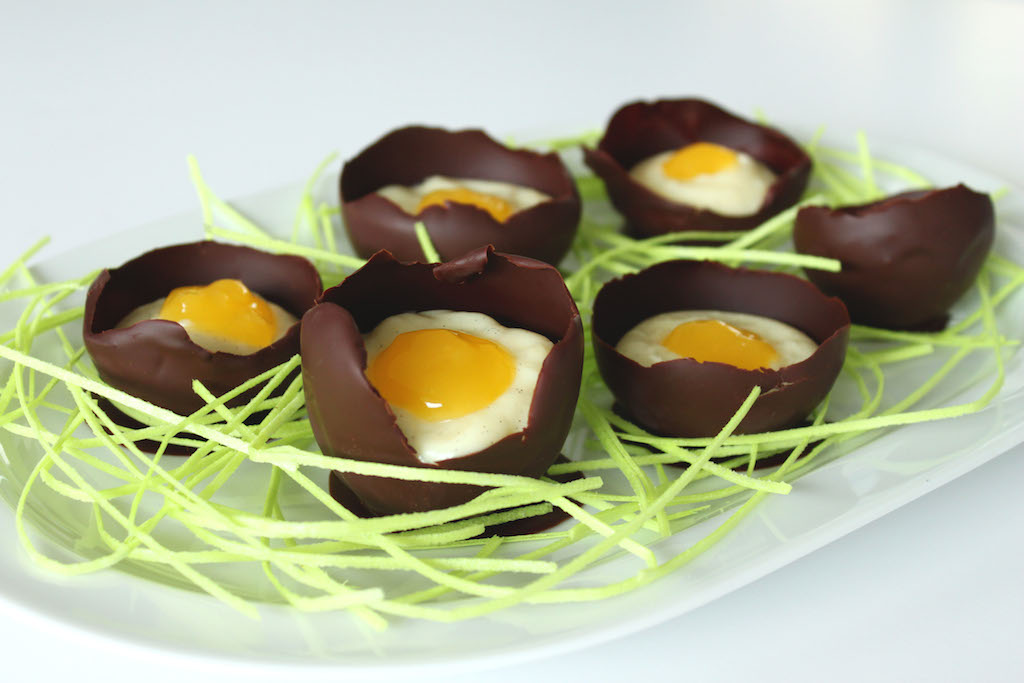 Stay tuned for more Easter recipes coming your way this week ;)