This week I'm (virtually) cooking with six fellow bloggers under the motto "Seasonal Cooking & Baking" for you. Each day another lovely lady has shared a mouthwatering recipe with fruits or vegetables that are currently in season. Since most berries are already in season (yay!), I thought that I would create individual-sized Very Berry Pavlovas for you.
Pavlovas are heavenly, airy treats. The meringue is crispy on the outside and perfectly mallow in the center. Layered with whipped cream with a hint of vanilla and topped with a tart raspberry sauce, this dessert has the perfect contrasting textures and flavors.
It is such a lovely and light summer dessert and looks very fancy when you have guests over. The great thing is that everything can be prepared in advance and then quickly assembled when you are ready to serve them. Or you could even let your guests create their own pavlovas. That would be a nice idea to have a "Build-your-Own-Pavlova-Bar".
The nice thing about this dessert is that you customize to your preferences and top it up with whatever is in season at the moment. There is already a delicious wintery, Christmas version on my mind, but you'll have to wait for that one! :)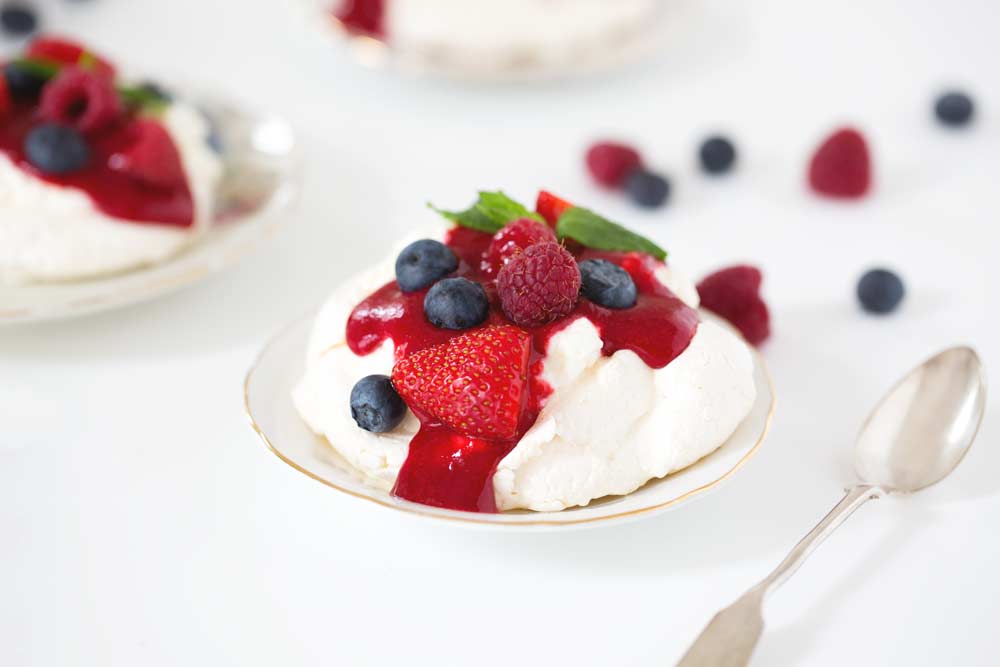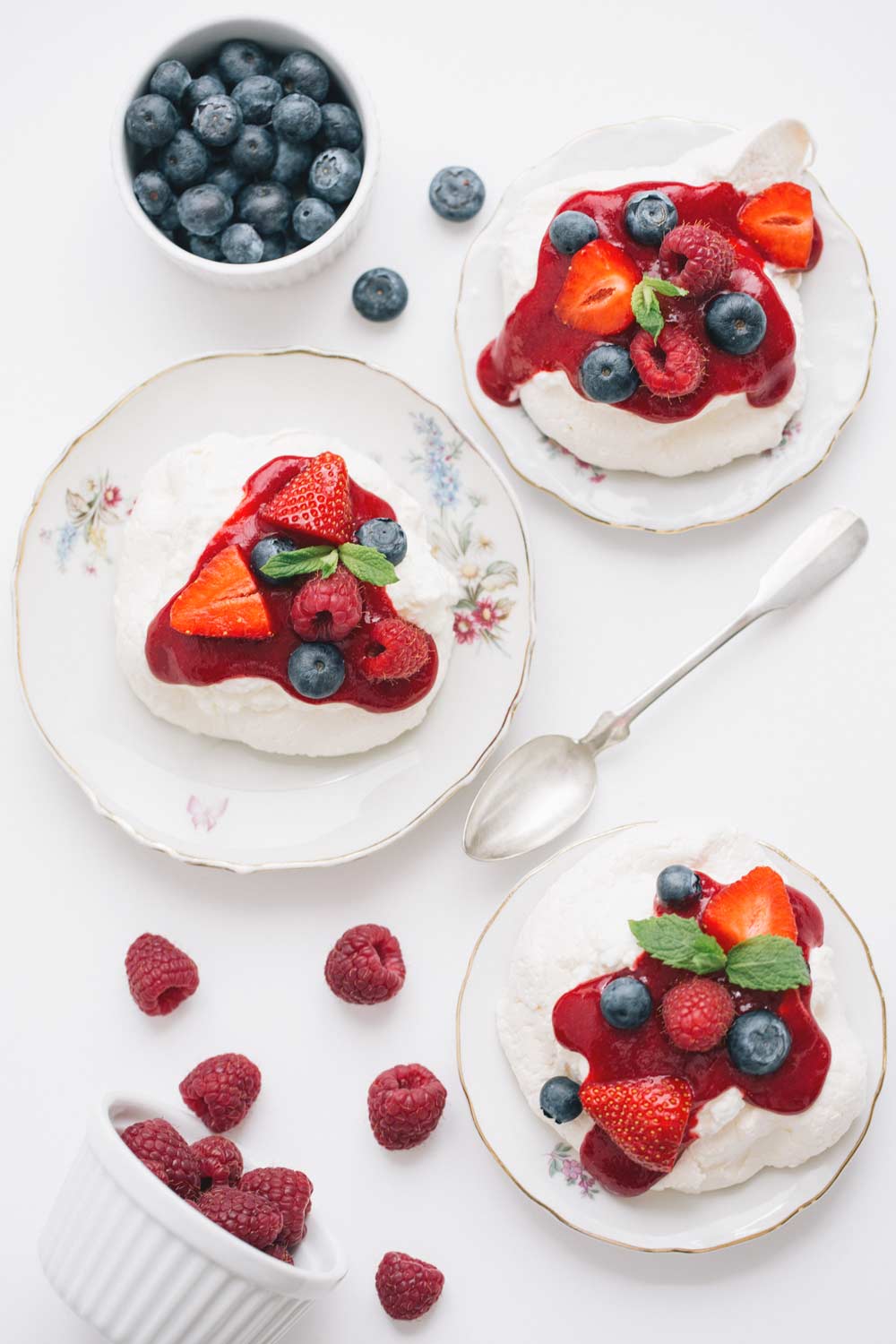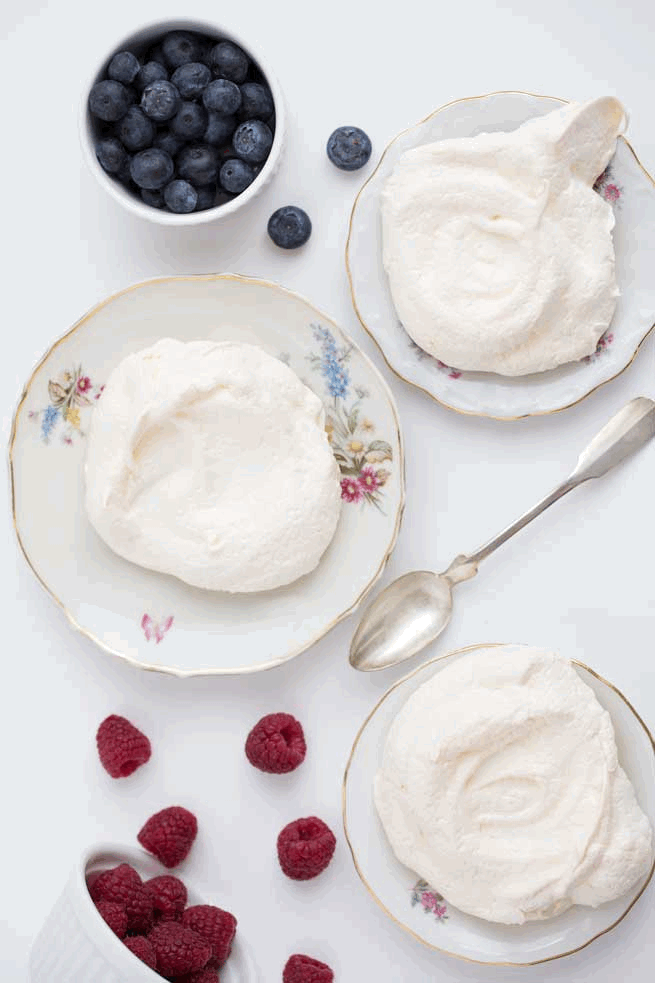 Meringue is a tricky thing to master. At least that is what I thought until learned through some research and a lot of trial and error that there are some useful steps that make it possible to achieve the perfect meringue every time.
My top 5 tips for making perfect meringue
Wipe your kitchen equipment with lemon juice. Before you start making your meringue, make sure your equipment is clean and completely grease-free, as this can prevent the egg whites from getting stiff. Take a bit of lemon juice to wipe your mixing bowl and whisk attachment.
Avoid getting any egg yolks into your egg whites. Be careful when separating the eggs and separate them one at a time. If you get the tiniest bit of yolk to your egg whites, you will have to start again.
Add cream of tartar to prevent overbeating. It will act as a stabilizer and make things easier for you.
Add the sugar one tablespoon at a time, once the egg whites have reached the soft peak stage. The sugar should be added slowly as this will prevent the meringue from weeping later.
Make sure that the sugar is dissolved. If you are unsure if your meringue is ready to be baked, take a bit of the mixture and rub it between your fingers. If you can still feel sugar granules, then beat it for a few more minutes, until the sugar is completely dissolved.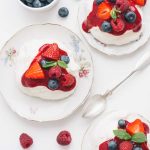 Very Berry Pavlovas
Total Time
2
hours
30
minutes
Ingredients
For the meringue
4

egg whites (organic)

pinch of salt

1/2

tsp

cream of tartar

200

g

caster sugar (organic)
For the raspberry sauce
150

g

frozen raspberries thawed (organic)

2

tbsp

icing sugar (organic)
For the topping
100

ml

heavy cream (organic)

10

g

vanilla sugar

mix of fresh berries (raspberries, strawberries, blueberries)

mint leaves for garnish
Instructions
For the meringue:
Preheat oven to 120°C. Line a baking tray with parchment paper.


In a large bowl, beat the egg whites with a pinch of salt and cream of tartar until they start forming soft peaks. Gradually add the caster sugar one tablespoon at a time. Turn the mixer to high speed and beat the mixture for a few minutes, until it is shiny and stiff peaks start to form. Get a bit of the mixture and rub it between your fingers to see if your meringue is ready. If you can still feel sugar granules, then beat it a little longer until the grains are all dissolved.


Spoon your mixture onto your prepared baking tray, into not so perfect circles (about 10 cm in diameter and 2-3 heaped tablespoons of meringue per pavlova) Use a spoon to make an indentation in the middle of each meringue.


Bake the meringue for 15 minutes at 120°C, then reduce the temperature to 100°C and bake for another 45 minutes.


After 45 minutes turn off the oven, open the door and let your meringues cool in the oven for another hour. The meringues are ready when they come away from the parchment paper without sticking at the bottom.

For the raspberry sauce:
Puree the thawed raspberries in a blender. Strain the mixture through a fine mesh sieve and mix in the icing sugar. Refrigerate until ready to use.

For garnish:
Whip your heavy cream with the vanilla sugar, until stiff peaks form. Keep your cream refrigerated until you are ready to assemble.


To assemble your pavlovas, place a meringue on a plate, layer with a dollop of whipped cream, followed by a tablespoon of raspberry sauce and top it off with fresh berries and a mint leaf.

Recipe Notes
Serve your pavlovas immediately. The meringue will get soggy if you assemble them in advance. The meringue shells, however, can be made in advance and stored in an airtight container. The raspberry sauce and whipped cream can also be prepared in advance and stored in the fridge.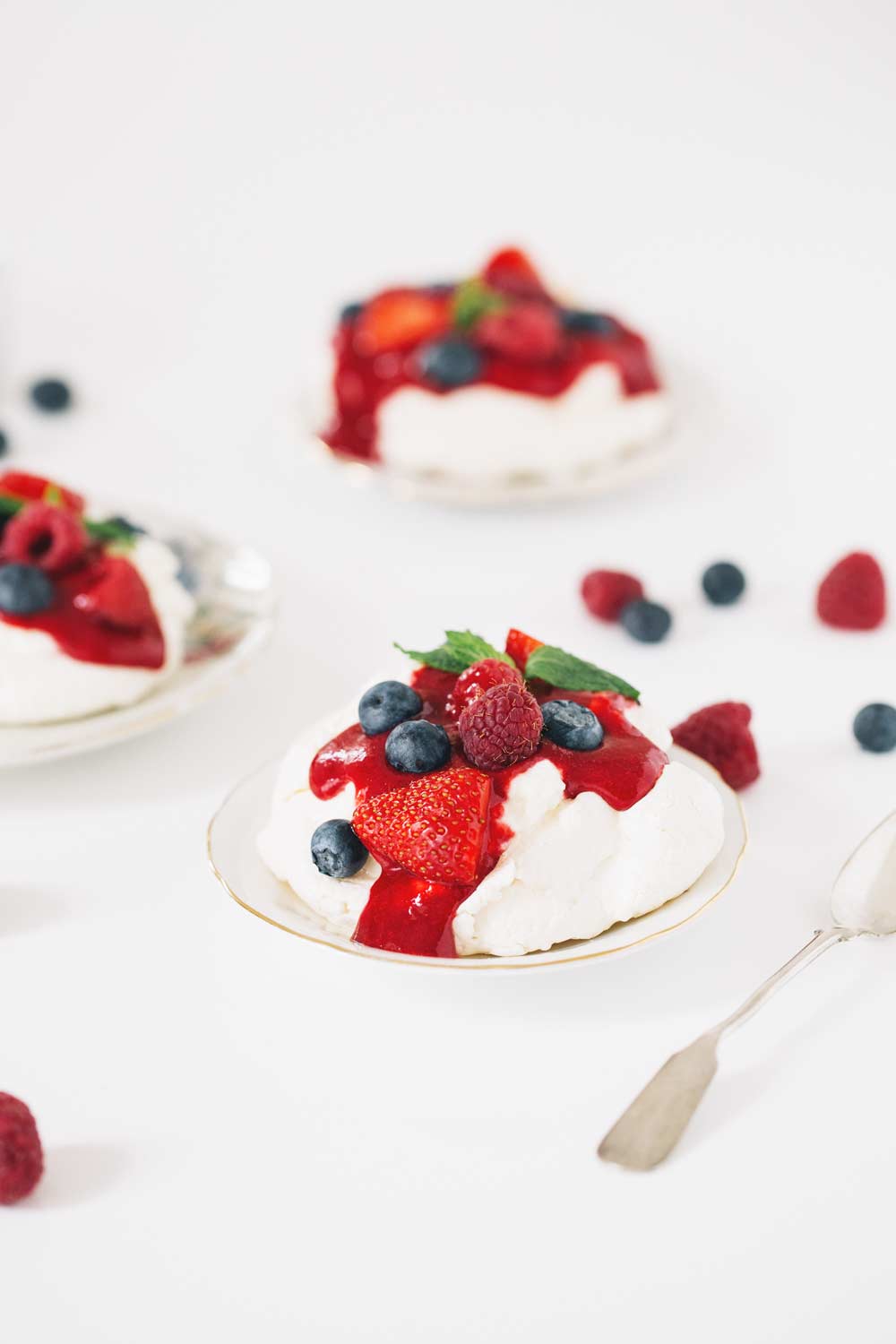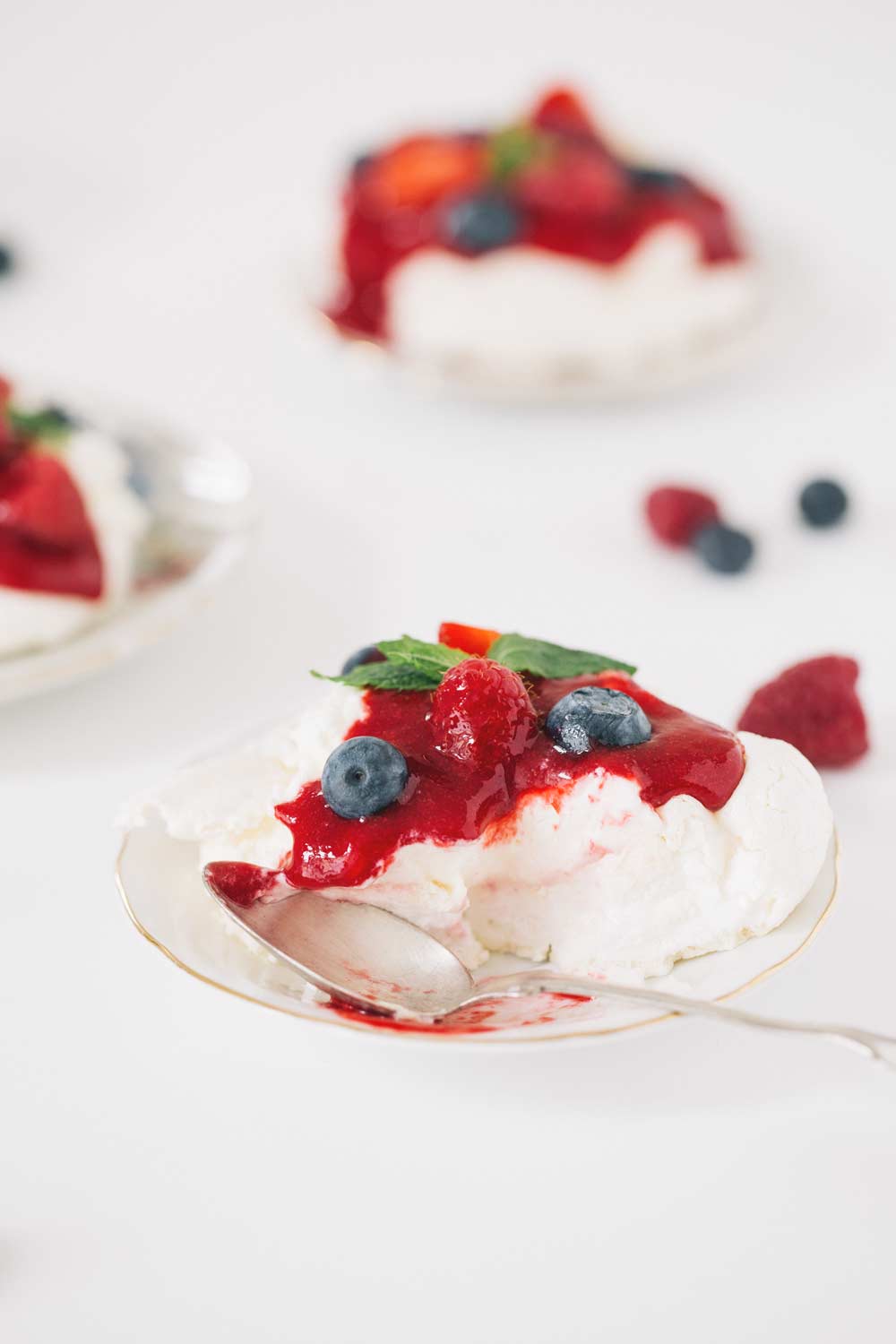 Check out all of the amazing recipes from this week's "Seasonal Cooking & Baking":
Monday: Vienna Fashion Waltz
Tuesday: DedicatedTo
Wednesday: Yellowgirl
Thursday: Pixi mit Milch
Friday: moi!
Saturday: Mrs Flury
Sunday: Food Freshion
Xo Vicki