Today I will be sharing with you my version of a British classic, the Victoria Sponge Cake. It is a very simple cake, traditionally consisting of a fluffy sponge, filled with jam and whipped cream or buttercream. My problem: I don't like whipped cream or buttercream. Whipped cream is something I've never been a fan of. In my opinion it doesn't taste like much and I would never order whipped cream on top of ice cream or hot chocolate. And buttercream to me tastes as if you would take a bite of a stick of butter, drenched in lots of sugar. So you can see my dilemma, liking the idea of a British Victoria Sponge Cake but not the actual implementation.
The solution: replacing the whipped cream/buttercream with a delicious and flavorful mascarpone frosting. To the mascarpone cheese I added vanilla bean paste and Amaretto to give it that little 'je ne sais quoi'. The combination of raspberries with Amaretto is irresistibly delicious. And making the raspberry coulis yourself instead of using jam makes this cake more sophisticated. After all it was named after Queen Victoria ;)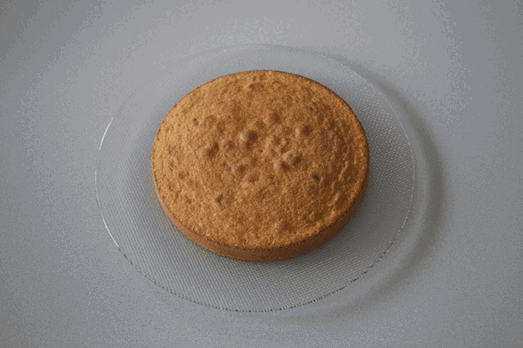 A few weeks back I intended to make this iconic sandwich cake, but just as I had piped the mascarpone frosting I didn't want to ruin my little art work. So I decided to rename it Vicki Sponge Cake, instead of calling it 'Half of a Victoria Sponge Cake'. And there you have it: Victoria's little sister, Vicki ;) And let's be honest think about the calories you are saving as you are only eating one cake instead of two!
Vicki Sponge Cake
2014-04-02 12:33:32
Serves 8
My take on a delicious, British Classic, the Victoria Sponge
For the cake
120g unsalted butter, softened, plus extra for greasing the tin
120g caster sugar
2 eggs
1 tsp vanilla extract
1 tbsp Amaretto
120g all-purpose flour
1 tsp baking powder
pinch of salt
2 tbsp milk
For the raspberry coulis
150g frozen raspberries, thawed
2 tbsp icing sugar
2 tbsp corn starch
water
For the mascarpone topping
350g low-fat mascarpone
15g vanilla sugar
20g icing sugar
2 tbsp Amaretto
1 tsp vanilla bean paste or seeds from one vanilla bean
raspberries for decorating
Instructions
1. Preheat oven to 170°C. Line the bottom of one 20 cm baking tin with parchment paper, grease the sides and bottom with butter and lightly dust with flour.
2. Using an electric mixer, cream together the butter and sugar for about 2 minutes, until light and fluffy. Beat in the eggs one at a time until everything is well incorporated. Add the vanilla extract and Amaretto. Fold in the flour, baking powder and salt and mix until just incorporated. Add the milk and beat the batter until it has a soft 'dropping consistency' (click at the link below for explanation). Transfer the batter into the baking tin, smooth the surface using a spatula and bake for about 20 minutes or until a skewer inserted comes out clean. Let the cake cool for a few minutes before removing it from the tin. Let it cool completely before frosting it.
3. For the raspberry coulis, place the raspberries in a blender and puree them. Strain the raspberries using a fine mesh sieve. Transfer the sieved raspberries to a heatproof bowl and add the icing sugar. Dissolve the corn starch in a bit of water, mixing it well. Add the corn starch mixture to the raspberries. Bring the mixture to a boil, stirring constantly until it thickens. Remove from the heat and let the raspberry sauce cool completely.
4. To make the mascarpone frosting, beat together the mascarpone cheese, vanilla sugar, icing sugar, Amaretto and vanilla bean using an electric mixer. Put the frosting in the fridge until you are ready to assemble the cake.
5. To assemble the cake, place your sponge on a plate and spread the raspberry coulis over it. Fit a pastry bag with a large star tip (I used a Wilton 1M). Fill the pastry bag with the mascarpone frosting and pipe little 'stars' until the cake is fully covered. Place some fresh raspberries on top and chill the cake in the fridge until ready to be served.
Notes
Store the cake in the fridge.
Adapted from Waitrose Kitchen, March 2014
Adapted from Waitrose Kitchen, March 2014
Bowsessed™ https://bowsessed.com/
If you are like me and have no idea what a 'dropping consistency' means, watch this very retro and helpful video by Delia Smith making a Victoria Sponge and explaining the term.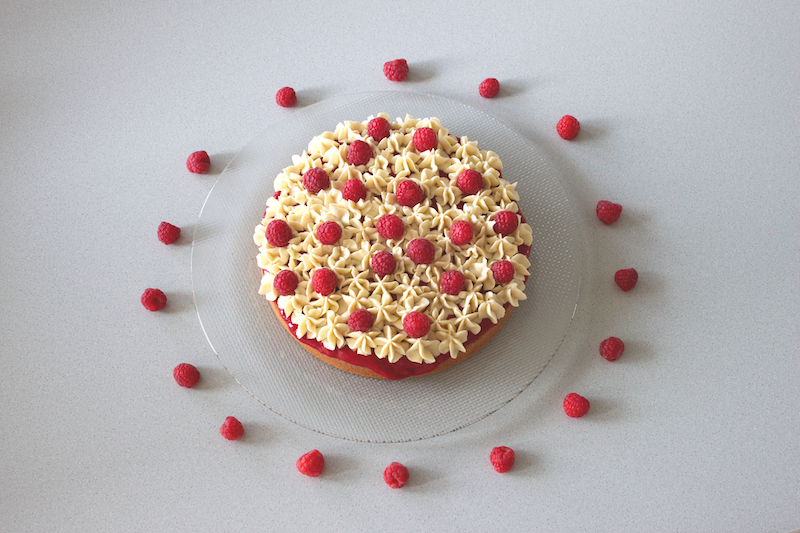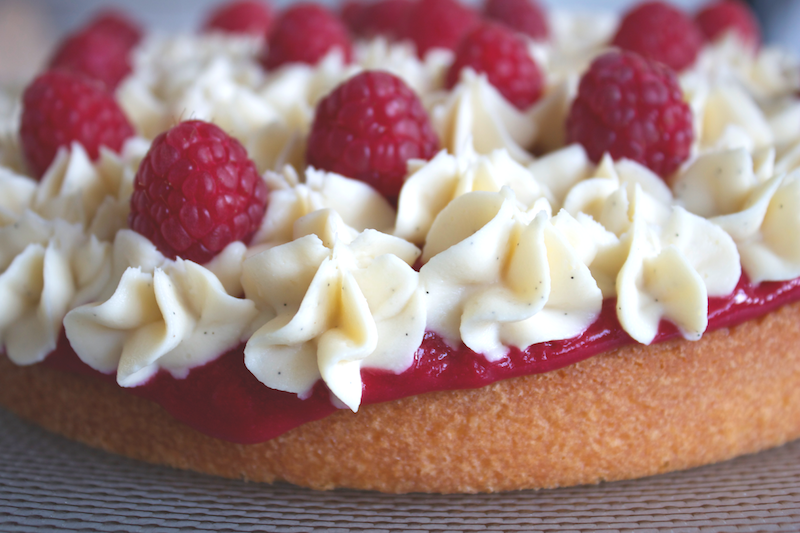 I will be leaving for London soon for my graduation, which I'm very excited about!!! I can't wait to see my lovely friends, have Pinkberry again (finally!), Ben's cookies (Mmmh) and drink Cider! :D
Xo Vicki