My last culinary close-up organized by Comepass has been especially sweet and a personal highlight! I had the honor to visit Jürgen Vsetecka, the Chief of Sugar, and create a delectable dessert with him.
In the kitchen of the Julius Meinl am Graben , where all the dazzling creations for the store and restaurant are created, I had a wonderful meeting with Jürgen at 10 a.m. We started prepping for his wild berry lime tartlets, a refreshing and light summer dessert, that he had created for the special occasion.
To me, there is nothing quite as spectacular as seeing a pastry chef at work! In Jürgen's hands, the familiar becomes something truly extraordinary and he creates artfully distinctive desserts. Making these little pieces of art under his guidance was a unique experience and I had a blast learning more on dessert components, garnishes and refining my pastry skills!
Jürgen was also so kind to share this extraordinary recipe for the wild berry lime tartlets with me. The different components of the dessert give it unique textures and blend together in perfect harmony with every bite. The crunchy base, followed by the zesty lime center, is rounded off with the light, almost airy, berry mousse.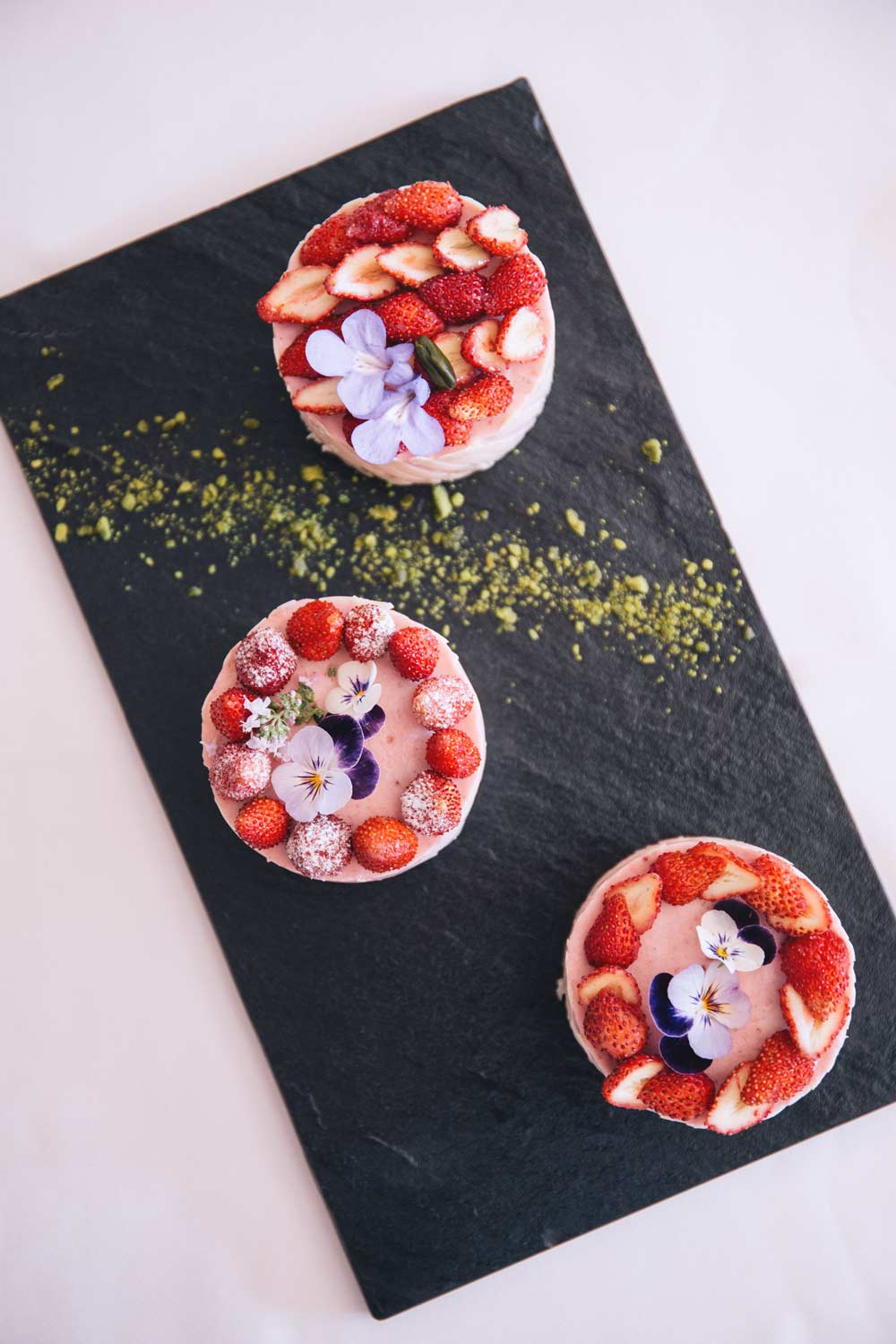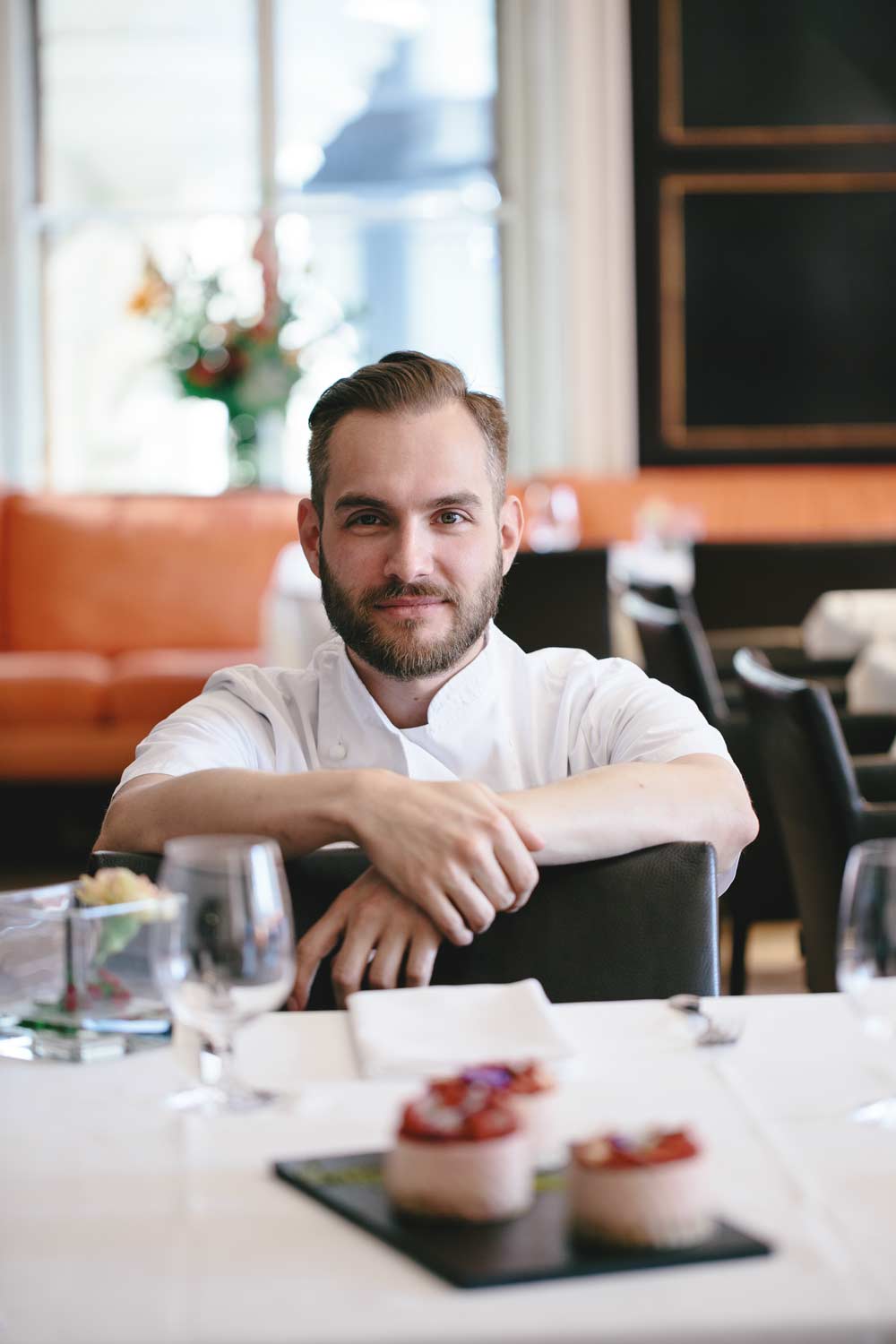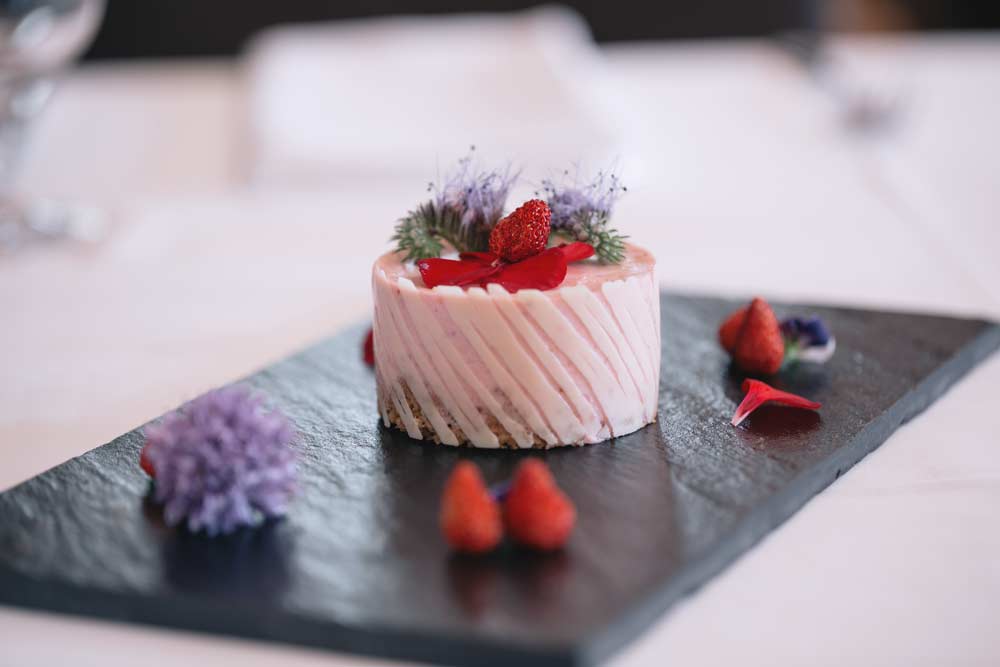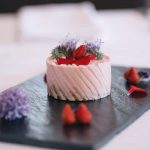 Wild Berry Lime Cakes
Ingredients
For the crust:
60

g

crushed wafers

60

g

white chocolate, melted

zest of 1 lime
For the lime core:
25

g

water

25

g

fresh lime juice

1/2

leave

of gelatine

50

g

granulated sugar
For the berry mousse:
100

g

ripe strawberries

50

g

granulated sugar

seeds of 1 vanilla bean

50

g

wild berries

2

leaves

of gelatine

150

g

heavy cream
Instructions
To make the crust:
Mix the crushed wafers, melted white chocolate, and the lime zest well. Line the sides of 5 small cake hoops with film and press the mixture them. Refrigerate until ready to use.
For the lime core:
Add water, lime juice, and sugar to a small pot, mix it and warm it slightly.

Soak the gelatine in cold water. Squeeze the gelatine and add it to the lime juice to dissolve. Fill the mixture into small round molds and freeze them.
For the berry mousse:
Soak the gelatine in cold water.

Gently heat the strawberries, sugar, and vanilla bean seeds in a pot. Puree the mixture and let the gelatine dissolve. Let the strawberry puree cool.

Whip the cream until it is semi-stiff and carefully fold in the strawberry puree and wild berries. Pour the mousse into a piping bag and pipe a small amount on the tartlet crusts. Place the frozen lime cores in the middle of each one and pipe the remaining mousse on top. Leave the tartlets in the refrigerator overnight. Remove the cake hoops and decorate with wild berries and fresh flowers.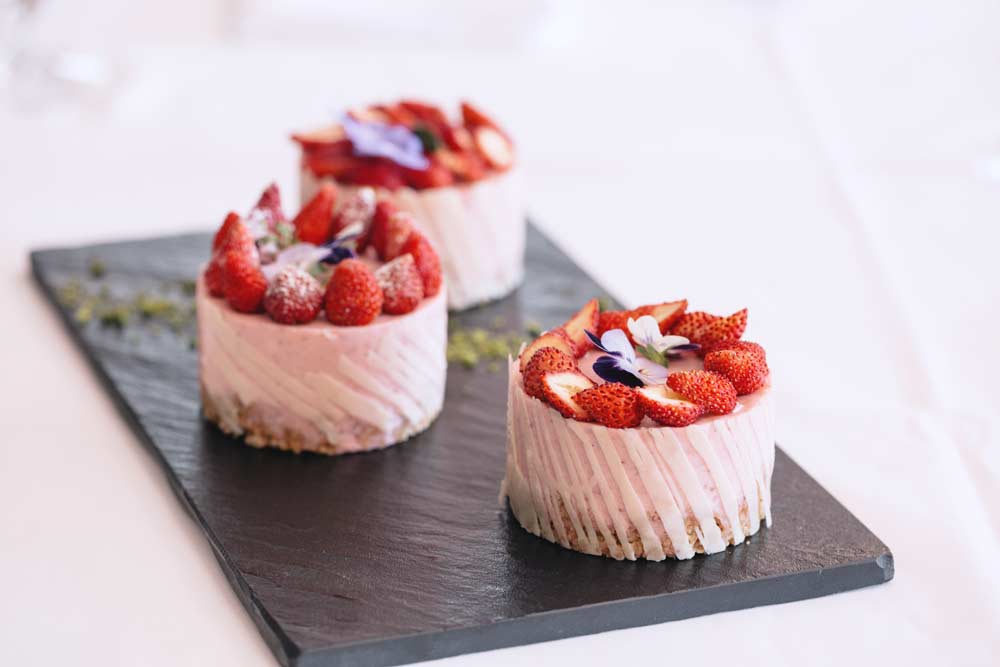 Jürgen Vsetecka, known as the Chief of Sugar, is pâtissier at Meinl am Graben and revealed to me his favorite midnight snack and his food souvenir worth smuggling home.
What is your favorite dessert to eat and what is your favorite to make?
I don't really have a favorite dessert to eat since I know and make many desserts, it rather depends on what I'm in the mood for. At home, I prefer to bake simple things that don't take long, like a sheet cake with fresh fruit.
What's an Austrian classic that could use an update?
Funny that you ask that. I have indeed updated an Austrian classic. I have developed a Kaiserschmarrn mini cake. For this I baked a thin layer of Kaiserschmarrn (sweet egg omelett), and cut out rounds to use as the base in cake hoops. Then I made a mousse out of stewed plums and whipped cream and distributed it on the cut out Kaiserschmarrn layers and let them rest in the fridge. In a pan with butter, I then fried the leftover Kaiserscharrn cutouts until crispy, sprinkled them on top of the cakes and dusted them with sugar.
Do you have a favorite midnight snack (sweet or savory)?
A "Käsekrainer" or as we say in Vienna an "Eitrige". It has to be crispy on the outside and the cheese melted inside. Served with spicy mustard, there is nothing more you need.
What is a food souvenir worth smuggling home?
This is a tough question, but every time I'm on vacation I admire how amazing the fruits in different countries look and taste. In one sentence, I would smuggle ripe fruits from my holiday destinations.
Chief of Sugar at the Greatest Gatsby Party
As you may already know from my previous post, one culinary highlight will chase the other at the Greatest Gatsby Party. Apart from the extraordinary flying buffet that I have composed with executive chef Erich Freund from the Hilton Vienna Plaza, Julius Meinl am Graben will provide a candy bar curated by Jürgen, the Chief of Sugar, himself. Highlights of the candy bar will include cassis & vanilla marshmallows, macarons with a champagne filling, a black braided bun "Gatsby style" and the Greatest Gatsby cake! Be sure to follow Jürgen on Instagram and Facebook to see some sneak peeks of his creations ;)
But that is not all! Guests at the party will also be able to win a spot at Jürgen's exclusive workshop "Preserve like a pro" that will take place on August 24th, 2017. At the workshop that will be hosted at the beautiful location at the Meinl am Graben, participants will learn tips and tricks for extending the life of your favorite produce by preserving them and make six delicious jam variations, under the guidance of Jürgen Vsetecka. There will a box next to the Candy Bar, to win one desired spot at the workshop!
Xo Vicki
P.S. You can still win your golden ticket! Upload your 20's style party pic with the hashtag #thegreatestgatsbyparty on Instagram until July 7th 2017 to win 2 golden tickets to the Greatest Gatsby Party.