Before Christmas I was really excited to spend a week in my favorite city, New York. I loved experiencing my first Thanksgiving dinner, being right in the middle of the Black Friday madness and getting in the Christmas spirit in the city where there is the biggest Christmas tree.
Here are some snapshots of my week in New York.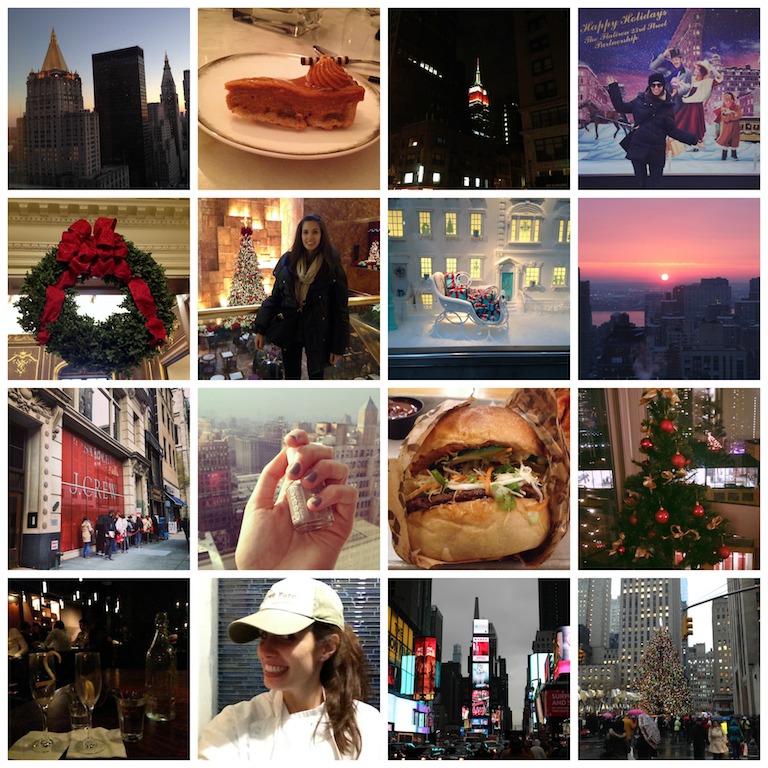 Amazing view of the New York Life Insurance building – I could get used to that view. | I had my first Thanksgiving dinner, including my first ever pumpkin pie, yum! | Empire State building by night. | A lovely holiday scenery in front of the Flatiron building. | Holiday spirit with a beautiful wreath at the Morgan Library & Museum. | A little coffee break at Starbucks in the Trump Tower. | Window shopping at Tiffany's. | I guess there is something positive about jetlag as I got the see this beautiful sun rise! | Craziness at J.Crew sample sale. | My first Essie nail polish, 'Master Plan'. | Kobe beef burger, it doesn't get better than that! (very soon more on the blog!) | Decorating my first Christmas tree of the season, I found with my bestie at Jack's 99 Cent store (an amazing store for hunting bargains!) | Fancy drinks with my bestie at Bar Andaz. | I was really excited to be able to work for a day under the wing of the amazing patisserie Chef Alex Grunert at Brooklyn Fare. It was such an amazing experience and I've learned so much! | Time Square. | On my last day I wanted to see the huge Christmas tree in Rockefeller Center.
New York, I miss you already!