Winter is coming and I'm in need of sweet comfort food. Gone are the days when I'm satisfied with a smoothie for breakfast. I want creamy Vanilla Rice Pudding for breakfast to warm me up from the inside. My "oatmeal" for the colder months as I like to call it ;)
It is such a simple recipe, I was contemplating if I should really post it. This version is completely refined sugar-free and you can also easily make it vegan, by using a plant-based milk of your choice. 
I've added a simple raspberry sauce to my rice pudding, but if you want to keep it really simple, it also  tastes heavenly with a sprinkle of cinnamon on top.

Vanilla Rice Pudding
Recipe type:
Dessert, Breakfast, Snack
Ingredients
100g arborio rice
500ml milk
1 vanilla bean, split and seeds scraped
2 tbsp coconut sugar
For the raspberry sauce
50g frozen raspberries, thawed
2 tsp coconut sugar
Instructions
Place the rice, milk, vanilla bean and seeds and coconut sugar in a saucepan and bring it to a boil. Reduce the heat to low, cover it up and let it cook for 15 minutes, stirring occasionally. Remove the vanilla bean.
For the raspberry sauce, defrost the raspberries and blend them. Strain the mixture through a fine mesh sieve and mix in the coconut sugar. Set aside.
Fill two small pots halfway with the rice pudding, then add some raspberry sauce and top it off with more rice pudding. If you like a little sweeter, sprinkle some more coconut sugar on top. Serve it either warm or let it cool and refrigerate it.
Notes
Store in the fridge.

To make the rice pudding vegan, use plant-based milk, for example almond milk.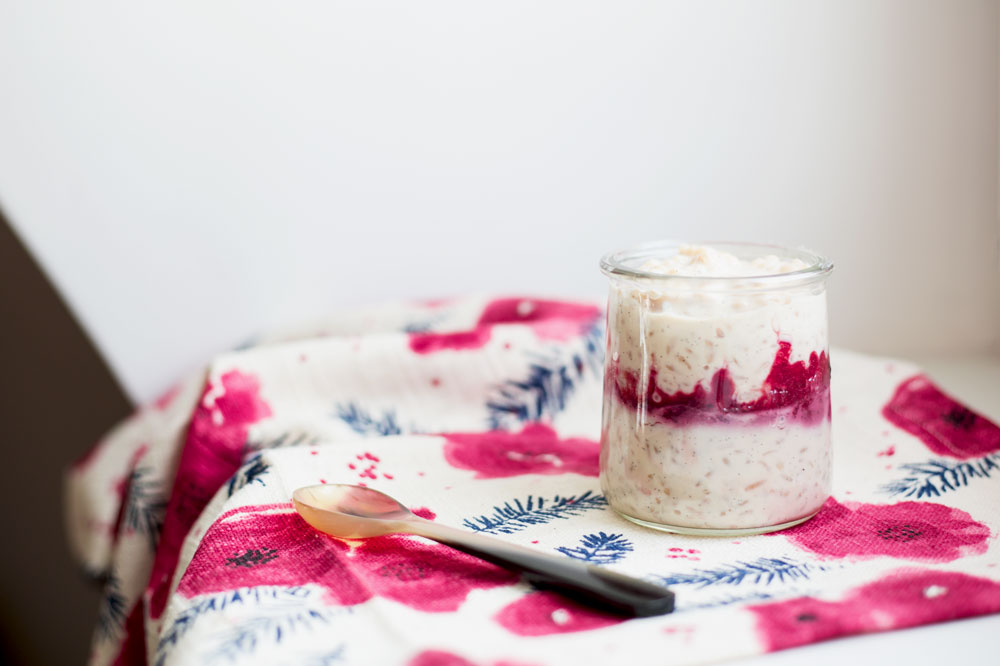 What is your favorite breakfast recipe for winter? 
Xo Vicki