When I was in London, I saw hot cross buns in every bakery. So I did a little research and learned that they are a classic Easter treat in England, comparable to "Osterpinzen" in Austria. Apparently Hot Cross Buns are traditionally served on Good Friday. The cross on the sweet yeast buns represents the Cross of Christ. Intrigued, I tried my hands on this Easter treat but gave them my own little twist. I added finely grated carrots, orange zest and a orange-flavored icing. I also made the yeast dough dairy-free and almost vegan. 
Generally the buns are prepared with raisins or other dried fruit, but I wanted mine to be simple (and I'm not a fan of raisins). But feel free to add any kind of dried fruit. I think cranberries would be nice. Instead of the raisins, I added carrots, which gave the buns moisture, ground almonds and orange zest, giving the buns that extra "oomph".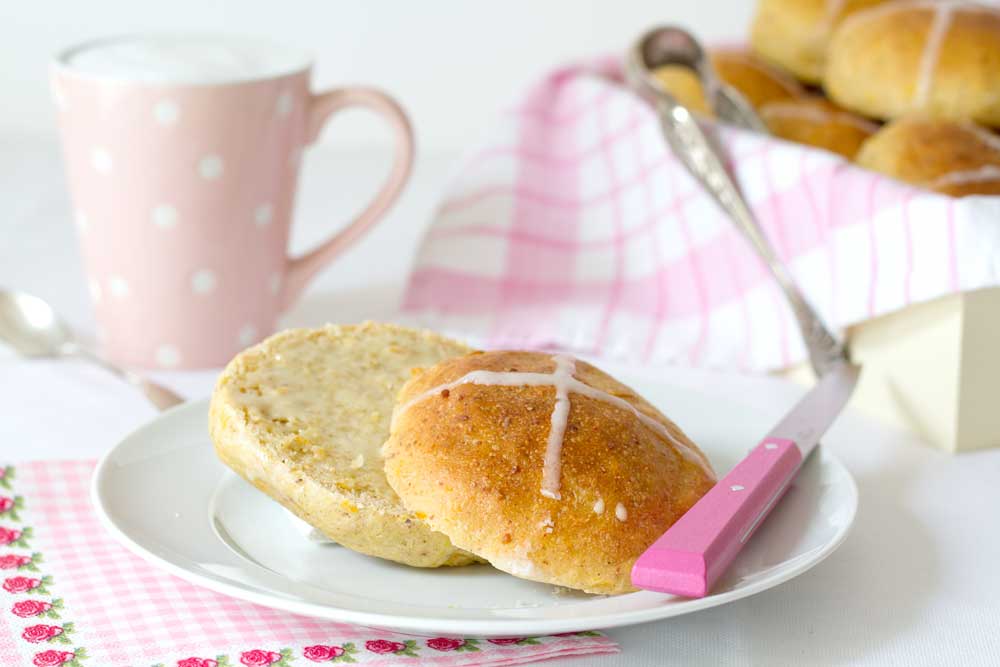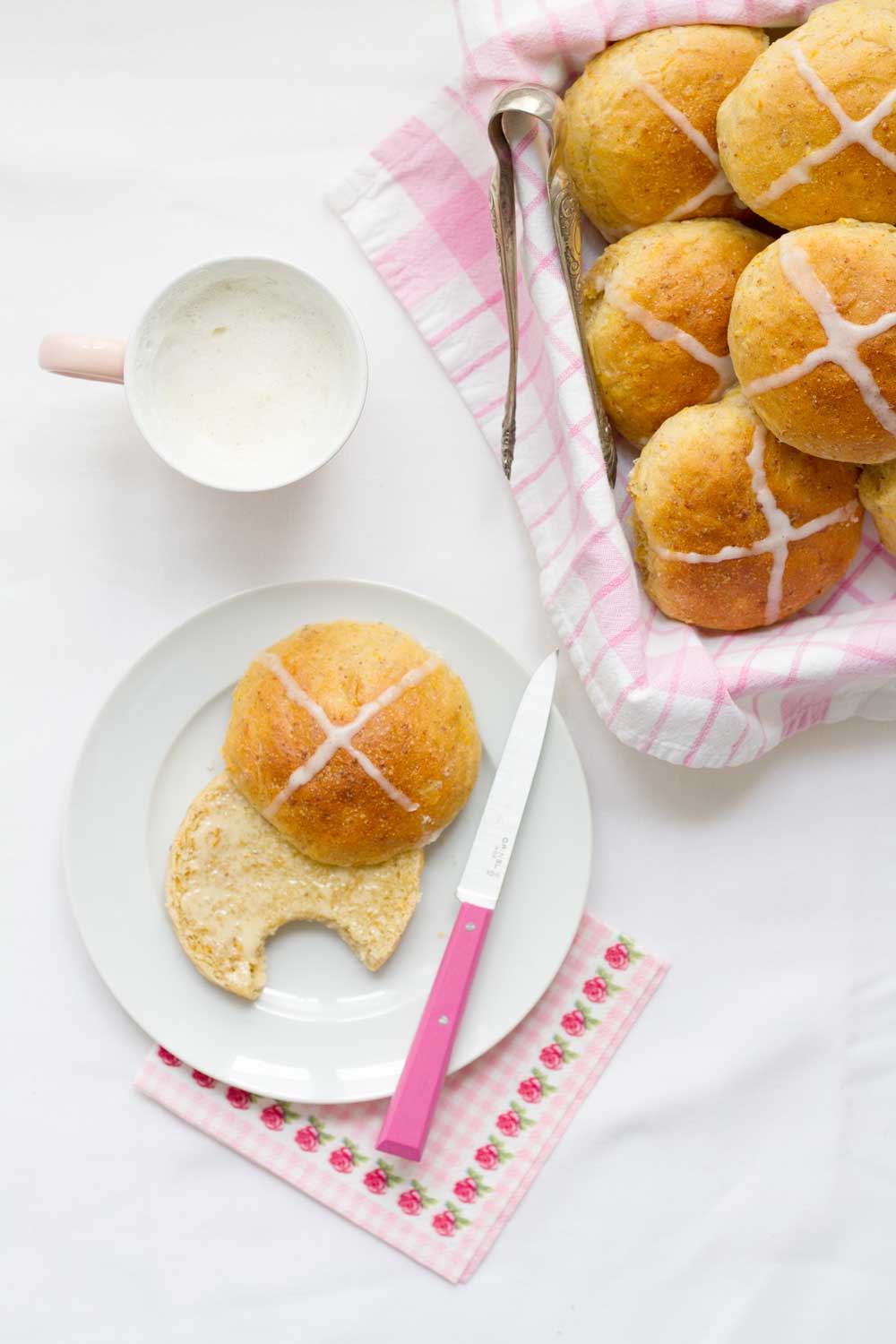 I wanted to try something new and made a dairy-free yeast dough, using coconut milk, and coconut oil. The hot cross buns could also be made vegan by substituting the honey. I love how they turned out, perfectly light and fragrant. You wouldn't even believe that they are made without any dairy products or eggs! They are delicious and taste really nice with a dollop of almond butter. A great treat for an Easter brunch with family and friends. 

Carrot Hot Cross Buns
Light and fragrant sweet buns
Recipe type:
Breakfast, Snack
Ingredients
For the dough:
350g all-purpose flour (organic)
4g dry yeast
50g ground almonds (organic)
1 tsp ground vanilla
2 tsp cinnamon
1 tbsp orange zest (organic)
60g finely grated carrots (organic)
400ml coconut milk
100g honey (organic)
15g coconut oil (organic)
1 tbsp dark rum (optional)
For the icing:
50g icing sugar
1 tbsp fresh orange juice (organic)
Instructions
In a large bowl, whisk the flour together with dry yeast, almonds, vanilla, cinnamon, orange zests and grated carrots.
In a microwave safe bowl, combine the coconut milk, honey, coconut oil and dark rum. Heat the mixture in the microwave until it is lukewarm. Add the coconut milk mixture to the dry ingredients and knead the dough using dough hooks until smooth. The dough will be very sticky, add a little flour if needed. Place the dough into a clean, greased bowl and cover the lightly. Let it rise until the dough has doubled.
Divide the dough into 12 equal pieces and form them into balls. Place the buns onto a lined baking tray and cover them with a damp tea towel. Let the buns rise for another 30 minutes.
Preheat the oven to 200°C. Uncover the buns and bake for 15 minutes, until golden brown. Allow the buns to cool.
Meanwhile, prepare the frosting by whisking together the icing sugar and orange juice. Use a piping bag or a spoon to draw crosses on each bun. Serve while still warm.
Notes
The buns can be frozen.
What will you be making for Easter this year? If you are still looking for inspiration, I also have a great recipe for
Braided Brioches
.
Another Easter treat (this time raw & vegan) will be online on Friday!
Xo Vicki