I may be the last one to discover the Magic Cake and when I saw the pictures on Pinterest I was fascinated. How could one simple cake batter separate into 3 different cake layers, each one more scrumptious than the other? I had to give a try!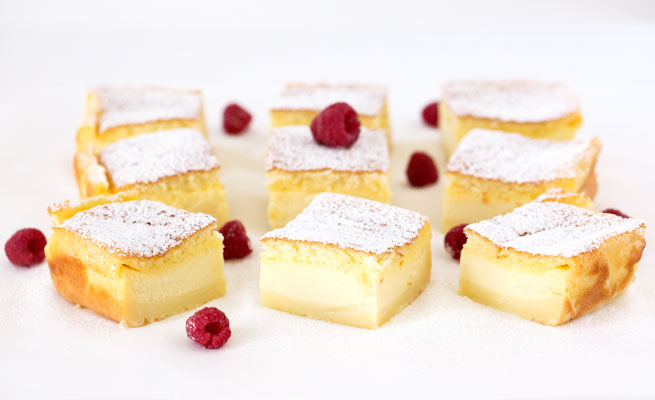 What I have for you here, is my version of a Vanilla Magic Cake. Quick and simple to put together and the magic happens when it is baked! No secret ingredient or fancy technique are required! When the cake is baked, it separates into 3 different cake layers: a fudge pastry layer, a silky smooth custard/pudding layer, topped by a fluffy sponge cake layer. Do I need to say more?!

Vanilla Magic Cake
Recipe type:
Dessert, Cake
Ingredients
100g unsalted butter, melted (organic)
500ml whole milk (organic)
1 tbsp dark rum (recommended) or water
4 eggs, separated (organic)
½ tsp cream of tartar (organic)
150 icing sugar
2 tsp vanilla extract (organic)
115g all-purpose flour (organic)
pinch of salt
Instructions
Preheat your oven to 160°C. Line a square (20 x 20 cm) baking pan with parchment paper.
Warm the milk in a pot until it is lukewarm. Set it aside.
In a large bowl, beat the egg whites with a pinch of salt and cream of tartar until they start forming until stiff peaks start to form.
Place the egg yolks and icing sugar in another bowl and mix for about 3 minutes, until the mixture is thick and pale. Add the cooled, melted butter and dark rum (or water) and mix it for another 2 minutes. Mix in the flour until just incorporated. Add the milk and vanilla extract and slowly whisk all is incorporated. Then carefully fold in the egg whites.
Pour the batter in the prepared baking pan and bake for 50-55 minutes until the top of the cake is golden brown. The cake will still be slightly jiggly. Let it cool completely before cutting it. Dust with icing sugar before serving.
Notes
Keep the cake refrigerated.

*Adapted from White On Rice Couple
While I was going through and editing the pictures of this cake, I couldn't contain myself and took a break to bake it again. This was all in the name of research since it is hard to write about a cake that I had baked (and eaten) weeks ago! Just to give you an idea of how good this cake is! And I'm already thinking about 5 different flavor options to make it again!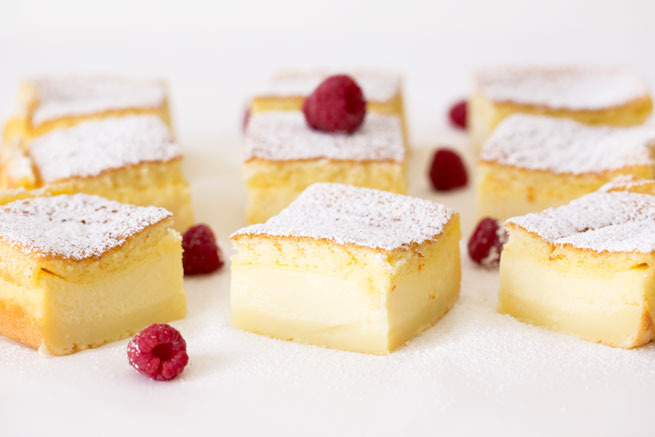 PLEASE VOTE FOR BOWSESSED!
I'm taking part in this year's AMA Food Blog and would be thrilled if you would vote for my blog for "People's Choice" by clicking here. Thank you for your support!
Xo Vicki