Welcome to day 2 of my recipe advent calendar. Did you guess today's recipe?
Today's cookies are called 'Ruby stars' because of the dark, red color of the redcurrant jam. I also sneaked in some snowflake 'stars' :)
This cookie dough is my favorite one for cut-out cookies. It is versatile, easy to make and tastes delicious. Those cookies are definitely a crowd-pleaser.
Ruby Star Cookies
2013-12-01 05:12:27
A simple, versatile and delicious cut-out cookie recipe.
Ingredients
375g all-purpose flour
1 tsp baking powder
1/2 tsp baking soda
150g unsalted butter, at room temperature
60g sour cream
1 egg
180g sugar
1 sachet of vanilla sugar (about 8g)
100g redcurrant jam
1 tbsp dark rum (optional)
icing sugar for dusting
Instructions
1. Preheat oven to 180°C. Line baking trays with parchment paper.
2. In a food processor with the paddle attachment, combine the flour, baking powder, baking soda, butter, sour cream, egg, sugar and vanilla sugar. Pulse until all the ingredients are combined and a smooth dough forms. Alternatively you can use your hands to form the dough. Wrap the dough in plastic and chill it for at least two hours in the fridge.
3. Lightly dust the work surface with flour and roll out half of the dough about 1/2 cm thick. Using star cookie cutters (or any other cookie cutter form), cut out the dough, making sure you have the same amount of big and small star cookies for assembling later. Place your stars on the baking trays and bake them for 7-8 minutes. They are done when the edges turn lightly brown. Let them cool completely before assembling.
4. In a small microwavable bowl, heat the jam and rum for a few seconds. Using a teaspoon, put a little jam in the middle of a bigger star cookie and place a smaller star cookie on top. Dust the cookies with icing sugar before serving.
Notes
This recipe makes about 5 baking trays of cookies (depending on the size of your cookie cutters).
You can use any cookie cutters and jam that you prefer. These cookies are also great on their own, when you just brush them with a beaten egg and put sprinkles on top, before baking.
Adapted from Für Sie 25/99
Adapted from Für Sie 25/99
Bowsessed™ https://bowsessed.com/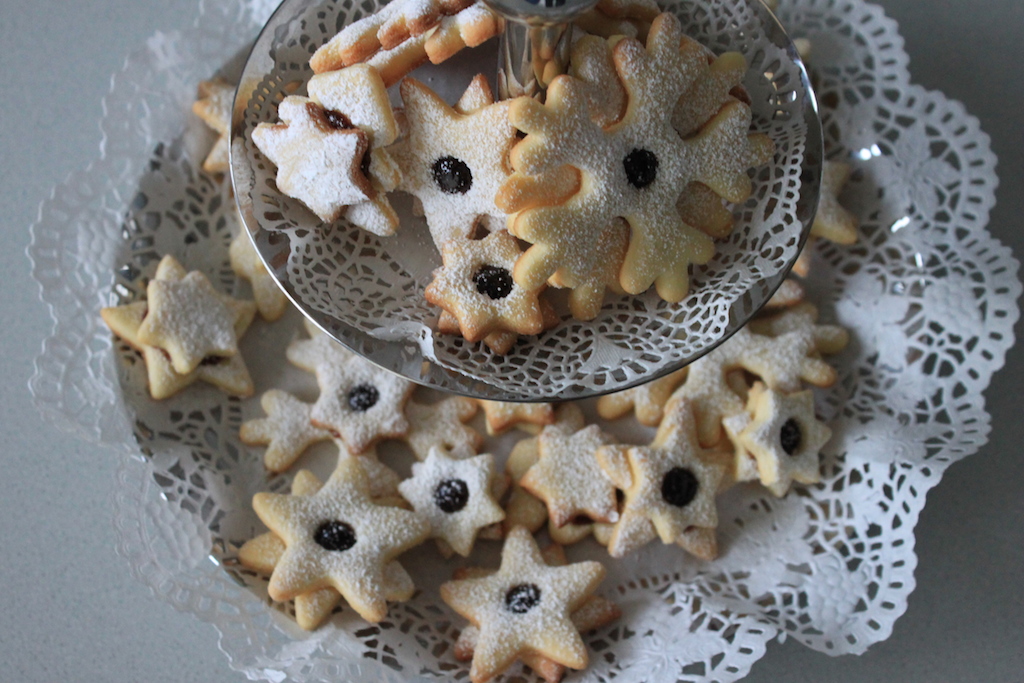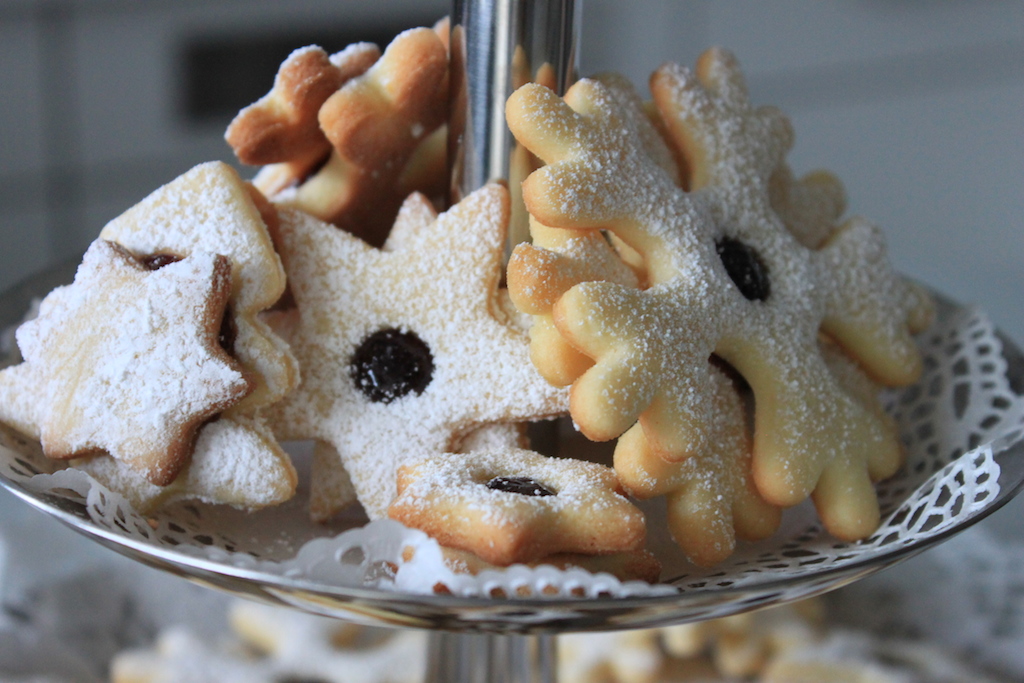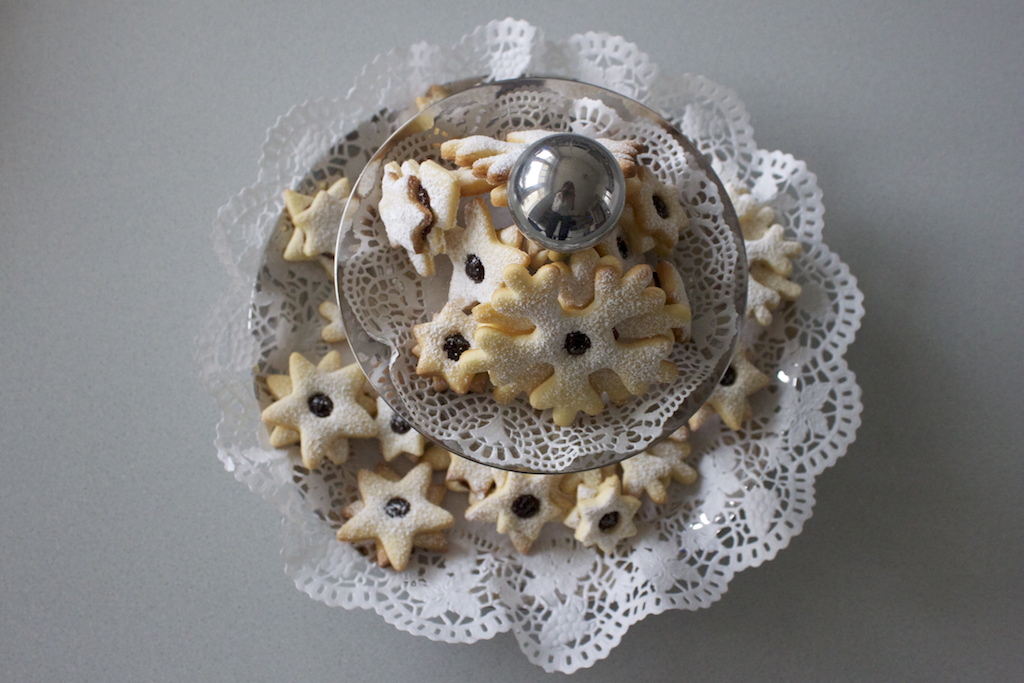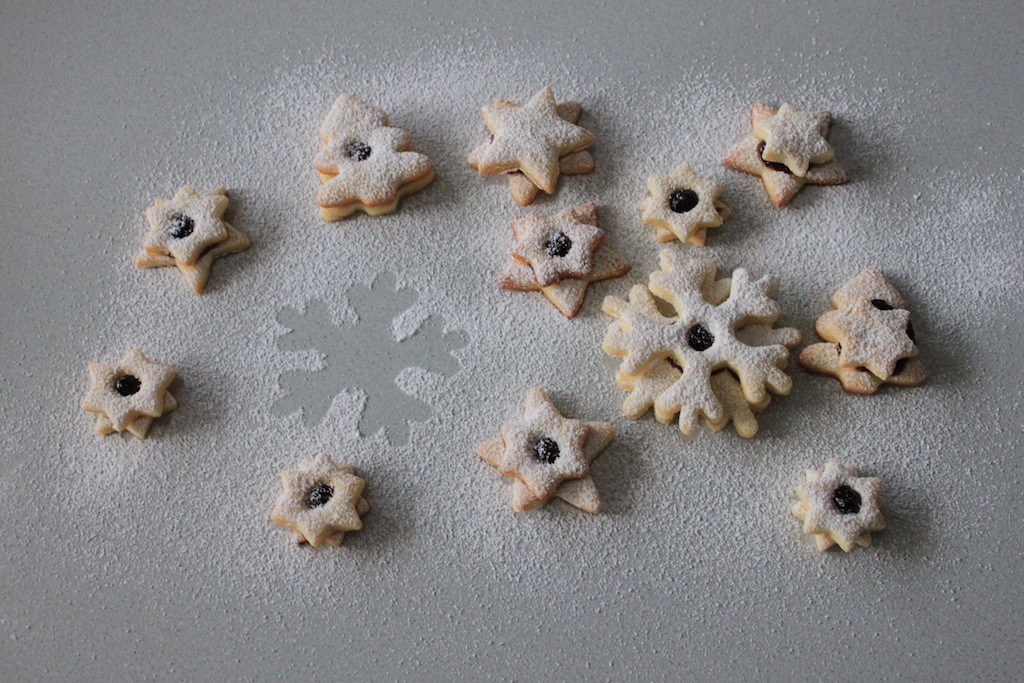 Let me know if you try them. See you tomorrow for day 3!