Inspired by my favorite healthy snack bar from the UK, Nakd's "Cashew cookie", I wanted to create a raw carrot cake version for Easter. Nakd bars are a raw, delicious snack and deliver energy in the form of only natural sugar. And with only a handful of ingredients, it was very easy to recreate my favorite snack bar. I, however, wanted to go one step further and create a raw carrot cake version in the form of little cakes, topped with a creamy frosting. And so my raw and vegan take on a classic dessert was born.
If you are skeptical about terms like "raw" and "vegan", or the combination of the two in a sentence, I completely get you, I was too! I never thought I would like anything raw, but it turns out that you can make some deliciously decadent desserts with those labels too! And this raw carrot cake is no exception! The cake is sweet, moist and tasty, but also healthy. It is basically a win-win-situation! My raw carrot cakes are also ridiculously easy to make, just throw everything in a food processor and you are good to go. The vanilla cashew frosting is figuratively the icing on the top, creamy and finger-licking good!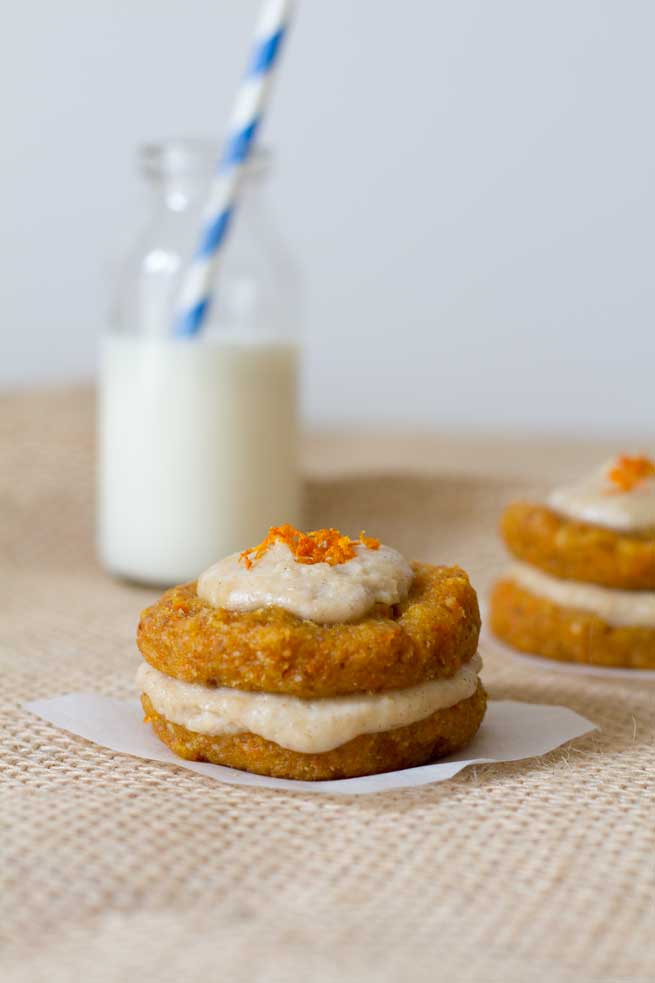 You can also make little energy balls with this recipe. Form the cake base into small balls and roll them into shredded coconut. Leave out the frosting. Keep carrot cake balls in an airtight container in your purse/car when you are on the go and in need of a little pick-me-up.

Raw Carrot Cake
A deliciously sweet, raw & vegan take of the dessert classic
Cuisine:
raw, vegan, gluten-free
Ingredients
For the cake base:
200g pitted dates (organic)
70g unsalted cashews (organic)
100g grated carrots (organic)
1 tsp ground cinnamon
30g unsweetened, shredded coconut
For the frosting:
70g cashews (organic), soaked for a few hours or overnight
60 ml water
4 tbsp agave nectar (organic)
2 tsp ground vanilla or vanilla extract
pinch of salt
50g coconut oil, melted (organic)
orange zest for finish
Instructions
Line a 20 cm x 20 cm baking pan with parchment paper.
In a food processor, blend together dates and cashews until almost smooth. Add grated carrots, cinnamon and shredded coconut and blend until smooth. Scrape the sides if needed. Scoop the mixture in the prepared baking pan and smooth the top. Put it in the freezer for 30 minutes.
To make the cashew frosting, drain and rinse cashews and place them in a blender. Add water, agave nectar, vanilla and salt and blend until it is very smooth. You will have to scrape down the sides often. Keep blending until it has a very creamy consistency. Add the melted coconut oil and blend until combined.
Take the cake base out of the freezer and using a glass or round cookie cutter, cut out small circles. Assemble the mini cakes by spreading a layer of the cashew frosting over the circles, then layering with another circle of the cake base, followed by a dollop of frosting. Garnish with orange zest. Refrigerate until ready to serve.
With the leftovers from the cake base, you can form small energy balls and roll them in shredded coconut.
Notes
Store in an airtight container in the fridge.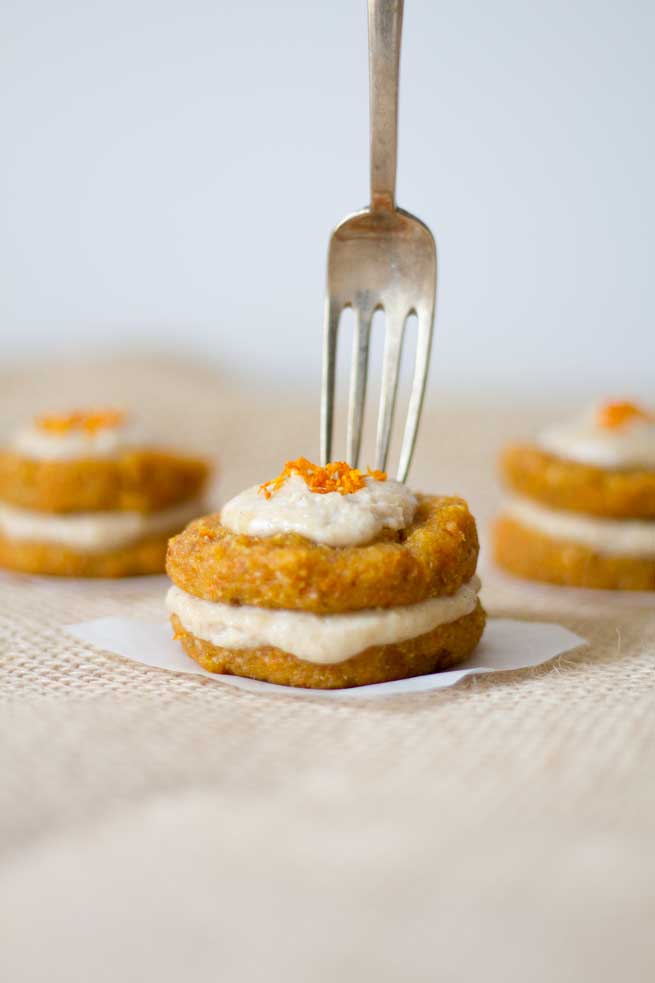 Will you give this dessert a try? Let me know if you would me like to create more raw versions of your favorite dessert classics. I will happily take on the challenge! :)
Before you go, please make my day and follow me on Bloglovin'.
I wish you a joyful Easter weekend with your family!