It's nearly Valentine's Day! If you are still on the quest for a heart-warming dessert you don't have to look no more! I have a special dish to share with you so that you can woo your boo this Friday :D
The best part about this dessert? Apart from being delicious, it is also ridiculously easy to make and can be prepared in advance!
My 'Love at first Bite' consists of a fluffy heart shaped sponge cake, spread with a layer of homemade raspberry sauce and topped with a scoop of creamy vanilla ice cream. Are you drooling yet?
I'm not the biggest Valentine's person, nevertheless in my opinion cakes and desserts taste so much better when they are heart-shaped, don't you think?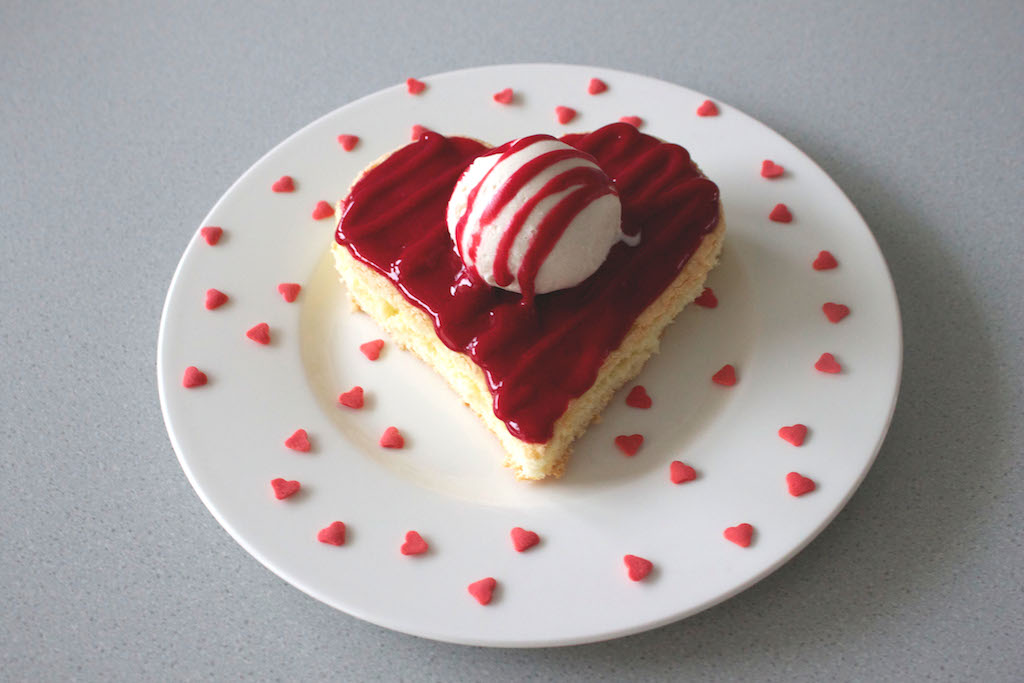 Love at first Bite
2014-02-11 21:50:02
Serves 6
A light and fluffy sponge cake, topped with raspberry sauce and vanilla ice cream
For the sponge hearts
4 eggs, divided
140g caster sugar
90g icing sugar
200g all-purpose flour
1 tsp baking powder
pinch of salt
For the raspberry sauce
250g frozen raspberries
50g icing sugar
20g cornstarch
vanilla ice cream
Instructions
1. Preheat the oven using hot air at 150°C. Line a baking tray with parchment paper.
2. Separate the eggs, placing the egg whites in one bowl and the egg yolks in another bowl. Beat the egg whites with an electric mixer until foamy and frothy. Gradually add the caster sugar and continue beating until the egg whites are shiny and stiff peaks form. In another bowl, beat the egg yolks with the icing sugar for 2 minutes until the mixture has thickened and is light and fluffy. Gently add the egg whites to the egg yolk mixture in three batches. Carefully fold in the flour, baking powder and salt and mix until just incorporated. Pour the batter on the prepared baking tray, smoothing the top. Bake in preheated oven for 25 minutes, until a toothpick inserted comes out clean. Let the cake cool completely.
3. To make the raspberry sauce, defrost the raspberries and place them in a blender. Once the raspberries are pureed, strain the mixture through a fine mesh sieve. In a heatproof bowl, add the icing sugar and corn starch (dissolved in a bit of water) to the raspberries. Bring the mixture to a boil, stirring constantly until it thickens. Remove from the heat and let the raspberries cool completely.
4. To assemble your 'Love at first bite' cut large hearts out of the sponge cake using a large heart cookie cutter. Place one heart on a plate and spread the raspberry sauce over it. Top it with one to three scoops of good quality vanilla ice cream and drizzle some more raspberry sauce over the top.
Notes
The sponge hearts can be made in advance and stored in an airtight container. The raspberry sauce can be stored in a mason jar in the fridge.
Bowsessed™ https://bowsessed.com/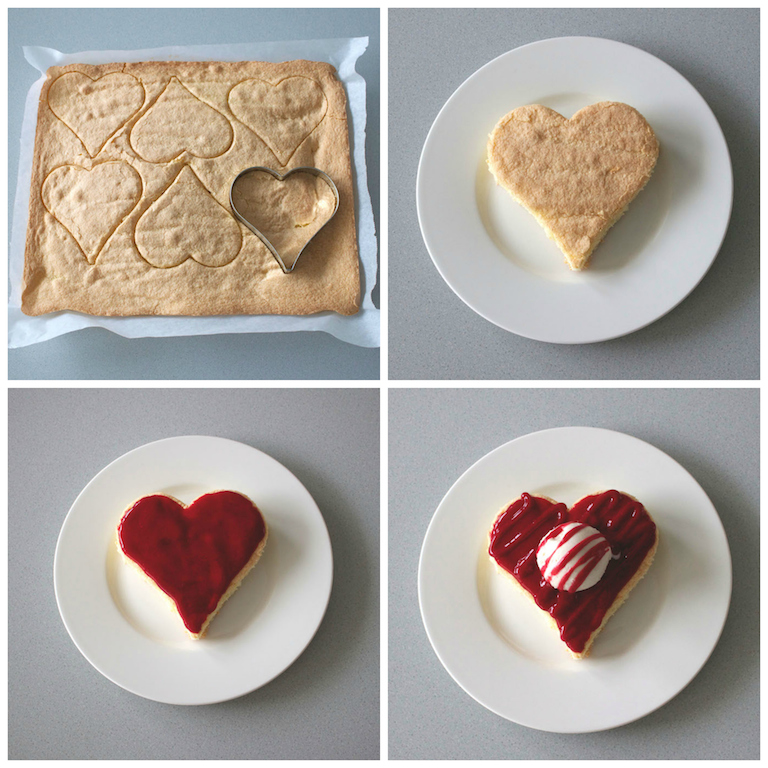 This dessert is fun to make and you will see that it is even more fun to eat! Your other half will love you for it!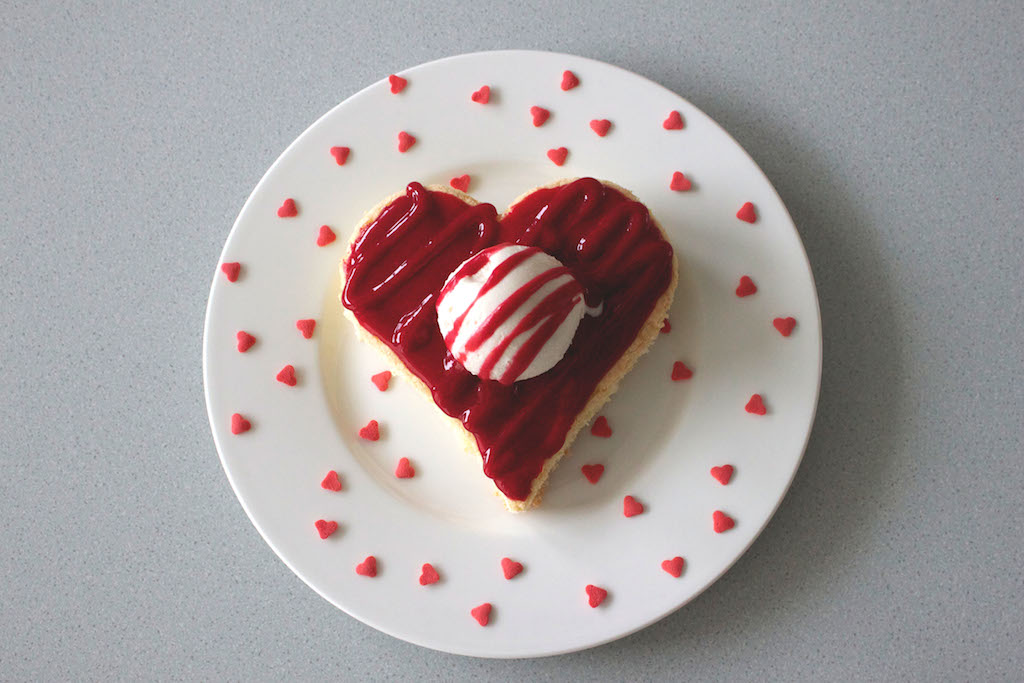 Happy Valentine's Day!