I have a confession to make: I'm obsessed with candles. I go a bit crazy when buying candles but I also have a problem with burning new candles! I don't know why it takes me so long getting over myself and actually burning them.
There is nothing cozier than snuggling under a blanket with a hot chocolate while burning a lovely smelling candle in winter time. So I thought I would share with you my three favorite winter candles. The scents of these candles couldn't be more different. They are all sweet but vary from cinnamony (Sweet Vanilla Cinnamon), to woody (Marshmallow Fireside) to dark and smoky (Velvet Rose & Oud).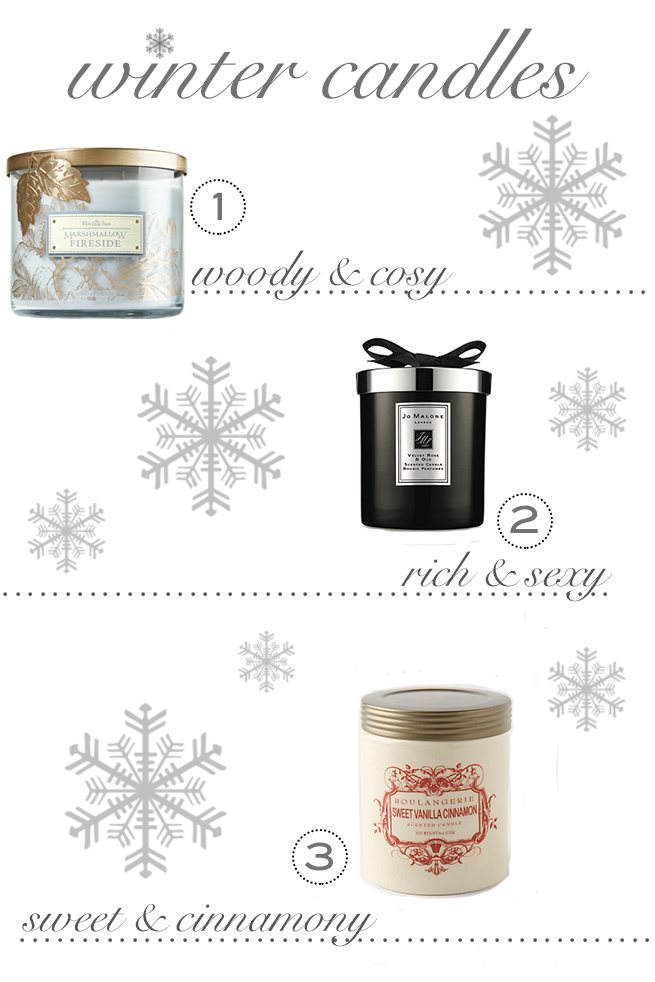 1. Bath & Body Works' Marshmallow Fireside | 2. Jo Malone's Velvet Rose & Oud | 3. Boulangerie's Sweet Vanilla Cinnamon
Marshmallow Fireside truly reminds me of sitting in front of the fireplace and smelling caramelized sugar from roasting marshmallows. It is a bit smoky but the primary note is definitely vanilla.
Sweet Vanilla Cinnamon smells like warm cinnamon rice pudding. I can't think of a better description than that.
I find Jo Malone's Velvet Rose & Oud particularly special. It is definitely a darker, sexy rose scent with sweet notes. If you think that a candle can't smell sexy, you haven't smelled this one! ;) I will do a separate post about this candle because the scent is so unique. Meanwhile you can find my thoughts on the perfume here.
Do you have a favorite Winter scent? Let me know if you have any other candle suggestions! ;)
Have a lovely day!