I already announced on my Instagram that a lot will be happening on the blog this year. Now I can finally reveal a big project that I have been working on since last year.
You may have already seen some mysterious posts on my social media channels in connection with COMEPASS and the hashtag #THEBIGFIVEBLOGGERS. Now I can finally tell you what it is all about and give you a glimpse into the exciting campaign.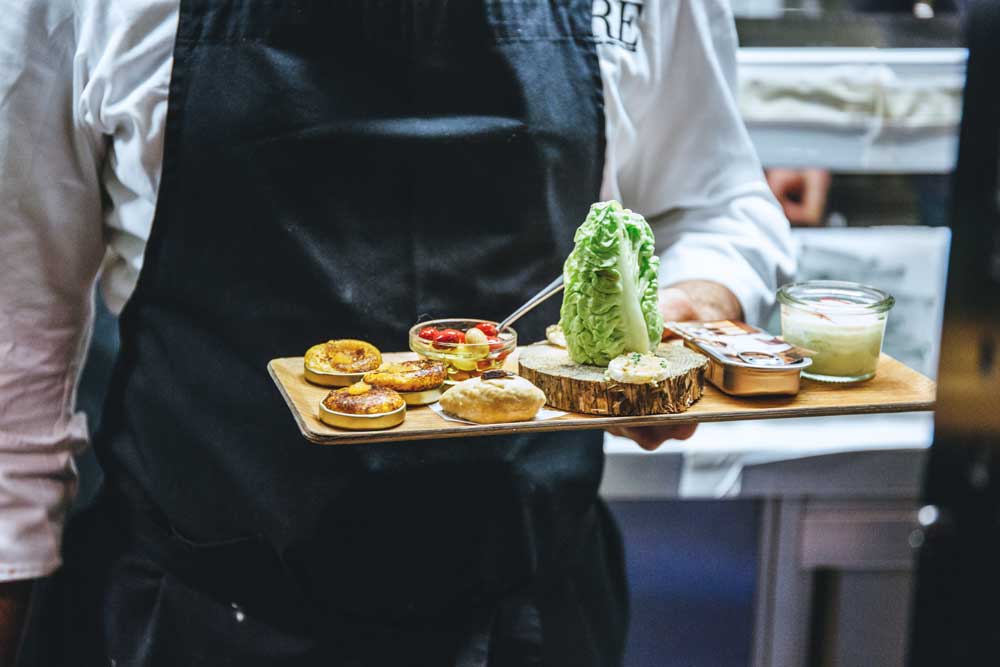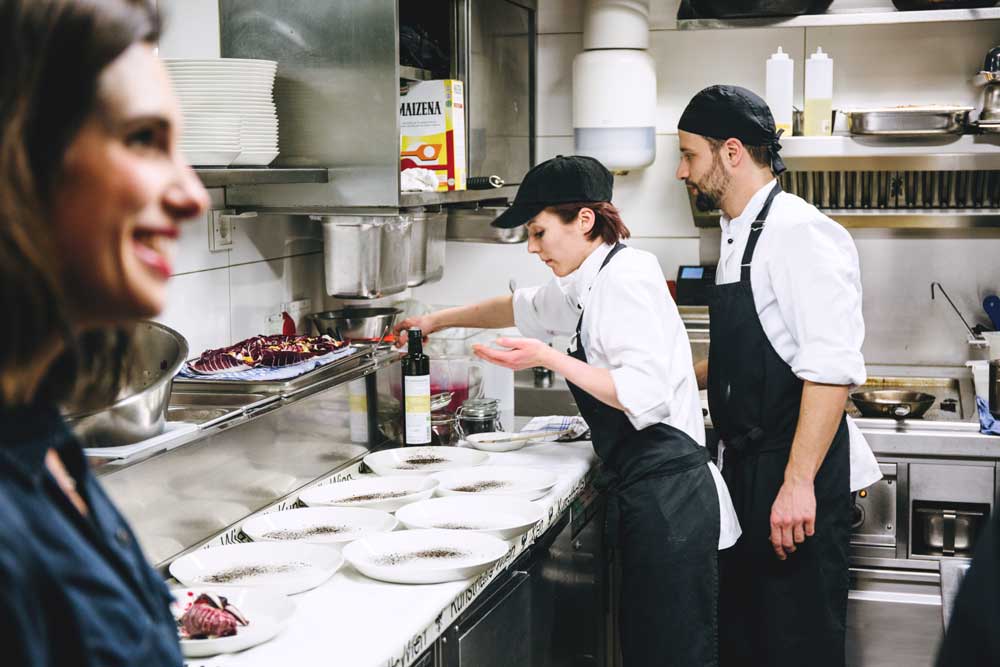 The #BIGFIVEBLOGGERS is a pet project of COMEPASS and follows 5 bloggers on their journey, overcoming boundaries to realize their dreams. As the foodie of the group, I will share with you insights of Vienna's fine dining scene under the hashtag #CULINARYCLOSEUP and will also leave behind my own culinary creations in Vienna's hotspots.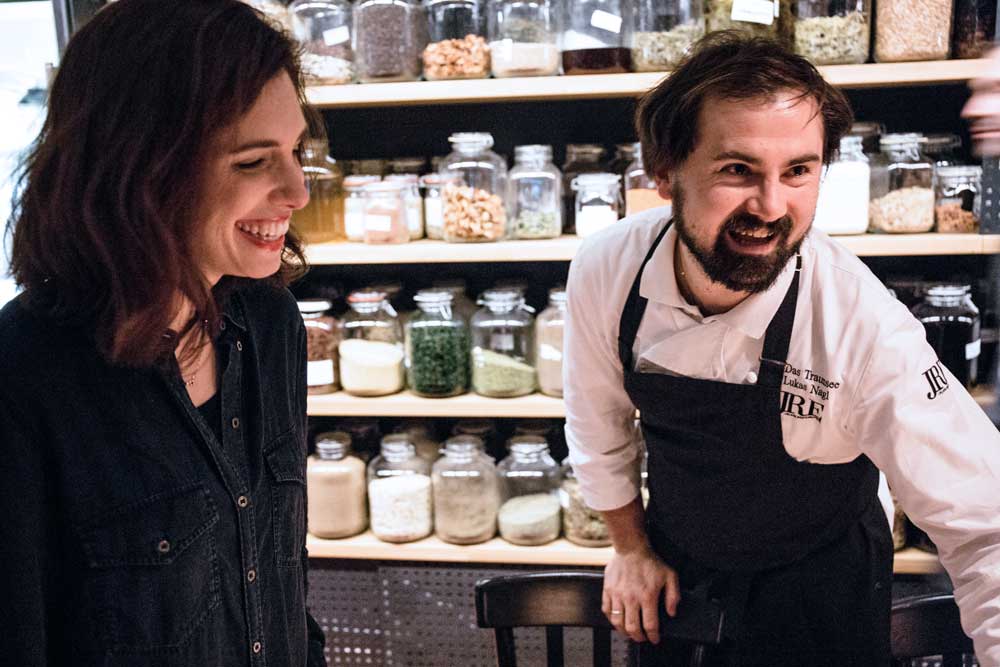 The kickoff of my culinary closeup was the event "Cooks in Residence" at the restaurant HEUER am Karlsplatz . On the occasion of the restaurant's third birthday, Michelin star chef Lukas Nagl was invited to conjure up a spectacular 5 course menu together with HEUER chef Peter Fallnbügl and his team. Under the motto "Austria, the golden pantry", the finest Austrian ingredients were transformed in an incomparable taste experience. Lukas Nagl described his cooking style as puristic, without a lot of frills and this was reflected in the selection of the menu. Through creative preparations, simple Austrian ingredients were combined to form taste perfection. Lukas Nagl's bestowed a pinch of exoticism with ingredients that he had brought home from Zanzibar. The winter radicchio salad, filled with goat cheese and dates from Zanzibar was my personal highlight of the evening and impressed due to its perfect interplay of regional and tropical flavors.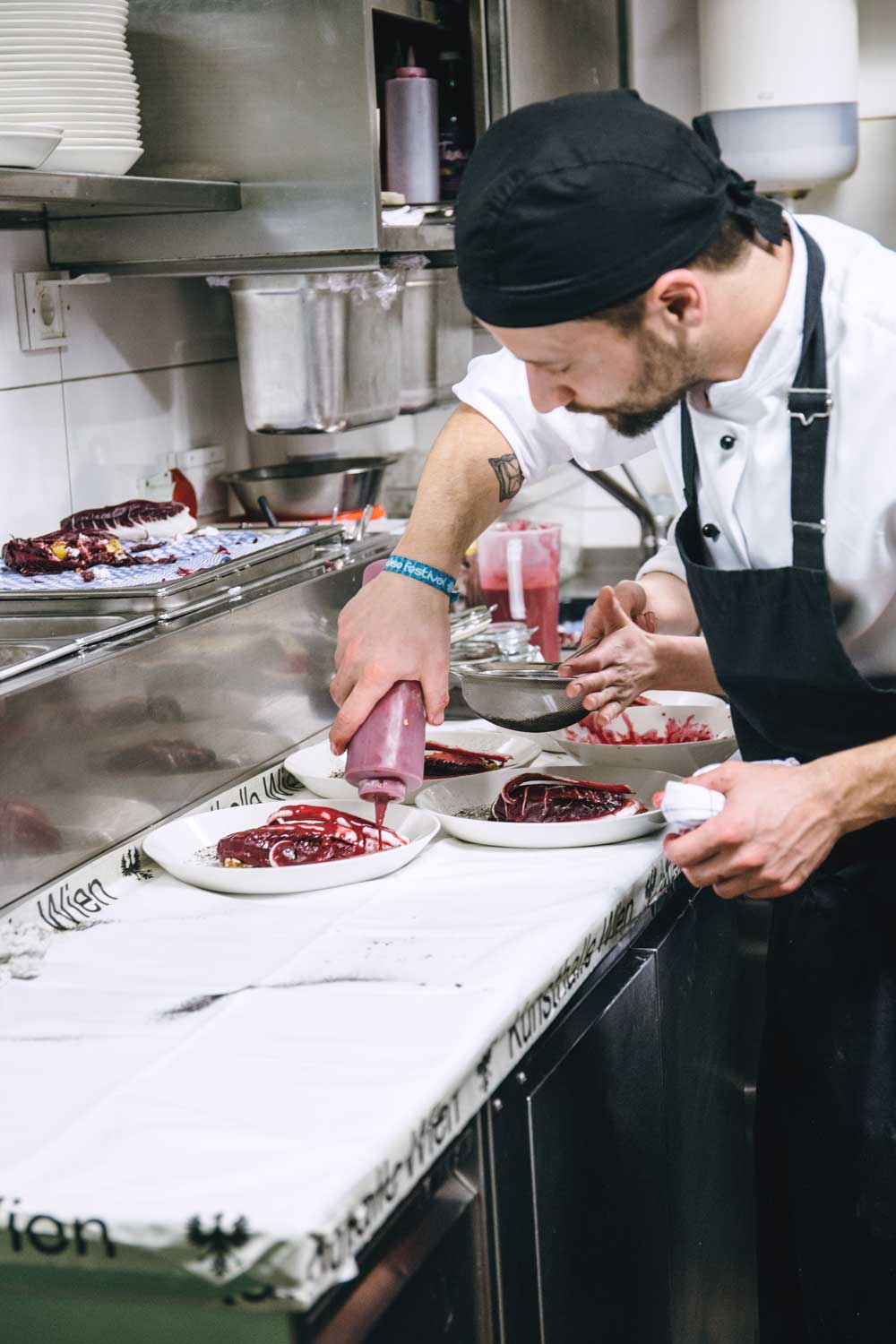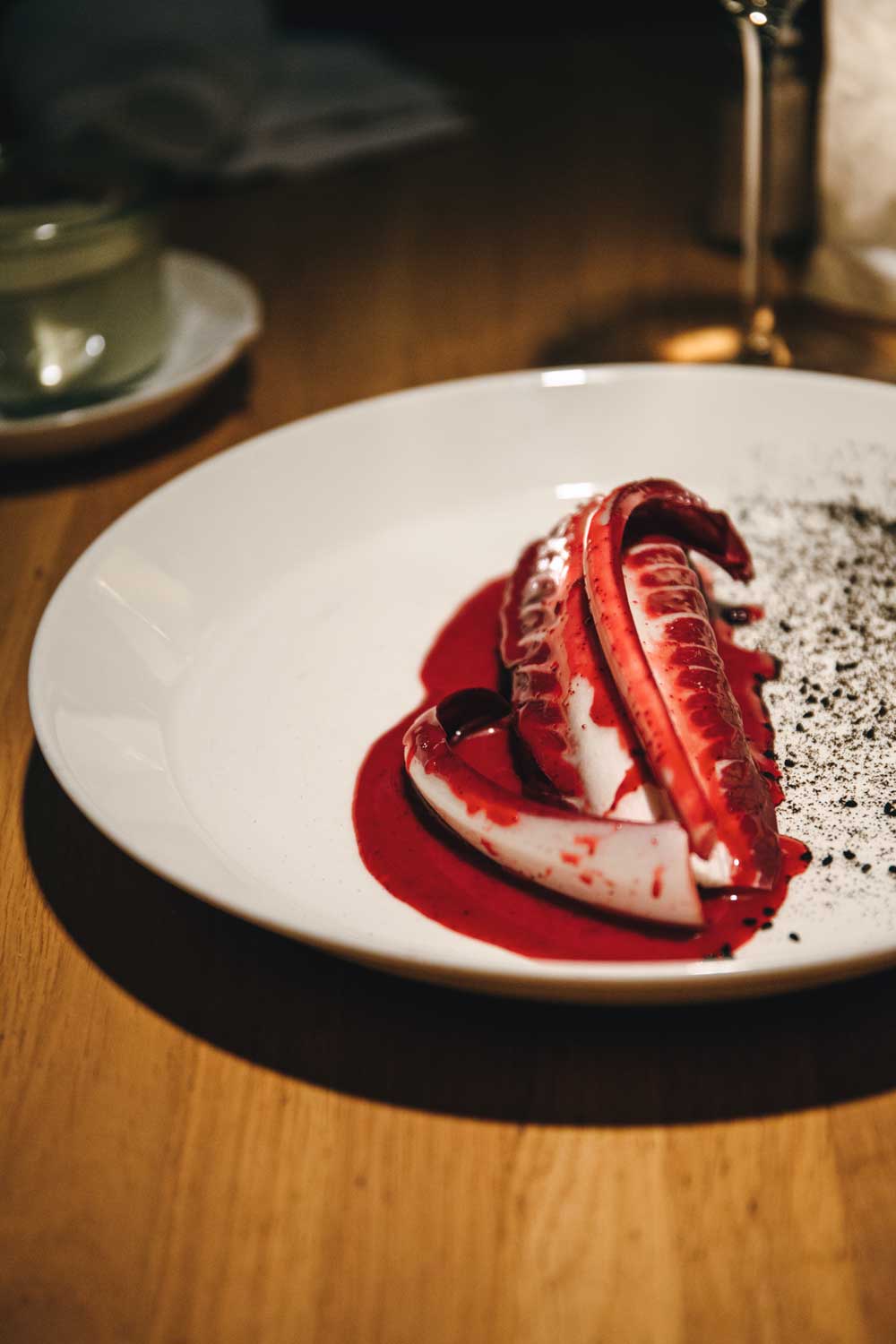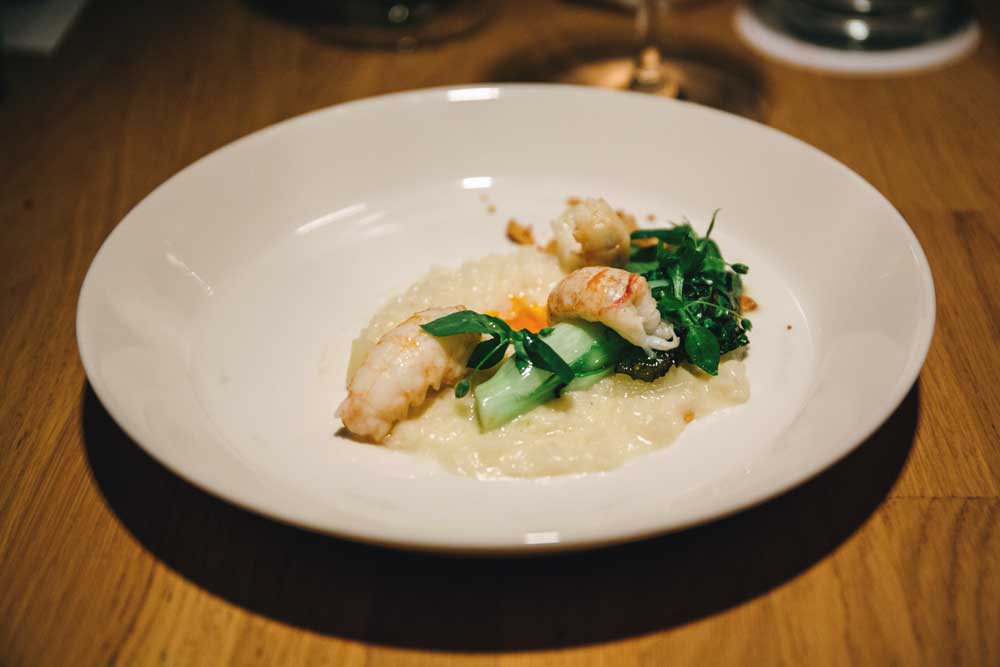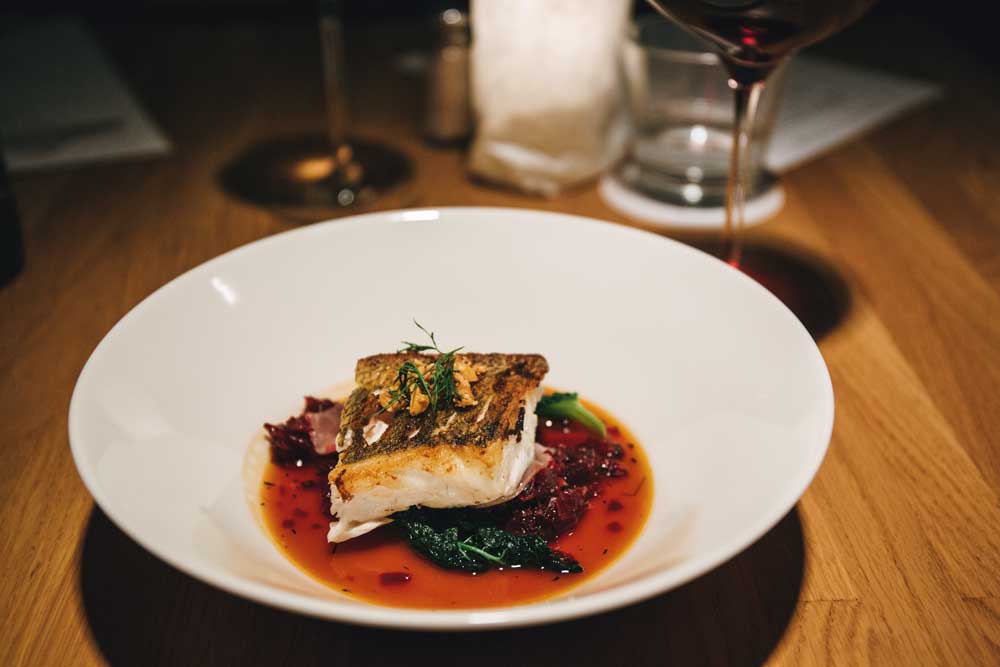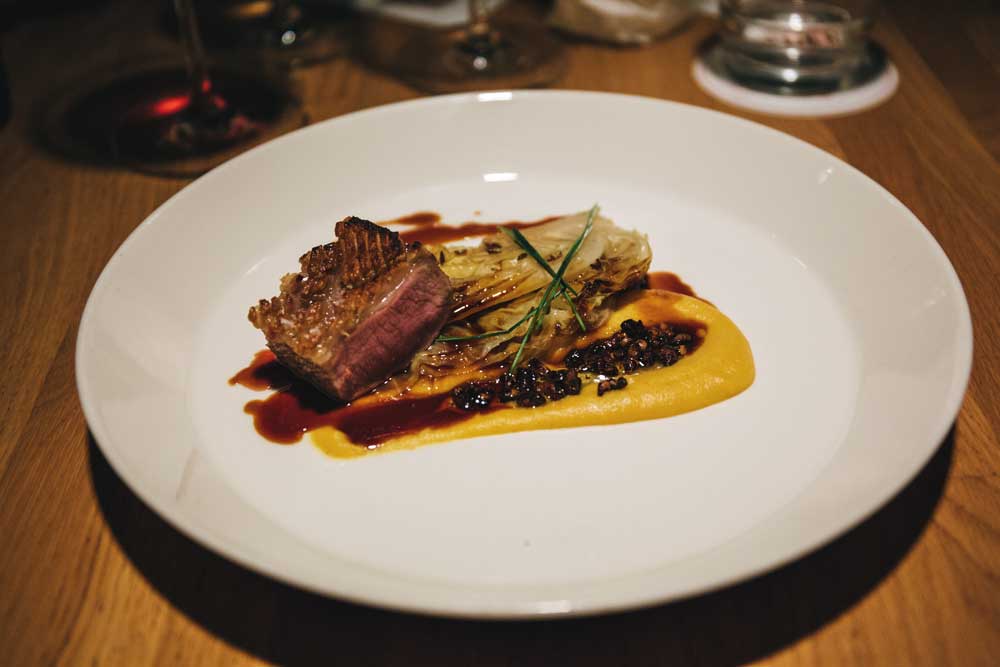 Franz Messeritsch, Falstaff Sommelier of the year 2016, supported the menu with fine wines from four different European countries through the evening. The oven-baked zander in borscht stock was served with a Pinot Noir. I learnt that evening that fish doesn't have to be accompanied by white wine and that the preparation of the fish should be the decisive factor for the choice of wine. A red wine is for example well suited to roasted or grilled fish.
The evening concluded with "Mama's Götterspeise", inspired by a dessert from Lukas Nagl's childhood. The fruity dessert combined preserved white peaches, that brought back a taste of summer and crispy meringue with grated cooking chocolate, that evoked the memory of wonderful childhood days.
This concludes the first course of my culinary closeup. It was exciting to peak in the cooking pots of the pros and I am looking forward to gain even more insights in Vienna's Haute Cuisine in the upcoming months and to share with you the secrets and tips.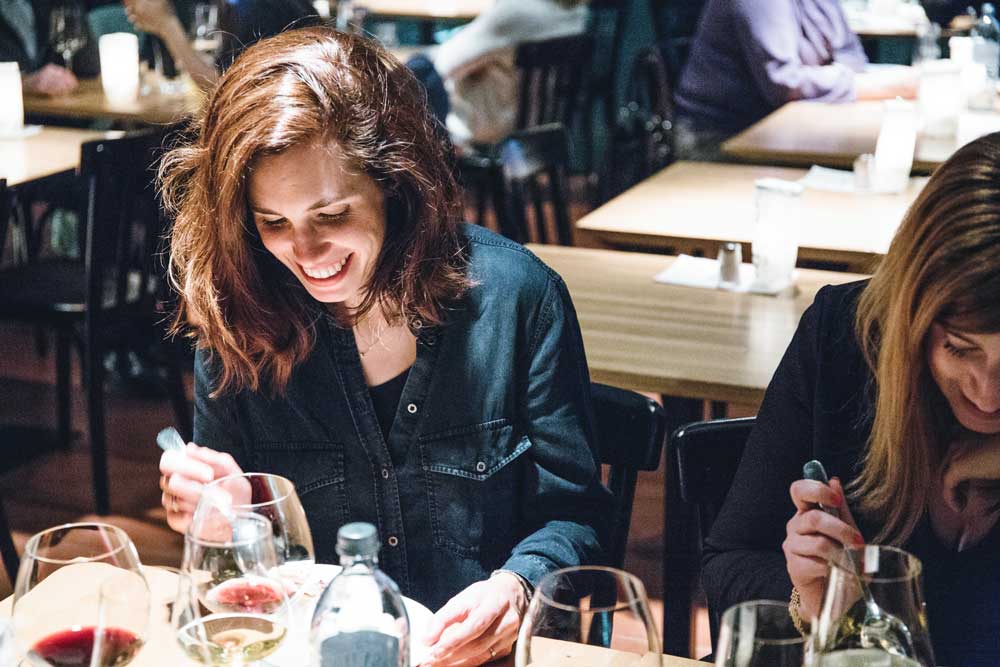 ________________________________________________________________________________________________
Auf Instagram habe ich schon angedeutet, dass ich dieses Jahr einiges geplant habe und sich auf dem Blog viel tun wird. Jetzt kann ich euch endlich mehr über ein großes Projekt verraten, das schon seit letztem Jahr in Planung ist.
Auf meinen Social Media Kanälen habt ihr vielleicht schon das ein oder andere geheimnisvolle Posting im Zusammenhang mit COMEPASS und dem Hashtag #THEBIGFIVEBLOGGERS gesehen. Nun kann ich euch erzählen, was es damit auf sich hat, und euch einen kleinen Einblick in die spannende Kampagne geben.
Die #BIGFIVEBLOGGERS ist ein Herzensprojekt von COMEPASS und begleitet 5 Blogger auf ihrer Reise, Grenzen zu überschreiten, um ihre Träume zu verwirklichen. Als Foodie-Teil der #BIGFIVEBLOGGERS, werde ich euch unter dem Hashtag #CULINARYCLOSEUP nicht nur einen Einblick in die Küchen der Fine Dining Szene in Wien geben, sondern auch meine eigenen Kreationen in Wiens Szenelokalen hinterlassen.
Startschuss meines Culinary Closeups mit COMEPASS war das "Cooks in Residence", das zum zweiten Mal im Restaurant HEUER am Karlsplatz stattfand. Anlässlich des 3. Geburtstages von HEUER wurde Haubenkoch Lukas Nagl in die Küche gebeten und kredenzte zusammen mit HEUER Küchenchef Peter Fallnbügl und seinem Team ein atemberaubendes 5-Gänge Menü. Unter dem Motto "Österreich, die goldene Vorratskammer" wurden feinste, österreichische Zutaten in ein unvergleichbares Geschmackserlebnis verwandelt. Seinen Kochstil beschrieb Lukas Nagl als puristisch, ohne viel Schnick Schnack, und das war auch in der Menüauswahl wiederzuerkennen. Unkomplizierte österreichische Zutaten, die durch kreative Verarbeitung präzise auf den Geschmack gebracht wurden. Eine Prise Exotik verlieh Lukas Nagl mit eigens mitgebrachten Zutaten von Sansibar. Der winterliche Radicchio Salat gefüllt mit Ziegenkäse und Datteln aus Sansibar war mein persönliches Highlight an dem Abend und bestach durch sein perfektes Zusammenspiel von heimischen und tropischen Aromen.
Franz Messeritsch, Falstaff Sommelier des Jahres 2016, begleitete die Gäste mit edlen Tropfen aus vier europäischen Ländern durch den Abend und sorgte dafür, dass wir nie auf dem Trockenen saßen. Zum Ofenzander im Borschtschsud wurde beispielsweise ein Pinot Noir gereicht. Wie ich am diesem Abend lernte, muss zu Fisch nicht unbedingt Weißwein getrunken werden, sondern die Wahl des Weines ist von der Zubereitung des Fisches abhängig; so mundet zu gebratenem oder gegrilltem Fisch durchaus auch ein Rotwein.
Zum Abschluss des Menüs gab es "Mamas Götterspeise", inspiriert von einem Dessert aus Lukas Nagls Kindheit. Die fruchtige Nachspeise brachte mit eingelegtem weißem Pfirsich den Geschmack des Sommers zurück, und das knusprige Baiser mit geraspelter Kochschokolade erinnerte an wunderschöne Kindheitstage.
Bevor wir uns mit vollgeschlagenen Bäuchen auf den Weg nach Hause machten, konnten wir Lukas noch ein paar Tipps entlocken:
Woher beziehst du Inspiration für laufend neue Gourmetkreationen?
"Ein kreativer Schaffensprozess kann nur entstehen wenn ich mich wohl fühle, mit mir im Reinen bin und vor allem zufrieden und glücklich bin. Raum, Zeit und Ort spielen dabei keine Rolle."
Welchen Geheimtipp aus der Küche kannst du exklusiv mit uns teilen?
"Der heißeste Geheimtipps ist womöglich, dass man alles mit Liebe machen sollte. Selbst wenn ich keine Lust habe wird das Essen nicht so gut! Mit Freude kochen oder sonst lieber essen gehen!"
Wie stehst du eigentlich zu… Chiasamen? ;D
"Ich denke alle Lebensmittel sind wertvoll und verdienen Ihren Platz in unserem Speiseplan. Leider sind viele Lebensmittel stark durch Pestizide oder Schadstoffe belastet wie auch die Chi(n)asamen. Man muss wirklich gut darauf achten woher und von wem wir unsere Lebensmittel beziehen. Besser von Bekannten aus der Region."
Das war der erste Gang meines Culinary Closeups. Es war sehr spannend in die Kochtöpfe der Küchenprofis zu schauen, und ich freue mich, in den nächsten Monaten noch mehr Einblicke in Wiens Haute Cuisine zu gewinnen und die Geheimnisse und Tipps mit euch zu teilen.
Xo Vicki