Christmas is very close and it is time for recipe Number 3: delicious and festive Toffee Nut Truffles! Today's recipe is inspired by Starbucks' 'Toffee Nut Latte', a long-time favorite of mine! Although it has received some serious competition by the delicious 'Chestnut Praline Latte' I had for the first time in New York this year. Another festive drink Starbucks has deprived us of in Austria!
Anything dipped in chocolate is sure to be a crowd-pleaser! Paired with caramel and hazelnut crunch these Toffee Nut truffles are a winner! ;)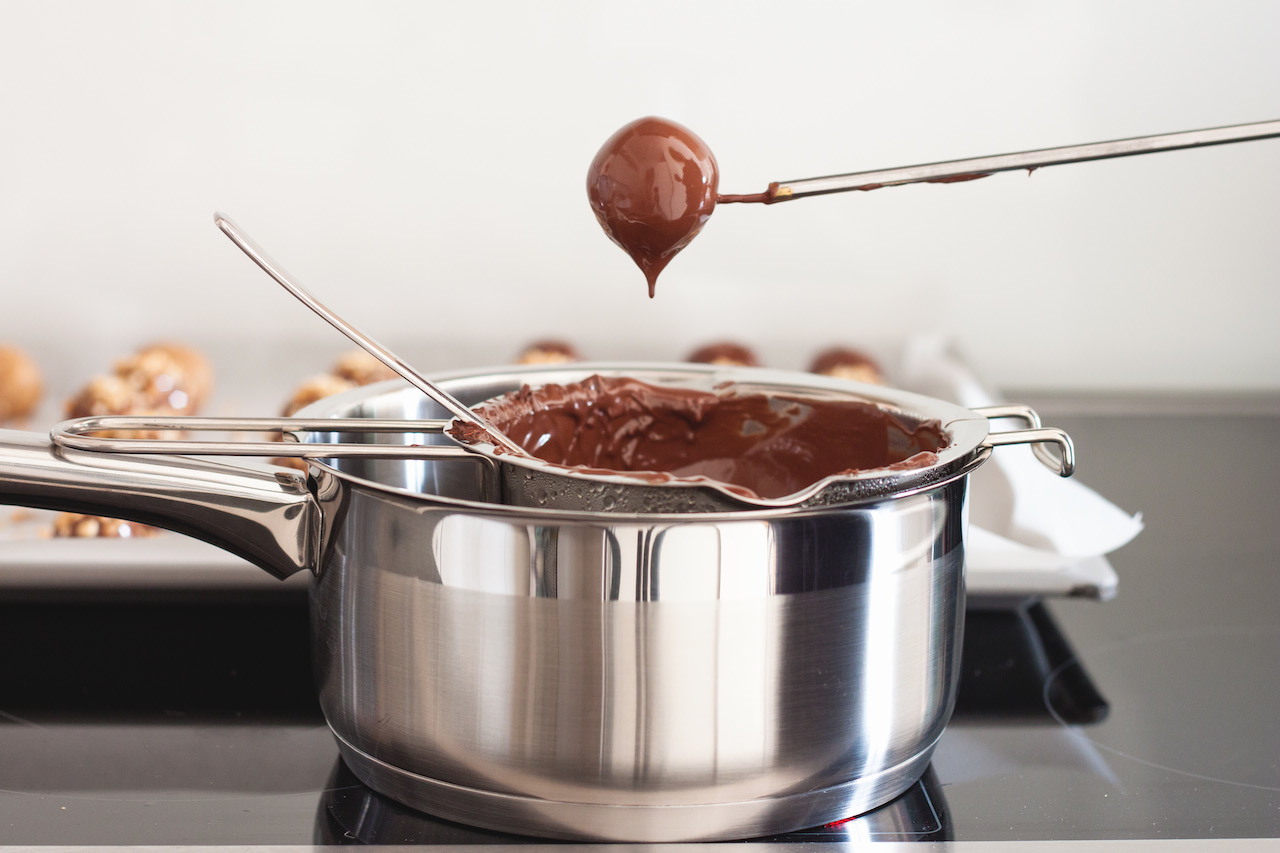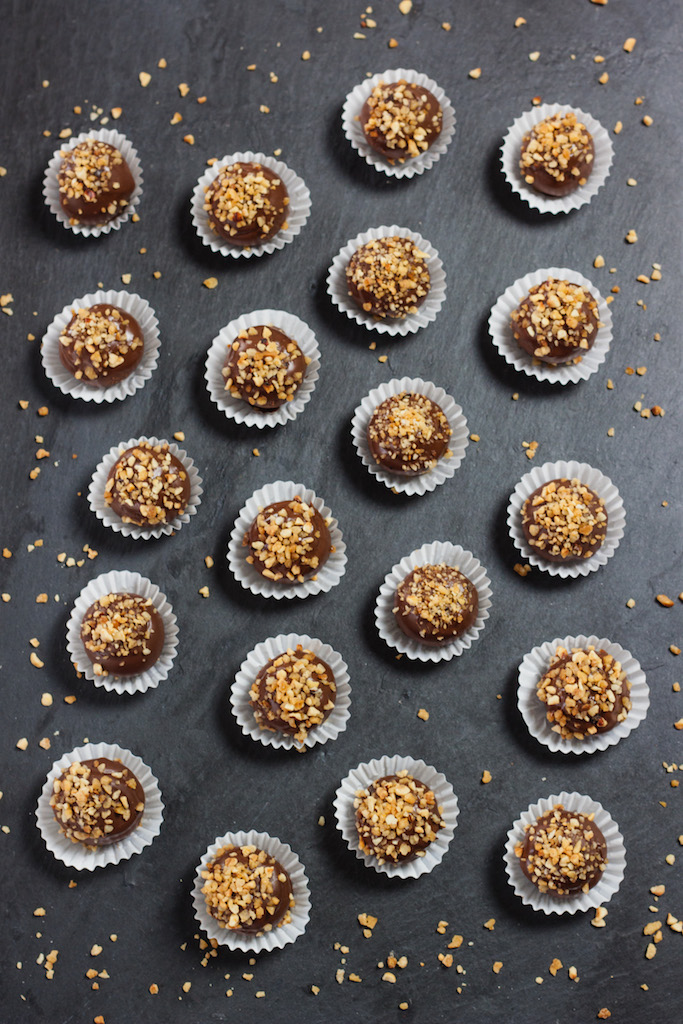 Toffee Nut Truffles
Hazelnuts paired with caramel and chocolate make these truffles a sure winner!
Recipe type:
Dessert, Truffles
Ingredients
For the sponge cake
2 large eggs (organic), divided
70g caster sugar
45g icing sugar
70g all-purpose flour (organic)
40g ground, roasted hazelnuts (organic)
1 tsp baking powder
pinch of salt
For the caramel sauce
100g caster sugar
50g butter (organic)
50ml heavy cream (organic)
For assembling
40g cream cheese (organic)
200g milk chocolate for coating
hazelnut crunch for decorating
Instructions
Preheat the oven at 150°C using hot air. Line a square, 20 cm baking pan with parchment paper.
Separate the eggs, placing the egg whites in one bowl and the egg yolks in another bowl. Beat the egg whites with an electric mixer until foamy and frothy. Gradually add the caster sugar and continue beating until the egg whites are shiny and stiff peaks form. In another bowl, beat the egg yolks with the icing sugar for 2 minutes until the mixture has thickened and is light and fluffy. Gently add the egg whites to the egg yolk mixture in three batches. Carefully fold in the flour, hazelnuts, baking powder and salt and mix until just incorporated. Pour the batter in the prepared baking pan, smoothing the top. Bake in preheated oven for 25 minutes, until a toothpick inserted comes out clean. Let the sponge cake cool completely.
While the sponge cake is cooling down, start preparing the caramel sauce. Melt the sugar and butter in a saucepan over medium heat. Once the sugar is melted, reduce the heat to low. Do not stir the mixture, just swirl the pan occasionally. Watch the sauce and be careful not to let it burn. Wait for the sauce to turn golden brown. Carefully stir in the heavy cream and beat it vigorously. Be careful not to burn yourself, the mixture may spit. Leave it to cool before using it.
Once the sponge is completely cool, crumble the cake into a large bowl. Add the cream cheese and cooled down caramel sauce. Mix it all together until the batter is smooth. Take a tablespoon of dough at a time and form a ball between your hands.
In a heatproof bowl, melt your chocolate over a pan filled with water. Once your chocolate is melted, remove it from the heat. Dip your truffles into it and place them on parchment paper. Sprinkle hazelnut crunch on top. Let the truffles set and keep them refrigerated.
Notes
Keep the truffles refrigerated.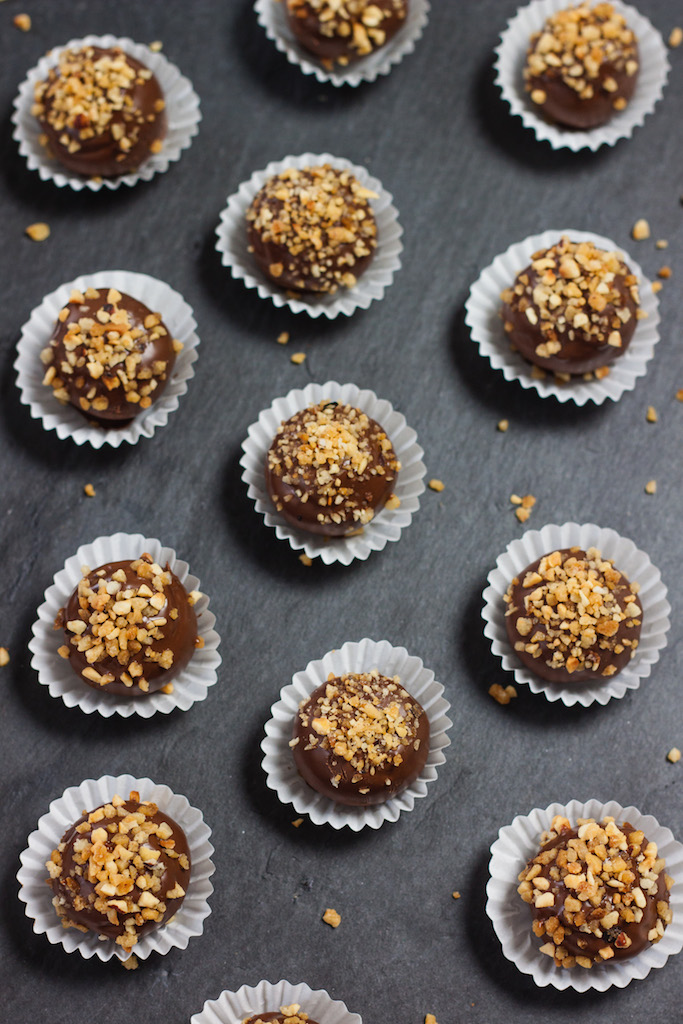 It is very hard to pick a favorite Christmas recipe this year, because they are all so different but the Toffee Nut Truffles are definitely one of the finalists! There is still one more recipe to come next Sunday and I'm sure that by now you can all guess what it will be! ;)
On another note, I still don't have a Christmas tree and it doesn't make much sense setting one up this year, as I will be gone again next week! I think I will just enjoy my mom's pretty Disney tree all the more! I also haven't bought many Christmas presents yet. I don't want to stress myself this year and live by the saying that Christmas is not just a day but a frame of mind! And I am already feeling mighty festive on the inside! :)
Happy 3. Advent!