This post might come a little late for some of you guys. Despite being almost March and having had some nice spring-like days in Vienna, my skin still feels dry and tight from the cold winter months. It needs that bit of extra care and therefore I'm still very much in my winter beauty routine.
I've divided my winter beauty essentials into products for your hair, face and body. Although there are quite a few products that you can use as an all-rounder (such as the coconut oil and Elizabeth Arden's Eight Hour Cream).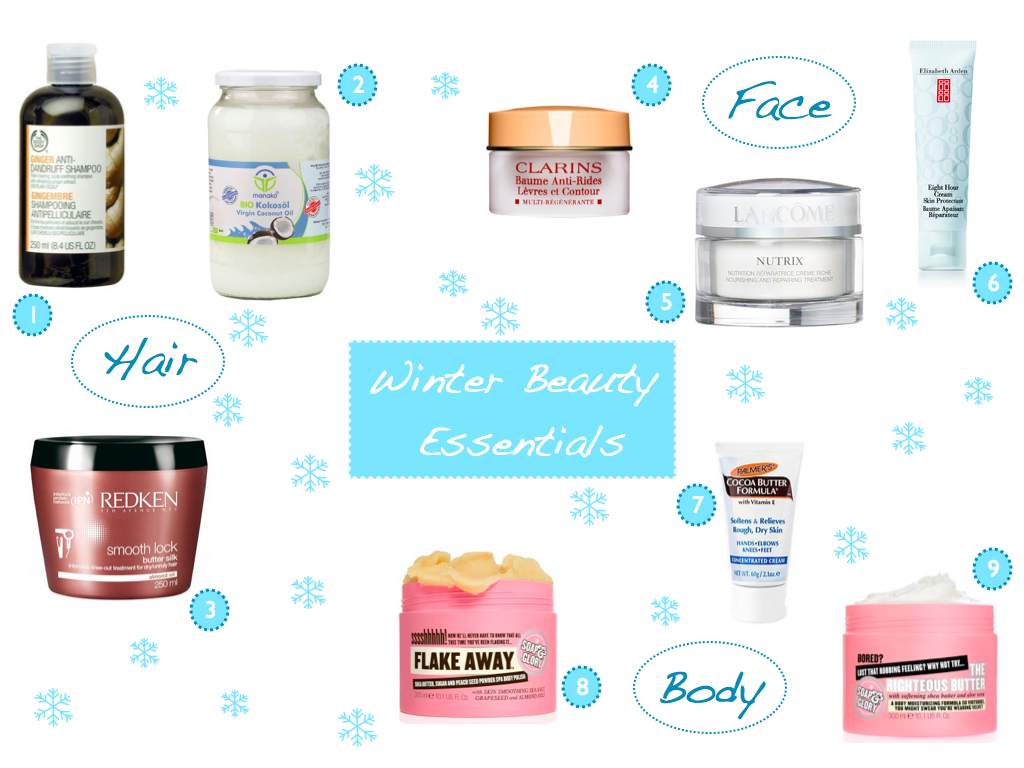 1. Body Shop Ginger Anti-Dandruff Shampoo €9 – If you are unlucky like me and suffer from itchy dry scalp as soon as the temperature drops this shampoo will be such a relief for you! I was really desperate trying everything from rubbing Listerine mixed with baby oil on my scalp to tea tree and olive oil and nothing would make it better. Until I did a bit of research online and found out that this shampoo worked magic with some people having the same symptoms as I had. And it saved me from the unbearable dryness and itchiness during winter!
2. Manako Organic Virgin Coconut Oil €17,90 – Apart from being healthy and great for cooking and baking, I love using coconut oil for beauty treatments. In winter I like to rub it in the ends of my hair, then braid it and leave it in overnight. The next morning you can wash it out using shampoo and you will be left with silky smooth locks.
3. Redken Smooth Lock deep conditioning treatment € 28,95 – For the times when I want to treat my hair with something special, I apply this deep conditioner in the ends of my washed, towel-dry hair and leave it in for an hour (if I have time) and then wash it out. The Redken Smooth Lock treatment leaves my hair feeling silky smooth, shiny and it doesn't weigh it down. It also smells very nice, not like your typical hair salon products, but like almonds
4. Clarins Baume Anti-Rides Lèvres et Contour €41 – My mom loves this lip balm and I have been stealing hers because it is so nice ;) It doesn't really have a fragrance to it which I don't mind. Even though it is a balm it doesn't give a shiny finish but is matt when applied. I like applying this balm before using a lipstick or lipgloss as it will keep your lips moisturized all day.
5. Lancôme Nutrix €26,95- I have been struggling to find the right face cream for me lately. My skin has been so dry that even with creams that promise being super moisturizing and nourishing I found myself with dry patches and having to reapply the cream two to three times a day. The Lancôme Nutrix is very thick and creamy and I definitely wouldn't recommend it for oily skin as it will make you shine like crazy. Moreover, I would probably not use it during summer, but for the cold winter months this cream has saved my skin from drying out.
6. Elizabeth Arden Eight Hour Cream €31,95 – This cream is a lifesaver. It doesn't matter if you have chapped lips or a runny nose, your skin will be renewed and beautiful in no time with this beauty treat. It has been one of my favorites for years and is an indispensable all-round product. Not everyone likes the smell, as it is quite herbal. The consistency reminds me more of a thick balm than a cream.
7. Palmer's Cocoa Butter Formula Concentrated Cream £2.13 – If you are into chocolate you are going to love this cream. It smells exactly like Nesquik, which reminds me so much of my childhood! And it also nourishes your skin and makes it feel super soft. Can't get better than that! I love using this cream as a hand cream and on my elbows.
8. Soap & Glory Flake Away™ body scrub £7.50 – This body scrub magically transforms my lizard legs making them look and feel smooth and soft. It smells very sweet but nice. The granulates do not feel harsh on the skin and it doesn't dry out your skin.
9. The Righteous Butter™ £10.50 – This cream smells so lovely of cotton candy mixed with marshmallows. The consistency is very thick and creamy, almost whipped, but the body butter absorbs rather quickly and doesn't leave a greasy feeling behind. I love using this body butter after a good scrub with the Soap & Glory Flake Away™. It leaves my skin super soft and moisturized.
What have been your winter beauty essentials? I'm definitely ready for spring and thanks to these products my skin is too! ;)
Xo Vicki