Healthy No-Bake Chocolate Peanut Bars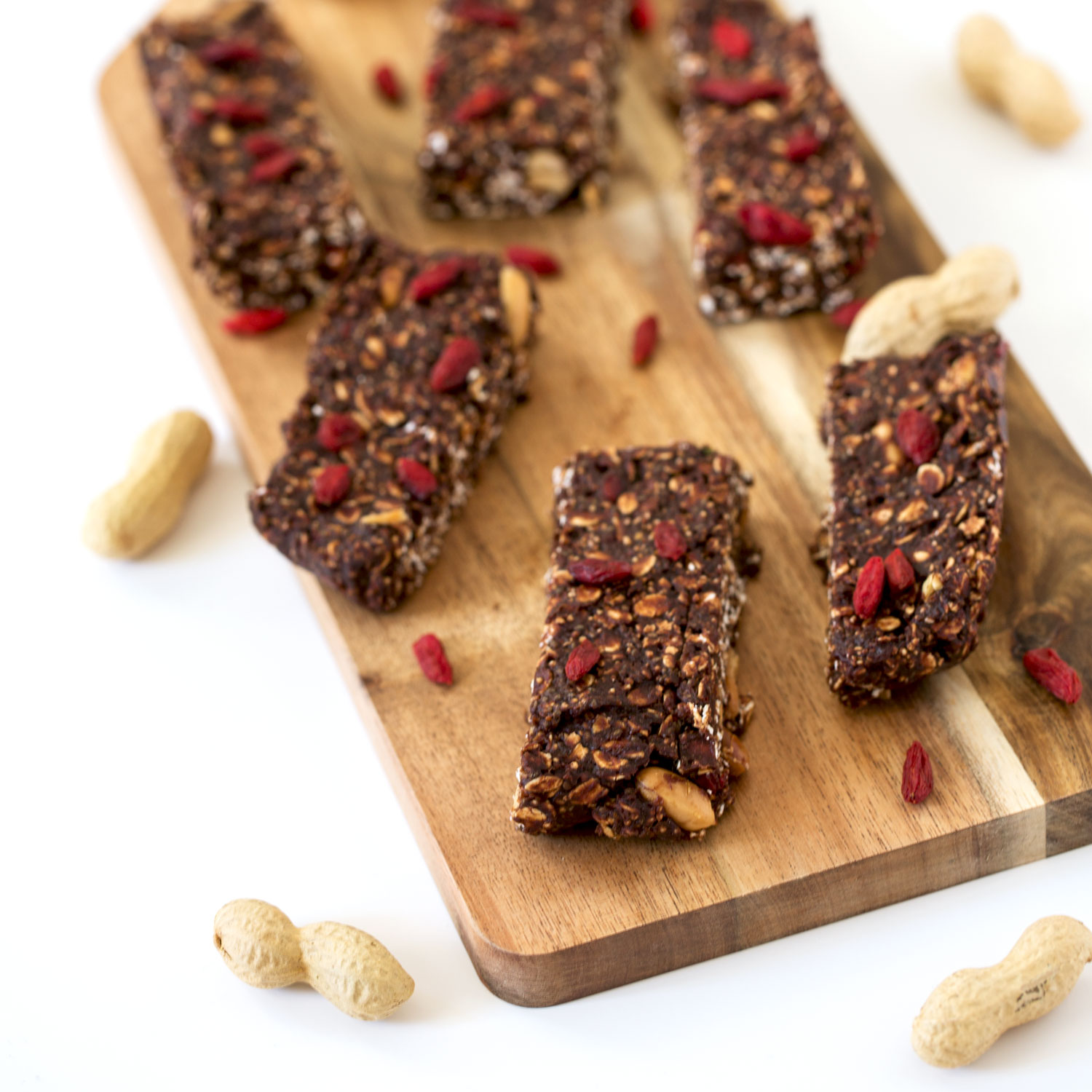 100g old-fashioned oats (organic)
100g dates, pitted (organic)
200ml water
1 tsp ground cinnamon
a knife point of ground cloves
a knife point of ground cardamon
a pinch of salt
30g all-natural peanut butter (unsalted) (organic)
30g honey or agave nectar (organic)
2 tbsp chia seeds (organic)
2 tbsp popped amaranth (organic)
1 tbsp Maca powder (organic)
1 tbsp hemp protein (organic)
20g raw cacao (organic)
30g unsalted peanuts (organic)
2 tbsp goji berries (organic)
Preheat your oven to 150°C. Line a baking tray with parchment paper.
Scatter the oats on your prepared baking tray and toast them for 15 minutes.
In a small sauce pan, combine pitted dates and water. Cook until the dates are soft and can be broken up into pieces. Add the cinnamon, ground cloves, cardamon, salt, peanut butter and honey and puree until the paste is smooth.
In a large bowl, combine the oats, chia seeds, popped amaranth, maca powder, hemp protein, peanuts and goji berries. Pour the date paste over the oats and stir until evenly coated.
Transfer to a small pan lined with parchment paper so they lift out easily. Chill in the fridge for 30 minutes to harden.
Remove bars from dish and chop into 6 bars. Store in an airtight container in the fridge.
Recipe by
Bowsessed™
at https://bowsessed.com/healthy-no-bake-chocolate-peanut-bars-giveaway/