Red Velvet Cake with Cream Cheese Frosting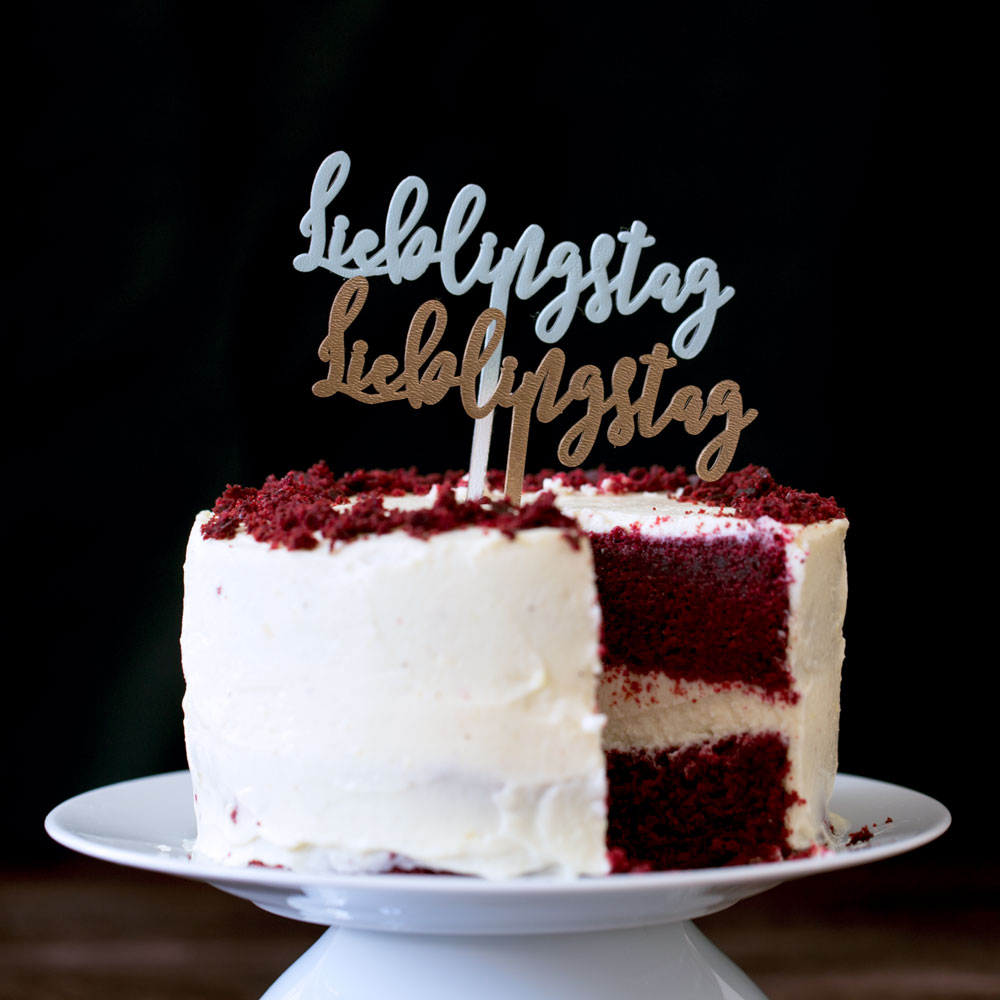 butter, to grease
185g butter, at room temperature (organic)
155g caster sugar
2 eggs (organic)
150g all-purpose flour (organic)
1 tsp baking powder
pinch of salt
2 tablespoons unsweetened cocoa powder (organic)
¼ teaspoon bicarbonate of soda
125ml buttermilk (organic)
2 tablespoons red food coloring
500g cream cheese, at room temperature (organic)
120g butter, at room temperature (organic)
160g icing sugar, sifted
½ teaspoon vanilla extract
Line the bottom of a round baking pan (ø 15cm, 8 cm high) with parchment paper and grease it with butter.
Preheat the oven to 175°C.
Sift flour, cocoa powder, baking soda, baking powder and salt in a bowl.
In a another bowl, cream together the butter and caster sugar until the mixture is pale and creamy. Mix in the eggs one at a time.
Mix in the dry ingredients in three batches, alternating with the buttermilk (beginning and ending with the flour). Mix in the red food coloring.
Transfer it to the cake batter to the prepared baking pan, smoothing the top with a spatula. Bake for 45 minutes, until a toothpick inserted comes out clean. Let the cake cool in the baking pan.
While the cake is cooling, prepare your cream cheese frosting. Mix the cream cheese and butter until smooth. Add the vanilla extract. Mix in the icing sugar. Let your frosting chill in the fridge for an hour at least.
Remove the cooled cake from the baking pan and level the top, save the crumbs for decorating later on. Once your cake is leveled, cut it into two even layers. Place the first layer on a serving platter and drop about half of the prepared frosting on the cake. Using a flat spatula spread evenly over the top. Place the second layer of cake onto the first. Use the remaining frosting to cover top and sides of the cake. Use the saved crumbs from leveling your cake, to decorate it. Sprinkle the crumbs in a circle on the top. Refrigerate the cake until ready to serve.
Keep the cake refrigerated.
Recipe by
Bowsessed™
at https://bowsessed.com/red-velvet-cake-with-cream-cheese-frosting/