Marzipan Pumpkin Seed Rolls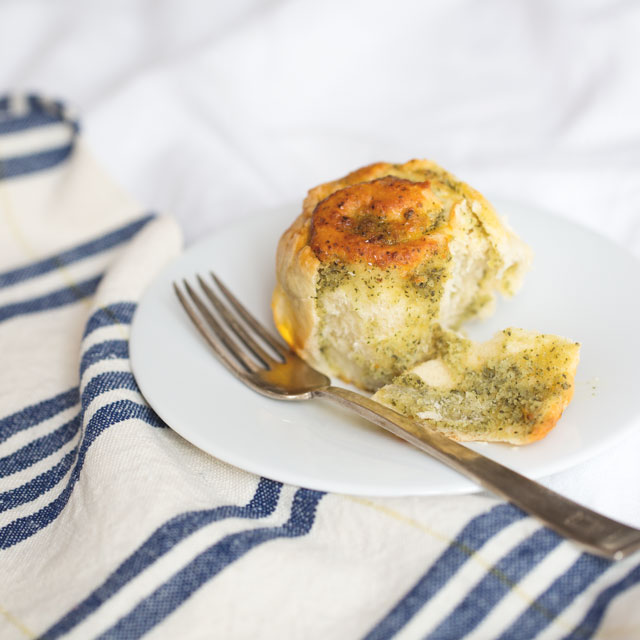 Recipe type:
Dessert, Breakfast
20g fresh yeast (organic)
¼ l whole milk (organic)
80g caster sugar
500g all-purpose flour (organic)
pinch of salt
100g butter, melted (organic)
2 egg yolks (organic)
1 whole egg (organic)
2 tbsp dark rum (optional)
400g marzipan, roughly chopped
100ml whole milk (organic)
130g ground, unsalted pumpkin seeds (organic)
1 whisked egg (organic) for brushing
In a saucepan, slowly heat the milk on medium heat and add the caster sugar. Take the pot from the heat and crumble the yeast into the milk. Make sure that the milk is not too hot! Leave the pot until the yeast is activated and starts to foam and form bubbles.
While you are waiting for the yeast to be ready, place the flour and salt in a large mixing bowl. Add the activated yeast to it. Whisk the egg yolks and whole egg together with the rum (if used) and add it to the dry ingredients. Pour in the melted butter and start mixing it with an electric mixer using the dough hooks. Knead the dough until it is smooth and forms a ball. Don't worry if it is too sticky, you can add more flour later. Wet a clean kitchen towel and cover the bowl with it. This will prevent the dough from drying out. Place the bowl in a warm place and let the dough rise for an hour, or until it has doubled in volume.
Meanwhile, prepare the filling. Place the marzipan and ground pumpkin seeds in a pot. Pour the milk over it and gently heat the mixture. With a cooking spoon break up the marzipan into small pieces and keep stirring until the mixture is combined. Once the filling is smooth, remove it from the heat.
Grease two baking pans with butter.
When your dough has doubled in size, lightly flour your counter. Divide the dough in half and roll it out in a rectangle about 5 mm thick. Spread half of the prepared filling on the dough. Tightly roll up the dough from one side. Then cut the dough into 5 cm sections. As you place your rolls in the prepared pan, brush the sides of the rolls with butter. This will prevent them from sticking together.
Repeat with the remaining dough. Let the rolls rise again for 30 minutes while you preheat the oven to 150° C using hot air.
Bake the rolls for 25-30 minutes, until they are slightly golden. Let the rolls cool in the pan for 10 minutes before serving them.
Recipe by
Bowsessed™
at https://bowsessed.com/marzipan-pumpkin-seed-rolls/