Double Chocolate Raspberry Tarte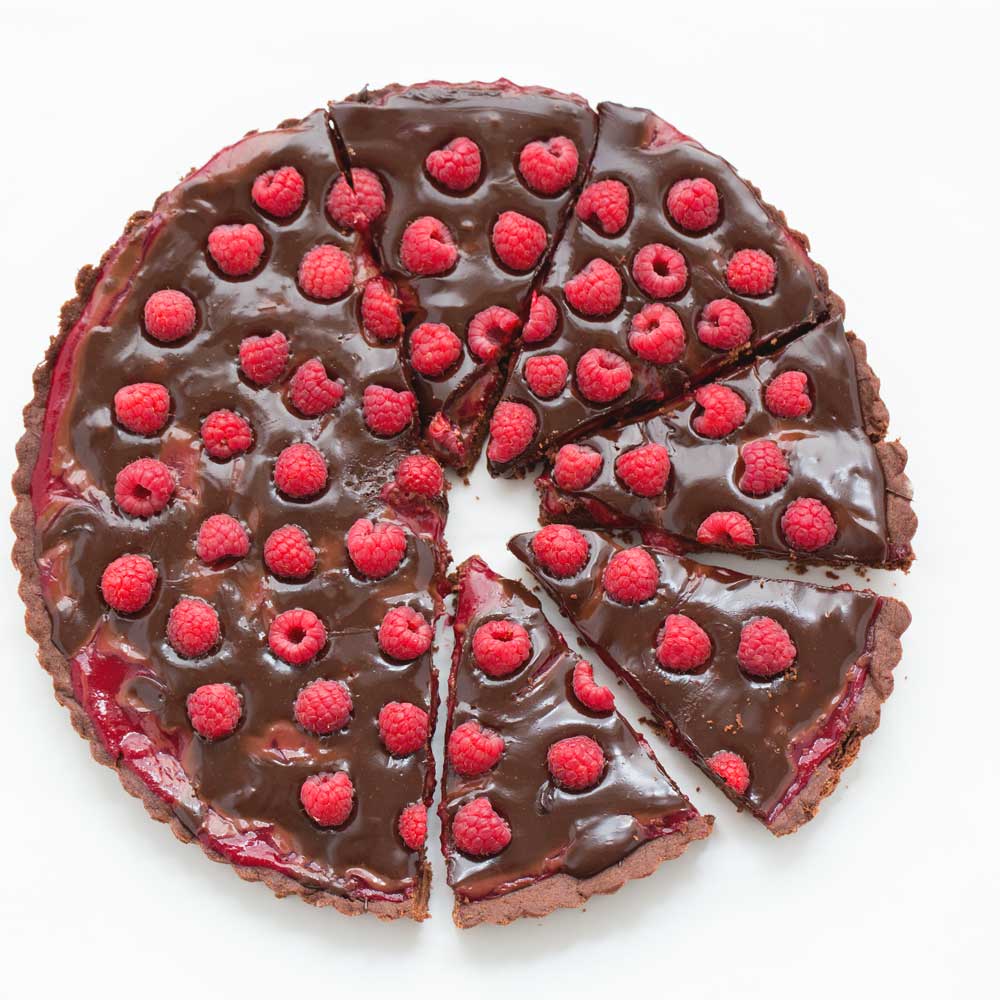 260 all-purpose flour (organic)
100g icing sugar
20g unsweetened cocoa (organic)
200g cold,unsalted butter (organic), diced
pinch of salt
2 egg yolks (organic)
350g frozen raspberries, thawed
30 icing sugar
100g semisweet chocolate, finely chopped
100ml heavy cream
To make the shortcrust, place the flour, cocoa, icing sugar and salt in a bowl. Add the cold butter and rub the mixture with your fingertips until it resembles bread crumbs. Add the egg yolks and knead the pastry until it is smooth. Shape the dough into a disc, wrap it in plastic wrap and refrigerate it for an hour.
Preheat the oven, using hot air, to 170°C.
Roll out the dough on a floured surface, 2,5 mm thick. Place it over a ø 30 cm tarte pan and press the dough into the sides. Prick it with a fork and bake it for 15 minutes. Let the chocolate crust cool in the pan.
For the raspberry filling, puree the thawed raspberries in a blender. Strain the mixture through a fine mesh sieve and mix in the icing sugar. Set it aside.
To make the chocolate ganache, place the chopped chocolate in a heatproof bowl. Pour the heavy cream in a saucepan and let it simmer over medium heat until it is hot. Pour the cream over the chocolate and let it stand there for a few minutes to melt. Whisk the ganache until it is glossy and smooth.
To assemble the tarte, fill the chocolate crust with the raspberry sauce, then pour the chocolate ganache on top, while it is still warm. Scatter the fresh raspberries on the tarte. Place the tarte in the fridge for an hour, until the chocolate has set.
Makes one ø 30cm tarte pan.
Keep the tarte refrigerated.
Recipe by
Bowsessed™
at https://bowsessed.com/double-chocolate-raspberry-tarte/