Vanilla Almond Granola Bars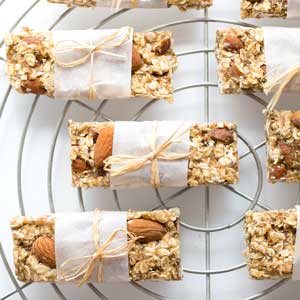 150g pitted dates (organic)
150g rolled oats (organic)
60g all-natural almond butter
40g honey or agave syrup (organic)
100g unsalted almonds, roasted
1 tsp ground vanilla
1 tsp ground cinnamon
Place the dates in a food processor and process them for a minute. If they are a bit dry, soak them in water for a few minutes, then drain them, before blending.
Place the oats on a baking tray lined with parchment paper and toast them at 160°C for 10-15 minutes. This step is optional.
Warm the almond butter and honey or agave syrup over low heat. This step makes the mixtures easier to combine with the other ingredients.
Place the oats, blended dates, almonds, vanilla and cinnamon in a large bowl. Pour the almond butter mixture over it and mix using a wooden spoon.
Transfer the mixture in a 20 x 20 cm baking pan, lined with parchment paper and press it down to flatten with the back of a spoon. Let it set in the fridge for 30 minutes.
Once they have harden, cut them into 10 bars.
Store the bars in an airtight container in the fridge for up to a week or freeze them.

*This recipe was inspired by Minimalist Baker.
Recipe by
Bowsessed™
at https://bowsessed.com/vanilla-almond-granola-bars/