Swiss Roll with Apricot Jam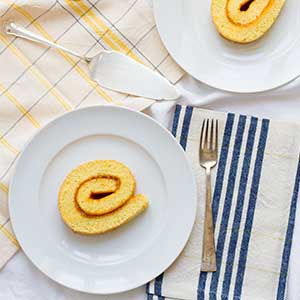 Recipe type:
dessert, coffe cake
6 eggs (organic)
120g icing sugar
1 tsp vanilla sugar or extract
150g all-purpose flour
250g apricot jam
Preheat oven to 190°C. Line a baking tray with parchment paper.
In a large bowl, beat the eggs, icing sugar and vanilla for about 10 minutes until creamy and the mixture has doubled in size. Fold in the flour and mix until just combined. Spread the mixture on the prepared baking tray and bake for 10-15 minutes.
While it is baking, prepare another piece of parchment paper and dust it with icing sugar.
Once the sponge is done, remove it from the oven and immediately turn it upside down (with the parchment paper still on) on the prepared, sugar-dusted parchment paper. Carefully peel off the parchment paper. Spread the apricot jame over the cake and carefully roll it up. Leave it to cool and dust with icing sugar.
Recipe by
Bowsessed™
at https://bowsessed.com/apricot-swiss-roll/