Zucchini Honey Cake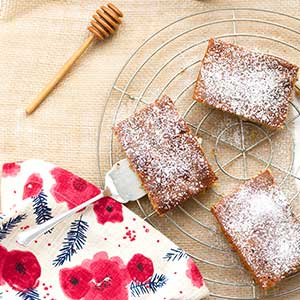 Recipe type:
Dessert, Cake
3 eggs (organic), separated
150g caster sugar
pinch of salt
75g icing sugar
75g honey (organic)
¼l vegetable oil
250g all-purpose flour (organic)
1 tsp cinnamon
2 tsp baking powder
100g ground almonds
300g grated zucchini (organic)
Preheat the oven to 175°C. Line a 25 x 20 cm bake pan with parchment paper.
In a bowl, whip the egg whites with a pinch of salt until stiff, gradually adding the caster sugar.
In another bowl, beat the egg yolks with the icing sugar and honey until creamy. Add the vegetable oil and mix it well. Carefully fold in the egg whites. Stir in the sifted flour, cinnamon and baking powder. Fold in the ground almonds and grated zucchini. Spread the mixture on the prepared baking pan and bake it for 35 minutes. Let the cake cool completely in the pan before cutting. Dust with icing sugar before serving.