Ultimate Chocolate Fudge Brownies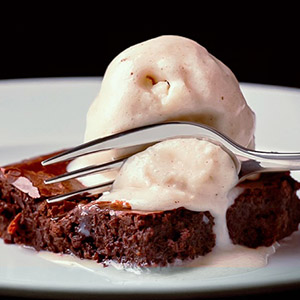 225g chocolate, chopped
60g butter (organic)
150g brown sugar
2 eggs (organic)
1 tsp vanilla extract
30g corn starch
15g unsweetened cocoa powder
pinch of salt
Preheat the oven to 175°C. Line a square (20 x 20 cm) baking pan with parchment paper.
Melt the chopped chocolate together with the butter and sugar in a sauce pan over medium heat. Stir the mixture constantly to prevent it from burning. Once it is smooth, remove it from the heat and set it aside to cool.
In a large mixing bowl, whisk together the eggs and vanilla extract. Pour the cooled chocolate mixture to the eggs and beat until combined. Add the corn starch, cocoa powder and salt and beat the mixture for a good minute, until smooth. Pour the mixture in the prepared baking pan and bake for 25 minutes. Let the brownies cool in the pan before slicing them.
Store the brownies in an airtight container at room temperature for up to 5 days.

* adapted from David Lebovitz
Recipe by
Bowsessed™
at https://bowsessed.com/ultimate-chocolate-fudge-brownies-video/