Red Velvet Crinkle Cookies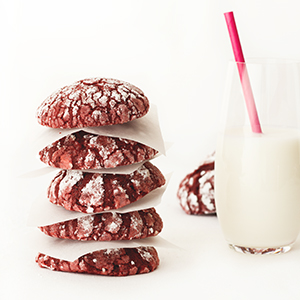 Recipe type:
Cookies, Valentine's Day
130g all-purpose flour
10g unsweetened cocoa powder
1 tsp baking powder
¼ tsp baking soda
pinch of salt
60g unsalted butter, softened
90g granulated sugar
1 large egg
30g cream cheese
2 tbsp buttermilk
2 tsp red food coloring
icing sugar for rolling
granulated sugar for rolling
Whisk together the flour, cocoa powder, baking powder, baking soda and salt and set it aside.
In another bowl, beat the butter togehter with the granulated sugar for a minute, until the mixture is fluffy. Mix in the egg and cream cheese. Add the buttermilk and food coloring and mix well. Gradually add the flour mixture and mix until just combined. Chill the dough for 2 hours.
Preheat oven to 175°C. Line a baking tray with parchment paper.
Take about two teaspoons of dough and form a ball between your hands. Roll the dough ball, first in the granulated sugar until coated, then in the icing sugar. Place the balls on the parchment paper, leaving about 4cm space between the cookies. Bake the cookies for 12-15 minutes, until the surfaces of the cookies crack. Let the cookies cool a bit before transferring them to a wire rack.
The cookies can be stored in an airtight container, for up to a week.

*Adapted from Cooking Classy
Recipe by
Bowsessed™
at https://bowsessed.com/red-velvet-crinkle-cookies/