Pumpkin Spice Cookies with Maple Butter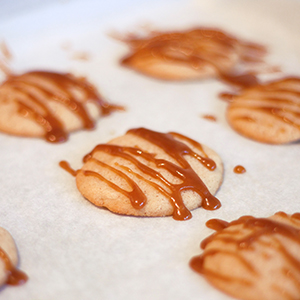 120g maple butter (Moose Maple Butter)
120g all-purpose flour (organic)
60 ml maple syrup (organic)
¼ tsp salt
½ tsp pumpkin spice
1 tsp vanilla extract
For the brown sugar glaze
10g butter (organic)
25g brown sugar
2 tbsp milk (organic)
30g icing sugar, sifted
Preheat the oven to 175°C. Line a baking tray with parchment paper.
In a small bowl, add the flour, salt and pumpkin spice and stir everything together. Set it aside. In a larger bowl, cream together the butter and maple syrup using an electric mixer. Add the vanilla extract. Gradually mix in the flour mixture until just incorporated. Form the dough into walnut-size balls and place them on the prepared parchment paper. Gently flatten the cookies and leave space between the cookies on the baking sheet as they will expand. Bake the cookies for 10 minutes until the edges have lightly browned. Leave them to cool on a wire rack.
To make the brown sugar glaze, melt the butter and brown sugar in a saucepan over medium heat. Bring the mixture to a boil and let it boil for about 2 minutes, stirring the mixture occasionally (be careful not to let it burn!). Add 1 tbsp of milk and let the mixture boil again for a few seconds. Turn the heat to low and add the powdered sugar. Use the last tablespoon of milk to thin out the glaze and keep it over low heat to keep it from hardening. Use a teaspoon to drizzle the glaze over the cookies and let it set.
Store the cookies in an airtight container.
Recipe by
Bowsessed™
at https://bowsessed.com/pumpkin-spice-cookies-maple-butter/