Guilt-free Chocolate Ice Cream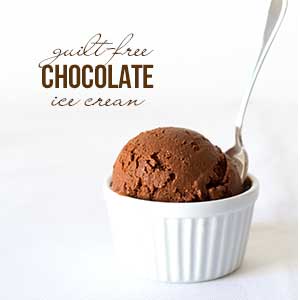 Recipe type:
Dessert, Ice cream
120g cashews (organic), soaked in water over night
420 ml water
100g pitted dates (organic)
30g cacao powder (organic)
pinch of salt
Rince the soaked cashews with water. Place them in a high speed blender and add the water. Blend on high speed for a minute. Add the pitted dates and blend until the mixture is very smooth. This may take a while. If your dates are little dry, soak them in water for 15 minutes, before blending.
Add the cacao powder and salt and blend for another minute.
Place the mixture to the bowl of an ice cream maker and use it according to the manufacturer's instructions. Churn until the ice cream has the desired consistency. Once your ice cream is ready, eat it straight away or transfer it to a container and freeze until ready to consume.
Thaw for 15 minutes before serving.
Makes ½ l ice cream.
Recipe by
Bowsessed™
at http://bowsessed.com/guilt-free-chocolate-ice-cream/